The new drug that may slow Alzheimer's disease
Two pharma companies are watching their stock price soar after releasing unverified data about a medication that significantly reduces cognitive decline associated with the disease even though many patients don't notice any improvement
More and more patients have been asking neurologist Juan Fortea for "that new drug for Alzheimer's disease." Dr. Fortea works at Sant Pau Hospital in Barcelona (Spain), one of the 12 Spanish sites for a broad, international clinical trial of the experimental drug, lecanemab. The preliminary results of the trial indicate a 27% reduction in cognitive decline in people with early-stage Alzheimer's, according to Eisai and Biogen, the two companies that developed the drug. Even though they have not made the clinical trial data available for independent review, Eisai and Biogen shares soared on the stock market after the announcement, despite the lack of conclusive evidence that lecanemab has any benefit for Alzheimer's patients.
Fortea doesn't hide his feeling of helplessness in treating Alzheimer's. This is the first molecule in 20 years that appears to have some effect, however slight, against the progression of this disease. But the lack of data and a lengthy drug approval process – at least two years – means that we will have to wait and see if lecanemab is the breakthrough drug the world has been waiting for. "I couldn't be more excited, but I have to urge caution," said Fortea, who is collaborating with Eisai and Biogen and is also a spokesperson for the Spanish Society of Neurology.
Alzheimer's is often described as a family disease because it also affects the loved ones and caregivers of heavily dependent patients. The search for a cure has so far been unproductive. The only approved treatments for Alzheimer's can only mitigate some symptoms, and don't stem the progression of a disease that affects 50 million people worldwide, a number that is projected to increase in the future.
The lecanemab clinical trial included 1,795 patients from 14 countries. All had mild Alzheimer's symptoms and beta-amyloid protein accumulation in the brain, a pathological mechanism of the disease. Patients with early-stage Alzheimer's start having short-term memory loss, but can still live independent, normal lives. According to the drug developers, the lecanemab clinical trial showed that after 18 months, the cognitive impairment of people taking the drug was 0.45 points lower on a scale of zero to 18 than those taking a placebo. But the question remains whether this translates into a real clinical benefit – can someone with Alzheimer's live independently and avoid going into a nursing home? Does the 27% reduction in cognitive decline mean dementia can be staved off for days, months or years? The data released by Eisai and Biogen doesn't provide answers to these and many other questions.
Eisai and Biogen released a statement promising to disclose more information by the end of November, and intend to publish the clinical trial results in a scientific journal after an independent peer review, essential steps for ensuring trustworthy science. The drug developers also intend to submit their lecanemab data for regulatory approval in the US, Japan and Europe by March 2023.
The lecanemab clinical trial used subjective perceptions by patients and caregivers to measure mental abilities, a common method used to diagnose the disease. "The data provided suggests that it would be very difficult for a patient or caregiver to notice any improvement [from taking the drug]," said David Pérez, head of neurology at the 12 de Octubre University Hospital in Madrid, who did not participate in the trial. "Lecanemab's benefits seem to be beneath donepezil, a drug that reduces cognitive decline by 0.53 points. Generally speaking, a change of 2.5 points must be achieved for any noticeable improvement," said Pérez.
Lecanemab also has side effects, and caused brain hemorrhages in 17% of the clinical trial patients (compared to 8.7% in the placebo group). It must be administered intravenously every 15 days, a delivery method that would greatly challenge any health care system given the large numbers of people with mild Alzheimer's. Eisai and Biogen say they are exploring the possibility of administering the drug subcutaneously.
One day after their lecanemab press release, the two pharma companies posted spectacular gains on the stock market. The Reuters news agency reported that US-based Biogen's market capitalization soared by almost $10 billion, erasing most of its share price losses for the year. Biogen was also the lead developed of aducanumab, an Alzheimer's drug approved for medical use by the US Food and Drug Administration (FDA) in a controversial decision that led to the resignation of three advisers to the FDA in the absence of evidence that the drug is effective. Initially, aducanumab treatment cost about $50,000 per year, and sales of the drug have been far lower than predicted.
"Financial gain instead of scientific achievement"
Jesús Ávila, a veteran Alzheimer's researcher, is highly critical of the Eisai and Biogen announcement. "It is the same old story – these companies are driven by financial gain instead of scientific or medical achievement." Neurodegenerative disease researcher Eva Carro (Centro de Investigación Biomédica en Red sobre Enfermedades Neurodegenerativas, Madrid) is just as critical. "I hope that neither the FDA nor the European Medicines Agency approve this drug, or even consider it, until all the data is published and reviewed by independent experts," she said.
In 1906, German neurologist Alois Alzheimer diagnosed the disease named after him in a 50-year-old woman suffering from paranoia, insomnia, sudden mood swings, memory loss and mental confusion. The woman's brain was riddled with plaques and protein fibrils, the same conditions seen in most people with Alzheimer's disease. Scientists now know that deposits of these harmful molecules start appearing about 20 years before the first symptoms are detected. By the time the disease is diagnosed, it's too late for prevention. The causes of Alzheimer's remain a mystery 116 years after the first case was diagnosed. The beta-amyloid protein theory has been one of the most thoroughly researched aspects of the disease, although it's still unclear whether it's a cause or by-product of Alzheimer's. Many other potential causes have been researched – tau (a protein) buildup in the brain, inflammation from an autoimmune disorder, viral infections, and more.
In 1992, Lars Lannfelt and Dennis Selkoe discovered "the Swedish mutation," a genetic defect in one Swedish family that predisposed them to Alzheimer's disease from an accumulation of amyloid protein plaques in the brain. In 2003, Lannfelt co-founded BioArctic, a biotechnology company focused on developing a molecule that can eliminate these plaques from the brain and potentially cure Alzheimer's. In a joint effort with Japanese pharma company Eisai, BioArctic came up with the lecanemab molecule, a monoclonal antibody inspired by proteins produced by the immune system that reduce beta-amyloid. Eisai also collaborated with Biogen in developing the failed aducanumab treatment. Last year, after promising results, the FDA began the rapid assessment process for lecanemab.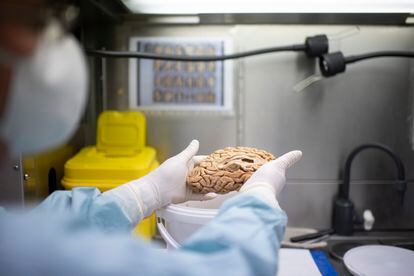 The clinical trial results for lecanemab have boosted the beta-amyloid causal theory, says Dr. Carlos Dotti, from Madrid's Severo Ochoa Molecular Biology Center. "It's possible that the original event causing the disease is amyloid beta," said Dotti. "But clearing amyloid beta from the brain doesn't cure the disease. Moreover, some 90-year-olds with beta amyloid in the brain exhibit no traces of Alzheimer's."
Miguel Medina, the deputy scientific director of the Center for Network Biomedical Research on Neurodegenerative Diseases in Madrid, believes that lecanemab will mark a "milestone" in Alzheimer's research if the clinical trial results are validated. However, he thinks patients will experience "very modest" effects from taking the drug. "This drug has better prospects than previous ones, but until it's approved by the FDA and the European Medicines Agency, we won't know its indications or on which patients it should be used. Will it only be for people with early Alzheimer's, or also people with pre-Alzheimer's? In any case, this is not a cure. It just opens a door to more effective treatments in the future," said Medina.
Miguel Baquero is a neurologist at La Fe Hospital in the Spanish region of Valencia. Twenty of his patients participated in the lecanemab trial. "Does this drug work? We don't really know because of the variability of the initial trials," he said. "You have to follow these patients for longer periods. That's why when I'm asked about these drugs, I say that we have drugs for current patients, and drugs that are in development for future patients. We may see significant treatment advances in the coming years due to early diagnosis and these types of drugs, but it's not a sure thing."
Before the year ends, results for clinical trials of gantenerumab (monoclonal antibody) should be released by Swiss pharma giant, Roche, and Lilly plans to unveil the clinical trial results for donanemab (another monoclonal antibody) by mid-2023. This class of drugs, already approved for other uses such as treating cancer, are among the most expensive in the world.