The medication that is extending survival for patients with advanced cancer
An annual meeting of oncologists has unveiled new combinations of known drugs that are achieving remarkable results in prolonging life expectancy
The oncologists gathered at the annual meeting of the American Society of Clinical Oncology (ASCO) enthusiastically received the presentation of the results of the DESTINY-Breast04 clinical trials carried out by Doctor Shanu Modi, a researcher at the Memorial Sloan Kettering Cancer Center in New York. Modi, who led the international study, has published the findings in the New England Journal of Medicine, and says that the drug that has been developed as a result will change the way in which breast cancer is treated.
Dubbed Enhertu, the drug is a type of pharmaceutical smart missile that has doubled the average time that patients with metastatic breast cancer survive without seeing the disease progress, from 5.1 months with conventional chemotherapy treatments to 9.9 months with Enhertu. Overall survival with the new treatment increased from an average of 16.8 months to 23.4 months.
Enhertu is a combination of the drugs trastuzumab and deruxtecan and works as a kind of Trojan horse. Deruxtecan is a toxic product of the kind used in traditional chemotherapy, which works to prevent cancer from spreading, but which also damages healthy cells in the patient's body. Trastuzumab, which has been in use for over 20 years, was one of the first targeted cancer treatment drugs, and in its day it was considered revolutionary. Capable of binding specifically to the HER2 protein, which is found in particularly aggressive breast cancers, trastuzumab is able to destroy cancerous cells without doing as much damage to healthy ones. The new combination, developed by pharmaceutical companies Daiichi Sankyo and AstraZeneca, uses trastuzumab to carry the destructive power of deruxtecan to the tumorous cells, where it releases a much more potent, localized chemotherapy, multiplying its effectiveness and limiting secondary effects.
The drug had already proven its ability to improve the outlook of patients with metastatic breast cancer where HER2 was very pronounced and to which trastuzumab is coupled. "The novelty is that this drug has also demonstrated activity for low HER2 patients, which was traditionally considered negative [and beyond the reach of drugs like trastuzumab]," says Cristina Saura, a researcher at the Vall d'Hebron Institute of Oncology and a co-author of the study in which the properties of Enhertu were put to the test. As such, treatments for tumors with a significant presence of HER2, which make up about 20% of the total, will be available to more patients for whom previously the amounts of this protein were considered insufficient to act as a target for these kinds of drugs.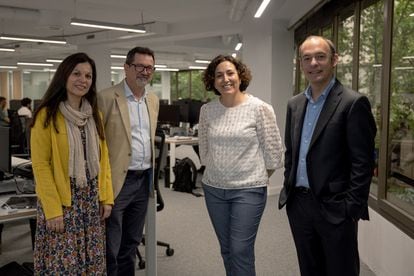 The success of Enhertu must be evaluated taking into account that it has been used with patients who had already undergone various treatments and who, as these had little effect, were left without options. "In patients who have metastatic breast cancer the goal is to prolong survival for as long as possible with the best quality of life possible, and when this drug is approved, it can be another way to achieve this goal," says Saura. "It is possible that over time, we will cease to employ conventional chemotherapies and use only these [antibody-drug conjugates]."
Antibody-drug conjugates (ADCs) were one of the latest developments presented last weekend at ASCO, where global advances against cancer tend to be announced. As is increasingly the case with cancer, what is being discussed are partial successes against the many subtypes of the disease, which number more than 200. An example of this is the PANAMA trial, one of the most-talked about at ASCO. The study, led by Dominik Paul Modesto of the Charité Hospital in Berlín, shows that the combination of a drug called panitumumab and chemotherapy achieved an average survival rate of over three years (36.2 months) in patients with a type of metastatic colon cancer with an unmutated KRAS gene. The results represent an increase of five months over the 31.3 that the current treatment of reference achieves. Cathy Eng, of Vanderbilt University, says these results "underline the importance of comprehensive biomarker testing, in particular to determine the type of KRAS gene that patients with this kind of tumor have."
According to Enriqueta Felip, president of the Spanish Society of Clinical Oncology, who attended ASCO, one of the principal aims of oncologists beyond prolonging life expectancy is to "see how the quality of life for patients can be improved. Supportive care for all treatments, the management of symptoms associated with toxicities or looking at how we can improve the lives of patients who survive, such as monitoring long-term effects and reintegrating into the workplace," are also key aspects of cancer treatment, Felip says. As such, studies were presented at ASCO that will help to fine-tune treatments and do away with those that are unnecessary, which will also serve to reduce side effects.
A study led by Jeanne Tie of the Peter McCallum Cancer Centre in Victoria, Australia, shows that with a blood sample known as a liquid biopsy, it is possible to determine if there is tumor DNA in circulation after surgery to remove it. Those patients who do not have any can be spared chemotherapy and its associated side effects with a low risk of relapse.
Another study presented at ASCO, led by Luis Alberto Díaz of the Memorial Sloan Kettering Cancer Center and published in the New England Journal of Medicine, explains how it was possible to eliminate a type of rectal cancer in 12 patients with a drug called dostarlimab, a monoclonal antibody that deconstructs the mechanisms whereby a cancer makes itself invisible to our immune system in order to attack and destroy it. As Díaz told The New York Times, there has not yet been "another study in which the treatment has completely eradicated cancer in every one of the patients treated." The study was carried out on a small group and the relatively short follow-up period means the results should be taken with caution: further studies will be required to verify the potential for dostarlimab to attack a specific type of colorectal cancer. However, as well as the stunning results achieved by Díaz and his team, the patients treated also did not suffer from the habitual side effects associated with dostarlimab, which is another indicator that something genuinely ground-breaking may have been achieved.
ASCO 2022′s theme was Advancing Equitable Cancer Care Through Innovation. For some years now, particularly with the arrival of new treatments such as monoclonal antibodies, immunotherapies and CAR-T treatments - which have proven very effective in some cases but that are also extremely costly – the price of drugs has been crucial for oncologists and the entities that pay for them. Financial toxicity has been discussed at previous ASCO meetings as another side effect of cancer treatments, especially in countries like the US where healthcare cover is not universal. Dostarlimab, for example, requires a course of treatment involving eight doses over six months, each of which costs $11,000. "It is a challenge we have to work on together," says Felip. "There has to be a discussion about the price of drugs." The economic factor is one more front to be added to the battle against cancer, a disease of devilish complexity.