Pardons for jailed Catalan separatists spark fresh controversy in Spain
PM visits Barcelona a day after the head of a leading employer group drew criticism for saying the government's clemency plans could bring 'normality' to the region
Spain's Prime Minister Pedro Sánchez was in Barcelona on Friday to meet with business leaders, a day after the head of a leading employer group triggered public controversy by apparently supporting the government's plan to pardon jailed leaders of the Catalan secession attempt of 2017.
"I believe that Spain and Catalonia will be whatever we want them to be. We can achieve the highest goals," said Sánchez on Friday morning at the close of a business forum organized by Cercle d'Economia. His remarks followed a fresh round of reaction over his plan to release nine individuals serving time for sedition.
The pardons, which the Cabinet is planning to approve sometime this month, have triggered a national debate in which politicians, business leaders, ordinary citizens and even Catholic Church officials have weighed in. The dispute is even threatening to engulf King Felipe VI, who as the Spanish head of state would have to sign the pardons.
Antonio Garamendi, president of Spain's main employer association the CEOE, on Friday rushed to put his words into context, a day after he told the state broadcaster RTVE: "There is room for pardons in a state governed by the rule of law. There is a diversity of opinion among entrepreneurs, but if this leads to a normalization of things, then [the pardons] are welcome."
Following a wave of criticism, including from members of his own association, Garamendi on Friday said that his words had been taken out of context. "We entrepreneurs want normality and stability. We stand with the unity of Spain and with democracy. The pardons are contemplated by the Constitution, it's a tool at the government's disposal. But politics are radicalized, and when you try to say something in a normal way... this happens. I'm quite shocked and sad," he told the television network Telecinco on Friday. Garamendi said that when he mentioned "normalization," he was simply thinking about bringing back the companies that moved away from Catalonia in 2017 due to the political uncertainty caused by the independence drive.
Politicians, citizens and even Catholic Church bishops have weighed in on an issue that is proving to be deeply divisive. Prosecutors and the Supreme Court recently issued reports opposing the pardons, and even some leading members of Sánchez's own Socialist Party (PSOE) have positioned themselves against clemency for the nine individuals who went to jail for organizing the outlawed referendum of October 1, 2017, which was followed by a unilateral declaration of independence in the regional parliament.
The government says that releasing the prisoners, who were found guilty of sedition in October 2019 and sentenced to between nine and 13 years behind bars, would help clear a path toward a solution to the question of Catalonia's future. Pere Aragonès, head of the region's recently elected government, said at his inauguration that he will work to make "self-determination inevitable." But his party, the Republican Catalan Left (ERC), has not openly backed another unilateral secession attempt.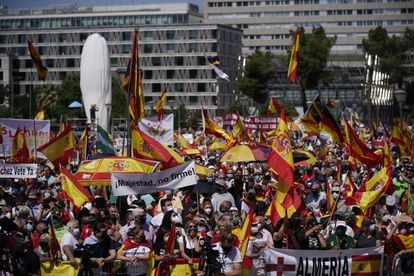 Right-wing parties have pledged to mount legal challenges against a move that they view as the political price that Sánchez is paying for for separatists' support inside Spanish parliament, where the prime minister heads a minority government with junior coalition partner Unidas Podemos. Last Sunday, tens of thousands of people joined the far-right Vox, the conservative Popular Party (PP) and the center-right Ciudadanos (Citizens) in a demonstration against the pardons in Madrid's Plaza de Colón.
The controversy is reaching as far as King Felipe VI, who would have to sign the pardons following constitutional procedure. Although the monarch has remained silent on the issue, Madrid premier Isabel Díaz Ayuso, of the PP, has mentioned him in public statements that have riled members of her own party.
"What's the king of Spain going to do now? Is he going to sign those pardons? Are they going to make him an accomplice to this?" asked Díaz Ayuso, who was recently re-elected in a snap election held in early May. Her remarks did not go down well among other leading PP officials, including Andalusian premier Juan Manuel Moreno, who said on Thursday that the king should be left out of it.
"The fact that the king sanctions laws does not make him the author of those laws," he said. "In a country as complex as ours, the figure of the king and the principle of neutrality attached to him must be preserved to the fullest. We must all make an effort to leave the king out of our political disputes."
With reporting by Cristian Segura, Elsa García de Blas and Carlos E. Cué
English version by Susana Urra.