Spain's social media provocateurs gear up for digital war ahead of Madrid election
Twitter personality Luis "Alvise" Pérez discusses the importance of high-impact campaign messages, and how the political right is now ready to take on the savvier left in the new media ecosystem
Luis "Alvise" Pérez, a Spanish social media personality known for his right-wing Twitter posts, was sitting at a sidewalk café overlooking Madrid's landmark Puerta del Sol square on Tuesday of last week, brainstorming with colleagues.
The group was preparing a strategy for influencing the early election of May 4, when Madrid regional premier Isabel Díaz Ayuso, of the conservative Popular Party (PP), is putting her leadership on the line in a move that has shaken up national politics in more ways than one.
There was talk of orchestrating a news event that would have great dramatic effect during the last week of the campaign – what the Americans call "an October Surprise," as their elections are always held in early November.
The biggest mistake the political right can make in the Madrid region is to be complacent

Luis "Alvise" Pérez, Spanish social media personality
Fresh in their minds was a viral video titled Hola 2021, in which a young woman from Segovia made a public entreaty for "a captain" to lead Spain. And there was also Alvise's own video in which Spain's Prime Minister Pedro Sánchez, the leader of the Socialist Party (PSOE), was depicted sunbathing on a beach surrounded by dead bodies representing the victims of the coronavirus pandemic.
Alvise has plenty of experience at shaking things up at the last minute. Three days before the Catalan election on February 14, he tweeted a piece of fake news during an electoral debate, posting a mock document that allegedly showed a positive result from a PCR test taken by the Socialist candidate, former health minister Salvador Illa. The message was that Illa was sick with Covid-19 on the set, putting the other candidates at risk.
"Hello @SalvadorIlla. Between the LOPD (Organic Law on Data Protection) or proving that a minister and regional candidate from my country is lying...(I choose) the second," he tweeted.
The Catalan Socialist Party filed a complaint with prosecutors, and the healthcare company Grupo Quirón verified that the document was a forgery. Alvise deleted his tweet. But once again he had achieved his goal: public outrage and applause.
If the May 4 election in Madrid is a war between communism and freedom in the eyes of the political right, Alvise is the closest thing they have to a kamikaze. Always prepared to overstep the mark, the Seville-born 31-year-old's nickname is a frequent trending topic, generating both hatred and admiration. As far as his admirers are concerned, his fearless ability to stir things up is ideal for engaging in cyber-combat on social media, where the new hyper-polarized politics play out and people like Alvise thrive.
Premier Isabel Díaz Ayuso sounds confident about her chances of victory on May 4, but among certain pockets of the Madrid elite, her rivals are taken seriously. In the circles in which Alvise moves, there was something akin to dread at the unexpected news last week that Pablo Iglesias, leader of the leftist Unidas Podemos, would be stepping down as second deputy prime minister of Spain to run as a candidate in the Madrid election.
"The biggest mistake the political right can make in the Madrid region is to be complacent," says Alvise during an interview in the Spanish capital. "If we do that, we are going to lose because Iglesias is very smart, and because behind the PSOE there is an inveterate strategist called Iván Redondo and 300 more people working for him who are dedicated to emotionally manipulating this country."
Fear, rejection, hope
Alvise has studied his rival carefully. He talks about a video of Redondo prior to becoming Sánchez's chief of staff, in which the latter talks about a lesson of modern politics: "The three emotions that are exploited in a campaign are fear, rejection and hope."
During the interview, Alvise highlights some of his rival's best moves on social media, such as the time when Sánchez and Illa sent a message via Twitter in December to the popular YouTuber Ibai Llanos, who has been widely applauded for not moving to Andorra to avoid paying high taxes.
"It is an example of how the left knows which young opinion leaders to approach to encourage them," says Alvise. "There was a previous analysis there. Ibai influences a lot of people. And the left knows how to identify that. The right is less adept at it, but it is learning."
Alvise has more than 224,000 followers on Twitter, many of whom started following him during the pandemic. In December 2019, he left his job in Valencia, working for former Ciudadanos (Citizens) politician and lawmaker Toni Cantó, and moved to Madrid to devote himself exclusively to social media.
His detractors see him as one of the worst trolls on Twitter, but his case is somewhat different from the typical online provocateur, as he is funded by unknown sponsors. This makes him one of a new breed, what one might call a "premium troll." By his own account, he teams up with video producers and lawyers. The former help him create content; the latter help him defend himself against the consequences. Up to now he has been sued, among others, by Public Works Minister José Luis Ábalos, TV journalist Ana Pastor and the Economy Ministry. He has sponsors who pay for the whole operation: "People like to invest so the information continues to get out there, instead of being sunk by legal challenges," he says.
On his Telegram channel, where he has more than 51,000 subscribers, he asks for contributions via the instant payment service Bizum. One known sponsor is Hazte Oír, an ultraconservative Catholic association whose logo appears at the end of the video of Sánchez on the beach surrounded by corpses. But according to Alvise, the collaboration was a one-off.
He insists that he is not on the payroll of the far-right party Vox or the mainstream conservative PP, but he refuses to reveal who is behind him "to avoid causing them problems." What he will say is that "in order to get the information, you have to meet a lot of people – judges, military figures, senior public administration officials and politicians. My days consist of meeting a lot of people because there are things you can't talk about over the phone. To anyone who believes that we have the right to privacy in Spain, I would tell them to wake up."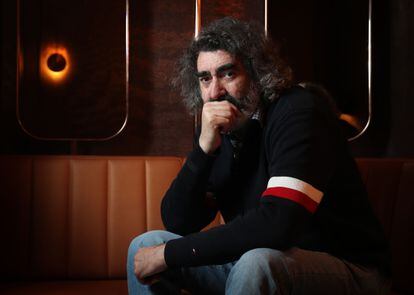 Besides spreading what is often fake news about public figures, Alvise has organized political action during the pandemic that has attracted its share of attention. On a YouTube livestream, he called for the resignation of the government and dubbed it "the first online demonstration in history." He was also behind the deployment of giant anti-Sánchez banners on Madrid's Paseo de la Castellana and in downtown Seville.
Alvise rejects the label of provocateur. He claims that it is unfair, given that similar behavior by the left is referred to as "political marketing." He prefers to see himself as the visible face of a group of idealists who want to dismantle a mafia group.
"I like your tweets"
The radical polarization of the May 4 race for the Madrid region will add fuel to the digital wrangling online – a space already seen by some as the main stage for election campaigns. Social media networks have eroded some of the political influence wielded by TV, especially when it comes to the young vote. Because of this, Fernando Monzón, an expert in "guerrilla marketing," sees Alvise as a valuable asset for the right. "The people who pay him are getting all excited because at last they have a young guerrilla fighter who stands up for Spain," says Monzón, who is the director of the digital marketing agency 3Lemon.
Monzón knows Ayuso well, having worked with her in the 2015 general election campaign, when she managed the PP's social networks. He believes that Ayuso's subsequent success on the political stage is impossible to understand without being aware of her grasp of the new medium and language, where provocation, victimization and cultural battles triumph.
"She knows what works, and that's why she is a constant meme," says Monzón. "People joke about her managing the account of Pecas, the dog of [her predecessor] Esperanza Aguirre, but they are wrong. Ayuso is an expert at this who knows what kind of messages work right now."
The torrent of memes and viral videos aimed at influencing voters will become more intense closer to voting day. Last week, a pro-Ayuso video circulated on social media, featuring Madrid in 3-D, inspired by the intro of HBO's Game of Thrones. At the end, the slogan "Socialism or Freedom" appears. Last Tuesday, Ayuso launched a campaign to attract volunteers with the hashtag #YoConAyuso (or #IAmWithAyuso) which helped recruit nearly 6,000 willing participants in 24 hours, according to PP sources quoted by the news agency Europa Press.
I am against him not because of ideology, but because people like him, who have no respect for the truth, make society worse

Gerardo de la Torre, journalist
According to Unidas Podemos leader Pablo Iglesias, in order to unseat Ayuso, the left has to mobilize local Madrid neighborhoods, but experts know that these days, the revolution rests on memes. "Is Iglesias going to set up barricades in the streets?" asks Plácido Luis Sánchez, who creates digital content for political parties and other interest groups as head of the Modelika agency. "No. He's going to mobilize a digital army against Ayuso."
The success of provocation is due to the new media ecosystem. We lack time to process the whirlwind of information that reaches us through an increasing number of channels, so the highest-impact content triumphs, according to political consultant Antonio Gutiérrez Rubí. "It is very likely that this campaign will be akin to a meme war," he says. "The communications team that is able to create the most incisive and timely content will have an extraordinary capacity to get it out there."
Walking in Madrid with Alvise, it's not long before he is complimented. "I like your tweets," says a tall, bald man who recognizes him. "Thank you," he replies with a smile. He says he gets a lot of grateful emails. His admirers see him as the curse of the left, the central government and other members of the media and business establishment.
Meanwhile, his critics believe that his barrage of groundless attacks and fake news endanger peaceful coexistence. "I am against him not because of ideology, but because people like him, who have no respect for the truth, make society worse," says Gerardo de la Torre, the journalist whose Twitter account Gerardo Tecé has more than 585,000 followers. "Sharing his content is like giving bad food to your family when Alvise is an expert cook." De la Torre gained fame during the Indignados anti-austerity movement that kicked off in 2011, and his formula for success is based on irony and humor with a left-wing slant.
Alvise believes that the left has dominated social media for years. But the right is already reacting, he says, and can still win the war. He is already working on a big dramatic disclosure ahead of May 4: "I'm looking forward to staging a surprise," he says.
English version by Heather Galloway.