The Global South is the epicenter of poor air quality, which suffocates and kills the most vulnerable
The lungs of Indians, Congolese and Bangladeshis are in worse condition than those of a person who has smoked for years. The UN wants to create a global fund to combat an issue that has become the world's biggest public health problem
How many years does breathing polluted air take off our lives? For a dozen countries in Southeast Asia and Africa, the answer is devastating: on average, the inhabitants of Bangladesh live almost seven years less; those in India, five years less, and those in the Democratic Republic of Congo, essentially three years less, according to the Air Quality of Life Index (AQLI), recently published by the University of Chicago. The report concludes that if nothing changes, the air that the world's inhabitants breathe will take an average of about 2.3 years off their lives. In other words, this study says that, around the world, air pollution already kills as much as tobacco, three times more than alcohol consumption, five times more than traffic accidents and seven times more than AIDS.
"We are talking about an invisible killer and the major public health problem of our time," María Neira, the director of the World Health Organization's (WHO) Department of Public Health and Environment, tells this newspaper. "We never read: this person died because his lungs were exhausted from breathing bad air, which paved the way for lung cancer and the heart attack he suffered, and yet seven million people die prematurely each year from diseases associated with air pollution. I think this figure should make us stop and reflect."
This ominous calculation of the amount of time polluted air steals from people's lives depends on the level of pollution, how long one lives in the affected area, and the age and state of health of the person, but there are particularly hard-hit places, all in the Global South, where people are "suffocating," experts say. New Delhi, the Gazipur district in Bangladesh, the regions of Mai-Ndombe, Kwilu, and Kasaï, east of Kinshasa, the Mahottari area in Nepal and the city of Mixco in Guatemala, offer particularly serious figures in terms of life expectancy lost through the simple act of breathing, the AQLI report explains.
According to the WHO, 94% of the world's population breathes air that does not meet quality standards
"In India, surgeons are operating on 17-year-olds whose lungs are similar to those of an 80-year-old who has smoked all his adult life," Neira says.
To sound the alarm and underscore the inequality between the Global North and South in tackling this enormous threat, in 2020 the UN declared September 7 to be International Clean Air Day for Blue Skies. If the problem is not addressed, "the number of deaths caused by outdoor air pollution is set to increase by over 50% by 2050." In addition, the WHO plans to hold the second global meeting on air pollution and health in Ghana in October 2024 (the first was held in 2018).
Investing in a global fund
Air quality is measured by so-called suspended particulate matter below 2.5 microns (PM2.5). The WHO states that a concentration of these microscopic particles above five micrograms per cubic meter begins to be harmful to the body. The organization estimates that 94% of the world's population breathes air that does not meet quality standards. For example, in New Delhi the concentration of particles is 25 times higher than WHO guidelines, while it is an average of 2.5 times higher in Europe.
Air pollution kills, and this is especially true for those who have the least resources, and particularly the most vulnerable populations among them. "We already know that these microparticles can pass into the bloodstream and be linked to diseases like strokes, heart attacks and other cardiovascular problems, but now we are also seeing that they cross the placental barrier and begin to affect the brains of fetuses before they breathe," Neira warns. She adds that the list of air pollution's harmful effects continues to grow as more studies are completed.
The investment necessary for reversing the situation caused by poor air quality would be three times less than what it costs us to treat the diseases it causes"

María Neira, WHO
According to the University of Chicago report, Bangladesh, India, Nepal and Pakistan — which account for almost a quarter of the world's population — have the worst pollution rates in the world and their inhabitants' life expectancy will decrease by an average of five years if pollution levels persist. Since the turn of the century, the degree of particulate pollution in these countries has increased by more than 50% due to industrialization, economic development, and population growth, which have boosted energy demand and fossil fuel use across the region.
In sub-Saharan Africa, while AIDS and malaria remain the top health priorities, the impact of exposure to particulate pollutants is already equally serious: the Democratic Republic of Congo, Rwanda and Burundi are among the world's most polluted countries.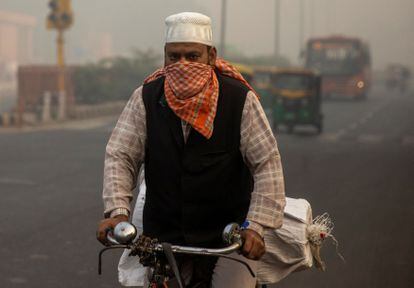 "Unfortunately, the countries experiencing some of the worst pollution levels today do not have the tools to address these basic deficiencies in air quality management, such as generating high-quality data," say the authors of the University of Chicago report, Michael Greenstone and Christa Hasenkopf. For example, they note that only 6.8% and 3.7% of governments in Asia and Africa, respectively, provide information about air quality.
Neira explains that the WHO wants to create a global fund for climate change, air quality and health, one modeled on past initiatives to alleviate other urgent health problems. "We are trying to whet countries' appetites to invest in this issue and to provide more means and infrastructure for the most affected countries, so that, for example, health centers are better equipped and the health workers on the front lines of patient care are better trained," the expert explains.
"At the moment, the investment necessary to reverse the situation caused by poor air quality would be three times less than what it costs us to treat the diseases it causes," Neira adds. In a statement released on the occasion of International Clean Air Day, the WHO says that air pollution also threatens the global economy, because huge health costs are involved. In 2019, pollution-related expenses already represented 6.1% of global GDP, around $8.6 trillion.
Citing data from the Clear Air Fund, the University of Chicago report notes that philanthropic foundations devoted $63.8 million to fighting air pollution in 2021, but "the entire African continent receives less than $300,000." However, Neira cautions that "comparisons are [terrible], and of course we don't want anyone to stop devoting funds to malaria or AIDS."
The WHO director believes that it is essential to support the most-affected countries in making the transition to cleaner energy as soon as possible. "In Africa, less than 1% of the population currently benefits from solar energy, and that is not because there is no sun. It is because there are other interests involved," says Neira, who recently participated in the African Climate Summit in Nairobi, where this issue came up.
According to Xavier Querol, a research professor at the Spanish National Research Council's Institute for Environmental Diagnosis and Water Studies, the Global North has "dirtied and filled the atmosphere with polluting gases for years" and has the obligation to help the peoples of the Global South opt for renewable energies and less-polluting technologies when it comes to finding alternatives for burning rice straw in India, for example. "We need funding for that, but also training, education and health," the expert says in an interview with this newspaper. Querol also criticizes northern companies' polluting activities in countries that are already affected by poor air quality, noting that it's a sort of "relocation of pollution that can no longer be allowed without [imposing] restrictions."
Reversing the trend
Despite the current dire figures, experts acknowledge that progress is indeed being made, although it is "not as fast and as strong as necessary." They stress that in recent years, Europe, the United States, Japan, and China have been able to significantly reduce air pollution. For example, the University of Chicago report notes that pollution in China has decreased by 42.3% since 2013, and that today the average Chinese citizen can expect to live 2.2 years longer, although pollution in the Asian giant is still six times higher than the WHO guidelines.
"China had economic — business — reasons, because presenting a country where the population was suffocating was not attractive, economically or socially. And there's been a fast, positive impact," Neira says.
In the United States, which once had levels higher than those in Southeast Asia, air pollution has been reduced by almost 65% since 1970. In 2021, the average concentration of PM2.5 particles was 7.8 micrograms per cubic meter, very close to the WHO limit. In Europe, according to the European Environment Agency, between 2005 and 2020, the number of premature deaths attributable to air quality fell by 45% to fewer than 250,000 per year.
Querol concludes that investment to improve air quality coexists alongside a certain social culture. "In countries where there is good healthcare, where the authorities are concerned, for example, about gender equality or family reconciliation, air quality is on the agenda as well, they go hand in hand… It is not [associated] with pure economic development, as the data from China and the United States showed a few years ago," he says.
Sign up for our weekly newsletter to get more English-language news coverage from EL PAÍS USA Edition