The heroes of the resistance at the gates of Kyiv
A mayor, a doctor, the mother of a dead policeman, a health worker and a priest recall the days when the town of Irpin became the wall that stopped the Kremlin's troops from entering the capital of Ukraine
The rubble of Irpin Bridge, blown up by Ukrainian forces to prevent Moscow troops from entering Kyiv, is still there as a reminder of Russian President Vladimir Putin's failed attempt to overthrow his Ukrainian counterpart, Volodymyr Zelenskiy, a year ago. The boulders, the twisted iron, the railings, the broken asphalt are going to remain there as a memorial known as "road of life," because some 40,000 refugees escaped through it, according to the mayor of Irpin.
Meanwhile, a Turkish company is building a new bridge a few feet away. The Kremlin's army failed to get past that point to the gates of the capital. These are some of the citizens who prevented the fall of Kyiv.
MAYOR: Oleksandr Markushyn (41 years old)
"The big mistake was not organizing the evacuation of Bucha on time," says the mayor of Irpin, alluding to the neighboring town, which was almost immediately occupied by Russians soldiers and where more than 400 civilians died. For this reason, as soon as Markushyn took charge of the Irpin territorial defense corps, he made two decisions: design a perimeter of armed men to stop the Russian advance from Bucha, and begin to move the population towards a safe zone. Thus, only 30% of Irpin ended up in Russian hands and 95% of the 100,000 inhabitants were evacuated, explains the mayor in an office decorated with dozens of distinctions received for these actions, including some for capturing Russians, and whose final destination will be the local museum. "This is the most precious one," he says as he takes out the gun that always accompanies him and was a gift from Kirilo Budanov, the head of military intelligence.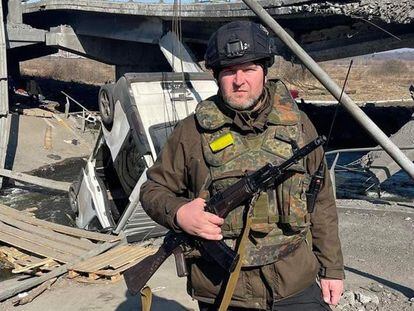 Markushyn refused to collaborate with the Russians and lists three assassination attempts by the invaders. He suspects that one of them, in which his house was bombed, was carried out with help from some collaborator who gave away his position to the enemy. During the five weeks that the Russian siege lasted, the mayor divided his time between the fighting and the tasks of someone who must attend to the population. Although he has military training and is a hunter, he remembers the first day he returned home: "I was deaf for more than a day and they had to yell in my ear." At the same time, he would go from basement to basement with his team, locating the population to evacuate them, since "there was no electricity, water or heating anymore and the cellphones barely worked."
As the days went by, hunger began to plague the residents. "Some of them had very little left of the soup pot, just enough for the children, but they wanted us to eat it so that we would have the strength to defend the city. But I couldn't allow my citizens to starve to death," he recalls. They made the decision to notify a local businessman who has a supermarket, which allowed free supplies. Some of his men lost their lives in those days, but the worst memory is the Russian attack on refugees escaping through the remains of the bridge, which killed four members of a family on March 6. Last June, three men who came from the Donbas region in the east were arrested for plotting a new attack against him. "Whatever happens, I was born here, I spent my childhood here and I will stay here," he asserts with his right hand on his heart.
PRIEST: Tadeusz Wolos, 63 years old
On the morning of March 5, several thousand people were forming crowds around the rubble in a bid to ford the river and escape from Irpin. EL PAÍS witnessed how a priest drove people to the edge of town and gave them his blessing as a farewell. Father Tadeusz, originally from Poland, came to Irpin in 2017 after serving 25 years in Belarus. His Catholic church of Saint Therese, whose refurbishment has been put on hold by the war, does not attract much attention in a country where the Orthodox Church has a majority following.
Tadeusz returned to Ukraine from Poland on February 23, 2022, the eve of the invasion, but he decided to stay in Irpin to help the parishioners. "On March 5, they cut off our electricity, heating and water," he recalls inside a temple of worship where loneliness reigns. "I stayed to pray and help people morally and spiritually. I did what I could. I wasn't afraid, I don't know why. I was only scared on one occasion, when a school went up in flames when a missile fell. I thought it could all burn down."
His intention, while maintaining contact with his family in Poland and the Bishop of Kyiv, was to hold out as long as possible. "But on the 17th I left for the capital. Later I wanted to go back, but they didn't let me anymore because it was dangerous. They only let volunteers through," adds the priest. Since then, Irpin has been recovering some normality, "but it's only on the outside, inside we feel tension and anxiety," Tadeusz adds.
HEALTH WORKER: Olha Bashey (45 years old)
A lawyer turned emergency service worker, and a Muslim in a country with a Christian majority, Olha has been familiar with the war since it broke out in the east in 2014. She left the Bakhmut front a few days ago, but she remembers well the days last year in which it was facing the siege of Kiev. The current large-scale invasion ordered by Putin is different from those early years of war in the Donetsk and Luhansk regions, she explains. "Almost all the wounded in 2014 were soldiers, now there are many injured civilians, especially children and the elderly."
Dressed as a soldier, she insists that Russia bombed civilians around the capital to try to force President Zelenskiy to surrender. Taking our her cellphone, she shows a photo of an old man who died on his bicycle as he was escaping from Irpin. And she cannot forget the three volunteers she knew personally who were evacuating civilians and who were riddled with bullets. "They got into the wrong place," she laments.
Her mission in the outskirts of Kyiv was, in principle, the evacuation of wounded soldiers, but, in the end, she acknowledges that she ended up going further and did not ignore civilians; she also participated in the detention of Russian soldiers. "My bosses know that I always end up doing what I have to, not just what they order me to do," she clarifies with a half smile as she sips on a mint tea.
Her first months at the front brought not only intense professional experiences. She also experienced her own conversion to Islam, encouraged by the Chechens who, going against Grozny authorities allied with Moscow, joined the Ukrainian troops against the uprising in the Donbas region. On some occasions she has come across prisoners from the battalions of Ramzan Kadyrov, the Chechen leader who is an ally of Putin, and she has asked them to their faces why they are carrying out the alleged jihad as Muslims. "Many simply bow their heads in response," says Olha, who will soon be assigned to a new destination on the front lines of the war.
MOTHER OF KILLED SOLDIER: Iryna Sukhikh (52 years old)
The room in Ihor Sukhikh's family home has been turned into a small shrine to his memory. This young member of the fiscal police, who took up arms against the Russians, was killed at the age of 30 by shrapnel from a mortar on March 24, 2022 in the center of Irpin. "Next to the police station," explains his mother, Iryna, who remembers him constantly, picking up different objects that once belonged to her son and displayed on a chest of drawers: photos, the gun holster, a bullet, medals from sports competitions, or drawings of flowers made by his two children, Nazariy, 6, and Tymur, 3.
There are also several photos of Anastasiya, the children's mother. They married in 2014 and almost immediately he was sent to the Donbas front. The room, now converted into a memorial space, has recently been renovated, as the house received several bullet impacts. Two days before he died, Ihor himself had to get his father out of the basement where he had taken shelter and whose access was blocked by rubble. On that fateful March 24, one month after the invasion, there were attacks from Russian positions. Ihor was the only person who was killed by shrapnel from the mortar. Three other people sustained minor injuries. Hospital workers could not do anything to save his life. He died shortly before joining the Alpha unit, a well-known elite body of the Security Forces whose tests he had passed.
Skyvra, the town south of Kyiv where the mother was sheltering, housed the body in a temporary grave. The funeral was attended by his comrades in arms, among whom was the mayor of Irpin himself. It was not until May 18, with the Russians already far from the town, when they were able to move Ihor to the place where he had asked to be laid to rest "if something happens to me one day," on the cemetery lane reserved for the war heroes.
Iryna wishes that the street where her house is located could be named after her son. The authorities have explained that there are not enough streets for so many fallen combatants. The woman takes solace in the fact that it seems there will be a plaque in his memory.
HEAD DOCTOR OF IRPIN AND BUCHA CENTRAL HOSPITAL: Anton Dovgopol (36 years old)
"Our life was magnificent." Dovgopol winces in disbelief when, with his cellphone in his hands, he begins to go back in time. On the screen, there are photos and videos of his last Christmas in peace, cooking for his wife, on vacation in a resort in the Carpathians, reform work at the hospital… "Look, this was February 19. We made jokes about Putin," he recalls while showing a meme of the Russian president bathing in icy waters. "Even February 23 it was a normal day. That night, it all started."
The first injured people to be received at Bucha's hospital were firefighters from Gostomel. It happened in the first hours of the invasion, on February 24. The spiral of violence did not stop and the horror on the mobile screen intensified. In one video, Dovgopol dons his white coat on March 10 as he leads the operation to unload 67 bodies from a truck to be buried in a mass grave next to a church in Bucha, next to Irpin.
"We couldn't keep them in the morgue without electricity anymore," he says. Among them was a Russian police officer who had arrived with the invading troops from Siberia, and who did not survive burns to 75% of his body. Three other Russian combatants were transferred to the authorities after they recovered. Asked about the reason for the war, their answer was twofold: because of Ukraine's attacks on Donbas (the eastern region that rose against Kyiv) and to "denazify" the country.
During the month that the Kremlin's troops tried to take Kyiv, the doctor remembers seven times when his life was in danger. In four of them he was shot at directly. Before that, the occupiers tried to convince him and the mayor to collaborate. Following a series of coincidences, on March 12 he managed to escape in a convoy of a dozen cars organized for the 50 remaining health workers. They loaded up the medical equipment and took anything that might prevent the Russians from running the hospital. Other vehicles with dozens of neighbors ended up joining that caravan. Dogvopol had to bring out his skills as a psychiatrist to convince a young Russian soldier at the only checkpoint they came across to let them through. By the time the soldier's superiors realized that they had escaped, it was too late and they could only fire at them from a distance with artillery.
On the desk in his office there are two awards, one from President Zelenskiy himself. Since his escape from occupied Bucha, the doctor alternates his medical work with the armed defense of neighboring Irpin. Instead of a white coat, he wears a military bulletproof vest and carries a kalashnikov. He does not lack a sense of humor when he remembers those unfortunate days in which, every day, doctors had to sign in at a Russian military checkpoint. One time he saw one of the soldiers climb an electricity pole to remove the internet fiber cable and one of the boxes to which it was attached. Dovgopol cannot but guffaw before repeating what the soldier said: "Cool, I'm finally going to have internet in my village!"
Sign up for our weekly newsletter to get more English-language news coverage from EL PAÍS USA Edition