Sara Khadem: 'I'm not me when I'm wearing a hijab'
On December 26, the Iranian chess player participated in the World Rapid Chess Championship in Kazakhstan with her head uncovered, a silent protest that is a very serious offense in her native country. After the photos circled the world, she announced her intention to settle in Spain. Her story represents the cause of freedom that so many Iranian women are fighting for
One day, Sara Khadem will have to explain some very complicated realities to Sam, her 10-month-old son. Like why she decided to compete in the 2022 World Rapid Chess Championship in Kazakhstan with her head uncovered. These days, that's a very serious offense in her native country of Iran. She made that decision to protest the death of Mahsa Amini, the 22-year-old woman who died in police custody last September, three days after being arrested by the morality police in Tehran. Amini's offense? She had been accused of wearing the obligatory hijab (head covering) incorrectly. Khadem will also have to explain to Sam why she moved to Spain with her husband, 32-year-old Ardeshir Ahmadi, the Iranian filmmaker, TV host and businessman. In 2015, Ahmadi spent three months in an Iranian prison. Sam sat nearby with an angelic smile on his face during our interview, which was conducted in a secret location for security reasons. Khadem was worried about reprisals against relatives still in Iran, because a few careless words are enough to land someone in prison.
Sarasadat Khademalsharieh prefers to be called Sara Khadem now. She, Ardeshir and Sam look like a happy family in their new home in an upscale Spanish neighborhood. But behind the smile is the sadness of leaving their native country under very stressful circumstances.
"I think mixed is the best way to express my feelings right now," said Khadem. "But honestly, before our son was born, we never considered moving away from Iran. Also, I was traveling most of the year because of my chess career… You know, the situation in the Middle East is unstable and many people need a second option if things get bad. I was never worried about that because I could get visas easily because of my chess career." Neither did her husband, who has dual Iranian and Canadian citizenship. "But when Sam was born, everything changed," she said. "I started thinking about living in a place where Sam could go outside and play without us worrying, and a lot of things like that. Spain seemed to be best choice, and seeing him happy here makes us happy. The Spanish people are like Iranians in a way – they are very warm, and everyone is very nice to us.
Khadem seemed to be at ease during our interview, except when we touched on sensitive subjects. She chose her words carefully then, and rightly so. That same day, an Iranian court sentenced activist Faezeh Hashemi Rafsanjani to five years in prison. The daughter of Akbar Hashemi Rafsanjani, a former president and founding father of the Islamic Republic, she had been charged in July 2022 with carrying out propaganda activity against the country and blasphemy. She was arrested again in September for "inciting riots" while protesting Mahsa Amini's death. If the daughter of a national hero can be treated this way, it's no wonder why Sara and Ardeshir must remain vigilant even though they are well known and well-connected in Iran.
Their concern extends beyond their families back in Iran. "I hope they will not suffer any reprisals, because it was a personal decision [to play without a hijab]," said Khadem, expressing concern that she may also be targeted by hostile members of the Iranian community in Spain. When asked why she made that decision, Khadem replied, "To be honest, even before playing this tournament, I never wore a hijab. I mean, I only put it on for the cameras because I was representing Iran. Somehow, it didn't feel good to not be myself, so I just decided not to do that anymore."
Amid a wave of countrywide protests, Khadem competed in the tournament without the hijab, which is mandatory in Iran for females over the age of nine. Thousands have been arrested – more than 18,000, according to Iranian non-governmental organizations (NGOs) working in exile. So far, at least 16 people have been sentenced to death and four have been executed. Amnesty International has denounced the lack of rights for Iranian women for many years. Its most recent annual report said, "Women faced discrimination in law and practice, including in relation to marriage, divorce, employment, inheritance and political office. Discriminatory compulsory veiling laws led to daily harassment, arbitrary detention, torture and other ill-treatment, and denial of access to education, employment and public spaces."
The photos of Khadem competing unveiled in the World Rapid Chess Championship in Kazakhstan circled the world, and became the latest drama in the young chess player's eventful life. A gifted child prodigy (although she doesn't think so), Khadem began playing competitive chess when she was eight. She soon moved on to international tournaments. "Travel is the best school of life, even when it's a difficult trip. I remember when I was a child, we had to stay in a terrible dormitory during a tournament in China. Those experiences make you tougher."
Khadem won the under-12 World Youth Chess Championship, but recalls that going back to her school in Tehran with the gold medal was painful. "Instead of congratulating me, my teacher said all that time playing chess would be better spent studying mathematics and more useful subjects. She was not at all supportive. But I stuck it out and went forward." Khadem soon stopped attending classes and only went to school to take exams. Since she was almost always traveling or preparing for tournaments, she would cram for the exams a week before. But she could always count on the unconditional support of her parents, which was crucial to the success that followed. Khadem won the under-16 World Blitz Chess Championship (five minutes per move) in 2013, and was the under-20 runner-up in classical chess in 2014 when she was only 17.
The 19-year-old Khadem met her husband Ardeshir Ahmadi after he was released from Evin Prison, what he calls "the worst prison in Iran." The charges against him were never clear, but he believes it was because of his television report on an underground music group. They married in 2017 and traveled several times to the Gibraltar Chess Festival, which enabled them to get to know different parts of Spain. By the end of 2018, the 21-year-old Khadem was ranked in the world top 20 in classical chess, and was the runner-up in rapid and blitz chess championships.
Khadem's future looked bright, but her career was about to come to a screeching halt with two events in late 2019 and early 2020. She made a courageous video supporting Alireza Firouzja, the brilliant Iranian chess player who emigrated to France with his family when he was 16, fed up with a government policy that forced him to forfeit every time he had to face an Israeli opponent. Iranian chess coaches have been overheard many times, including by this reporter, saying that the government's punishment would be severe if they allowed their young players to compete under the Iranian flag against an Israeli.
Because of the Iranian government's extreme intransigence on this issue, Khadem chooses her words carefully when asked about it. "If you play an opponent from Israel, you will get in trouble. If you don't play, you will get in trouble. I mean, if I answer that question, I think I will get in trouble, so I prefer not to." Khadem was a bit more direct when asked about Firouzja. "I supported him when he decided to emigrate, and I think his success in the chess world [fourth in the world at age 19] really demonstrates that it was a good decision for him... To say I was punished for that might be bit strong, but obviously they didn't like that I supported him." Nevertheless, the facts suggest that she was indeed punished: three weeks later, Khadem did not play in Gibraltar, despite being registered for the tournament. Two sources from the Gibraltar festival indicated that her passport had been confiscated at the Tehran airport.
A few days before her planned participation in the Gibraltar festival, Khadem had announced her resignation from the national chess team to protest Iran's shooting down of a Ukrainian airplane on January 8, 2020. All 176 people on board were killed. While the Iranian government said it was a mistake, Khadem remembers that "the entire nation was heartbroken, including me. I decided to quit the national team and stopped playing chess for a while." And then came the pandemic, which put the brakes on everything.
There's a striking paradox here that's worth explaining. Iran is one of Asia's great chess powers, along with India and China. Firouzja and Khadem are its brightest talents, but represent just the tip of an iceberg that includes other young elite players like Maghsoodloo and Tabatabaei. But chess was banned by Ayatollah Khomeini after the Islamic Revolution in 1979 for a very strange reason. In the Middle Ages, chess was played with dice in some parts of the world, and money was wagered. The Koran forbids any form of gambling.
Ayatollah Khomeini took the Koranic gambling ban to the extreme, and some professional players like Sharif and Shirazi subsequently emigrated to France and the United States, respectively. Several Iranian intellectuals then spoke out and made some common-sense arguments. Persia, as Iran was once known, has an important place in the history of chess. It probably arrived there from India in the sixth century, and then traveled to southern Spain by the end of the eighth century. It has been centuries since chess was a gambling game played with dice, and what better entertainment for Muslim warriors than a war game? When Khomeini lifted the ban shortly before his death, the game spread like wildfire throughout the country; stars like Firouzja and Khadem were born. She explains it like this: "Before the revolution and the ban, Iran already had a great chess culture, and it was played a lot in the privacy of homes. We had some grandmasters like Harandi, who later became my first coach. That accelerated the later emergence of some very good players."
Khadem plans to continue her career from Spain, and says, "I will play under the Iranian flag. My immediate goal is to break into the world top 10 [she is currently 17th]. I also want to become a streamer and play chess games live over the internet. I've had this idea for years, but I didn't want to do it from Iran wearing a hijab."
Such ambitious goals are time-consuming, something Khadem lacks right now. One reason is that she has been reading books on child psychology for the last year and a half after becoming pregnant. "A very important part of a person's character is formed during childhood. The parental contribution at this stage has a long-term effect." She also depends heavily on her husband. "A professional player has to spend many hours a day at chess. Ardeshir helps me a lot, which has enabled me to be the same person I was before we got married."
Sara Khadem has three role models in chess: Garry Kasparov, Judit Polgár and Magnus Carlsen. All three of these chess players have interesting stories. Kasparov has become a staunch Putin opponent since he retired from top competition in 2007 and emigrated from Russia to the United States in 2013 because his life was in danger. Kasparov remains very active in that struggle. "I admire him a lot – he's very brave. I don't think I have the knowledge needed to make significant changes, but I do as much as I can to make the world a better place," said Khadem.
Judit Polgár is Hungarian and the only woman to ever gain a top 10 ranking in chess. Like Khadem, she only attended school to take exams. After retiring in 2014, Polgár began advocating for chess to be used as an educational tool in schools. Polgár is also working to increase the number of female chess players, still only about 10% even in the 21st century. Khadem supports both goals. "Chess is very useful for educating children. I plan to include it in Sam's education, whether he wants to be a player or not. Also, chess has been labeled a men's game, so that needs to change for girls to consider it normal. It's very important to include it as an educational tool as early as pre-school, and to train teachers. This will avoid some of the frustrations I experienced when I was 12, and will eliminate the stereotypes. I believe that the recent global success of The Queen's Gambit [Netflix television series] will help a lot."
Norwegian Magnus Carlsen, the undisputed number one player in the world, has been in the news recently for accusing American Hans Niemann of cheating, without providing any evidence. Carlsen alleged that Niemann used a computer to beat him in a game on September 4, 2020 in St. Louis (USA). Niemann is now suing Carlsen for hundreds of millions of dollars. Khadem is conflicted about all this. "I don't really see proof that he was cheating, but I really respect Magnus. Still, he accused Niemann with no proof. But I think it's under investigation, so we'll learn the truth sooner or later."
Khadem smiles often as she speaks, as if to sweeten everything she says. But her smile disappears when the conversation turns to the situation in Iran. "Because of social media, you can see what's going on all around the world… that Iranians are fighting for their rights and women are fighting for their freedom," said Khadem.
While 60% of Iran's university students are women, they only hold 16 out of the 290 seats in the Iranian Parliament. "Unfortunately, some people in power still think women should be doing other stuff, not politics. I mean, they think that we should stay home and be housewives. But some women are fighting to change that, and I think they will succeed, because older women see what's happening in the rest of the world, and many of them support young women." Indeed, most Iranian women, especially young women, dress much less modestly inside the home than when out in public. "Yes, of course. In a country with such strict rules, people can only reveal their true selves at home, not in the streets," said Khadem.
Iran is facing an inexorable fact – the average age is 31.7 years – and most young Iranians oppose the government. Is Iran set to explode soon? "When young people are fighting for better lives, I think any government has to change." What will Iran look like in 10 years? "I think the world is getting better and that will also happen in Iran – it cannot be an exception. We will make progress in human rights, the environment, and much more. Iran will be a better place soon."
As Sam roams around exploring the area, our conversation ends with another Iranian contradiction. "When Iran is in the news, it's almost always about political issues. But Persia is one of the oldest and richest cultures in the world. Over the centuries, it has produced several scientists who have made important contributions to humanity. The same goes for literature (especially poetry) and the arts, in general. We have award-winning filmmakers like Kiarostami, Farhadi and others. Although my husband is a movie director, I'm still a total beginner in this area, but I'd like to know much more about this world," she said with a laugh.
Persian culture existed long before Islam. Does Khadem feel more Persian or more Muslim? "One is a nationality, and the other is a religion. I am Iranian," she said. Guarding her thoughts again, Khadem said, "For me, freedom is the ability to be ourselves. It doesn't mean that everyone can do whatever they want, but having that right without harming others is an essential necessity of life."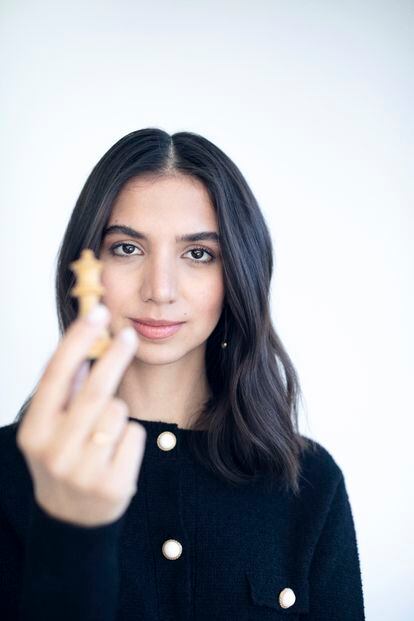 Styling Credits
Styling
Ángela Esteban Librero
Hair and makeup
Olga Holovanova (Another AGency) for Chanel
Fashion credits
Photo 1
Dress by Tommy Hilfiger.
Photos 2, 3 and 7
Jacket by Mango
Photos 4 and 6
Shirt by Cortana, pants by Pedro del Hierro and shoes by Pretty Ballerinas.