Magnus Carlsen suffers back-to-back defeats for the first time since 2015
Teenager Nodirbek Abdusattorov beat the world number one in Wijk aan Zee two days after Anish Giri took advantage of an error-strewn performance from the Norwegian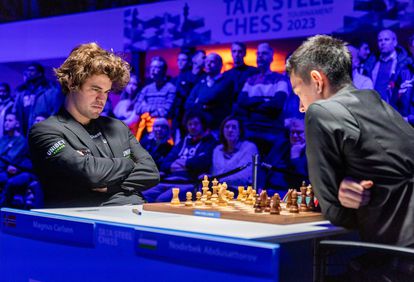 Many fans were forced to rub their eyes in disbelief when they saw Magnus Carlsen placed 10th in a field of 14 after suffering back-to-back defeats at the Tata Steel Chess Tournament in Wijk aan Zee in the Netherlands. It was the first time the world number one had been beaten in consecutive rounds in the classical chess format since 2015 and came on the same day that the Norwegian's renunciation of his world title and his number one ranking acquired a concrete date: May 1, when the world championship title contest between Ian Nepomniachtchi and Liren Ding concludes in Astana.
Carlsen's second defeat at the tournament was very different from his first, which was delivered on Tuesday by Dutch player Anish Giri. In that game, the Norwegian committed serious errors that were easy for a skilled chess player to detect, without the aid of computer analysis. By contrast, his loss to 18-year-old Nodirbek Abdusattorov, the 2021 World Rapid Chess champion, did require the intervention of machines that calculate millions of moves per second to understand the mistakes made by the reigning world champion.
The key to Abdusattorov's surprise win – the teenager is normally very solid and risk-averse – was that he decided with his 13th move to throw himself into a pit of vipers, where any of three outcomes were eminently possible. Very few chess stars dare to go on the attack against Carlsen, although it is also true that when faced with very complicated positions the Norwegian is not as strong as in placid ones. But challenging him like that is like throwing down a gauntlet.
Carlsen accepted the challenge without making any obvious mistakes for 30 moves, but he was taking an uncharacteristic amount of time. The memory of defeat to Giri was probably still fresh in his mind and weighing on his thought processes. What is certain, without a doubt, is that Abdusattorov moved like a fish in water despite the rough seas he was navigating. And he emerged from the first time control (two hours per player for 40 moves) with an advantageous endgame of queen and three pawns against queen and two.
Students of chess engines would say that at that moment, the most likely outcome was a draw and that Carlsen had a perfect defense. But the Norwegian is human and immediately made a mistake, one that Abdusattorov exploited swiftly as though he were a computer himself. The Uzbek is seen as a potential future world champion in the long format after his rapid chess success in 2021, but in the classical modality he had never previously reached such heights. With his victory over Carlsen and the three points he accrued in the opening four rounds of chess' equivalent to Roland Garros, Abdusattorov finds himself among the top 20-ranked players in the world for the first time.
Carlsen accepted defeat graciously, extending his hand to his teenaged opponent and holding a muted chess-based conversation (so as not to disturb the other players) lasting a couple of minutes. This was in stark contrast to some of the tantrums he has unleashed after previous losses, and even more so when his astonishing record in the classical modality over the past five years is taken into account. Carlsen lost twice in the space of a week in the Netherlands, the same number of defeats he suffered in 2018 (from 62 games), 2020 (from 79 games) and 2021 (24 games). In 2022 he lost just once in 52 games and in 2019 he was unbeaten in 76.
Sign up for our weekly newsletter to get more English-language news coverage from EL PAÍS USA Edition