After playing without a hijab in a world championship, Iranian chess star defects to Spain
Sarasadat Khademalsharieh will not return to Iran, which has harshly repressed other athletes who supported protests by competing with their heads uncovered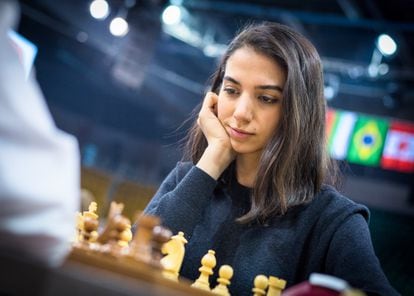 Iran is the perfect example of how political and religious extremism can ruin sporting success. Sarasadat Khademalsharieh, 25, one of the most promising chess players in the world since 2012, will have to change her place of residence to Spain after her participation in the FIDE World Rapid and Blitz Chess Championship in Almaty, Kazakhstan (25-30 December). This is because she played without the traditional headscarf known as a hijab, for which she could face serious reprisals from the Iranian regime, which sees the gesture of uncovering her hair as a display of support for the protests that have shaken Iran in the last three months. Three years ago, Alireza Firouzja (16 at the time), currently ranked 4th in the world, defected to France, upset at being forced to lose by default against Israeli rivals. Imam Khomeini banned chess after the 1979 Islamic Revolution, but he rectified it shortly before he died, and today Iran is a world chess power.
Khademalsharieh had already had problems with her country's government after she publicly supported Firouzja's decision in a video and declared that, if the government did not retract its order to refuse to play with Israelis, there would be more cases like his. Married to popular Iranian film director Ardeshir Ahmadi and the mother of a child since February, she is well aware that her safety is at risk if she returns to Iran, because she has been seen playing uncovered in several photos. This is why, after the competition in Kazakhstan, the three of them will settle in a Spanish city (whose name she does not want to reveal for safety reasons), two sources close to the player have confirmed to EL PAÍS. She will probably never play for Iran again, "but you never know," the sources added.
The sources explained that the Iranian chess player and her family own an apartment in Spain, but they do not know if the athlete has already obtained a Spanish residence permit thanks to this property, or if she has requested, or intends to request, political asylum. According to the so-called residence visa for investors and entrepreneurs, also known as the Golden Visa, a non-EU citizen who purchases a real estate property whose value exceeds €500,000 can automatically obtain legal residence in Spain. Khademalsharieh's husband also has a Canadian passport.
The boycott of Israel by Iran and other Muslim countries (not all) includes all world championships for young players up to 20 years old. This reporter has asked Iranian delegates and coaches on several occasions what is the point of applying that norm to children; especially when – as is often the case – the Iranian boys were playing soccer with the Israelis in the morning. The answer is always something along the lines of: "Personally, I have no problem with my boys spending time with the Israelis, but as a sports manager, if I let them play this afternoon with the Iranian flag against an Israeli, the consequences will be very serious." Most Islamic countries do not recognize the existence of the Israeli state.
The pinnacle of absurdity was reached three years ago at the Sunway Sitges Chess Festival, in Spain, when the two best Iranian players after Firouzja's defection, Parham Maghsoodloo and Amin Tabatabaei, 19 and 18 at the time, faced (and defeated) Israel's Ido Gorshtein, 17, in a blitz encounter (five minutes per player). The Iranian government flew into a rage and questioned Maghsoodloo and Tabatabaei, who claimed that they were not aware that Gorshtein was Israeli. Hard to believe under normal conditions, but in this specific case it was actually plausible: for the first time in six years, and due to problems with a printer, the referees decided to play without flags in order to gain time.
Khademalsharieh is not the only Iranian player who has been photographed without a hijab in Kazakhstan. This has also been the case of Atousa Pourkashiyan, who lives in the US (and plays with its flag) and is the romantic partner of the American Hikaru Nakamura, ranked 5th in the world, after having been 2nd in the Iranian female ranking for many years. In February 2017, another of the best Iranian players, Dorsa Berajshani, did not return to her country after playing without a hijab at the Gibraltar Open, where Khademalsharieh and Pourkashiyan did wear it in the tournament room but removed it as soon as there were no photographers around.
Chess was banned in Iran by Imam Khomeini, who defined it as a diabolical game that disturbs the minds of those who play it, because in the Middle Ages it was a game of chance (it was played with dice) and gambling, two things that are strictly prohibited by the Koran, even though some moderate Muslim countries do allow it – with certain limitations. However, some Iranian intellectuals convinced him that he was wrong to ban it as it is a war game and it stopped being a game of chance and gambling centuries ago. Khomeini lifted the ban shortly before his death in 1989. Since then, the Iranian government has greatly promoted chess, to the point that Iran is today one of the great chess powers in Asia, after China and India.
The country's players win medals frequently, especially in the Asian championships, but it is also not uncommon for them to find themselves in situations like those reported in this article. Something even more serious happened recently with Elnaz Rekabi, one of the best climbers in the world: in October she competed without a hijab at the IFSC Climbing Asian Championship in South Korea, shortly after the September 16 death – in police custody – of Mahsa Amini, arrested three days earlier for not wearing the hijab correctly. Rekabi returned to Iran and then, a few weeks ago, her house was demolished, according to Iranian media in exile.
Sign up for our weekly newsletter to get more English-language news coverage from EL PAÍS USA Edition