South Korea enacts law that will make the entire population younger in 2023
The National Assembly has decided to do away with the traditional method of calculating age, by which babies are born one year old, to standardize the country's legal and administrative system
When Costa Rican student Paz Murillo arrived in Seoul as a student in 2017, she was taken aback by the obsession of her university colleagues with her age. "They kept asking me: 'Is that in Korean age or international age?' The thing is here, you get an extra year on your age, even as a foreigner."
South Korea and Taiwan are the only two places in Asia that maintain the traditional Chinese method of counting age, and as such all their citizens are a year or even two years older than they would be everywhere else in the world. However, this is set to change in South Korea next year after the National Assembly approved a series of laws that will standardize the ages of the country's population with the international system at every official level.
The new legislation, which was passed on December 8, will seek to regularize the ages of all South Koreans in judicial and administrative terms in line with the international system while doing away with the traditional method that is still employed by some governmental departments. The aim of the measure, which was one of President Yoon Suk-yeol's campaign promises, is to reduce judicial discrepancies and eliminate the costs to the state that arise from using three different systems to calculate age.
Since 1962, the official method employed legally and administratively in South Korea is the international system, which is based on a person's date of birth and adds one year to their age every time they celebrate a birthday. However, in informal contexts the majority of South Koreans use their "Korean" age, which can be a year or two older than their "international" age. According to this system, babies are a year old as soon as they are born and another year is added to their age every January 1. As such, a baby born in South Korea on December 31 will already be two years old the following day.
To further confuse matters, in some administrative areas the "annual" age is employed, which is a mixture of Korean age and international age. Under this system babies are considered to be born at the age of zero, but a year is added to their age every January 1. This system is used in the application of laws such as compulsory military service, primary and secondary education and establishing the legal age for drinking and smoking. As of June 2023, on paper this system will cease to exist.
The origins of the custom go back hundreds of years, to Ancient China, from where the tradition extended to other countries of Confucian tradition. It is still maintained today in Taiwan, where every citizen automatically adds a year to their age on January 1. North Korea abandoned the system decades ago in the official sphere, although many North Koreans continue to use it informally when talking about their age.
The National Assembly's decision follows a lengthy debate over the social confusion generated by the use of multiple systems. Although the country's laws lay out which method of calculating age is applicable in each circumstance, many South Koreans are not very familiar with the nuances and there is an abundance of online age calculators to help citizens to determine their age for bureaucratic purposes.
"It's a hassle when we travel abroad or when we have to request documentation from other countries, so I think it is a very positive change," says Li Hui Rim, 25, who studied in China and is now involved in business interests between the two countries. "Although it is only for official procedures at the moment, I hope we will eventually adopt it at all levels."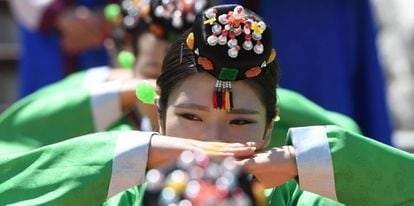 80% of South Koreans favor change
In a September survey conducted by the Ministry of Government Legislation, 80% of respondents said they favored unifying the age computation system. President Yoon, who took office in May, said during the election race that the system needed to be changed after problems arose during the Covid-19 vaccination campaign: some South Koreans did not receive a booster dose despite being of "international" age because they could not provide valid documentation proving their "Korean" age.
Although 86% of respondents said that in the course of their daily lives they prefer to use the age of their date of birth, sociology experts believe that such a deeply rooted custom will be difficult to change overnight. South Korean society is extremely hierarchical, to the point that in order to properly address an interlocutor in Korean, one must be aware of their age and social status.
"People start conversations by asking how old the other person is because they need to know in order to use the correct vocative. I have seen occasions where my friends clearly don't feel comfortable because they are not sure if they are using the right word to address the other person," says Murillo.
Sign up for our weekly newsletter to get more English-language news coverage from EL PAÍS USA Edition