Hurricane Ian makes landfall in Cuba with 'life-threatening' storm surge
The tropical cyclone poses a danger to over 100,000 island residents and is expected to also affect the Mexican Caribbean and Florida in the coming days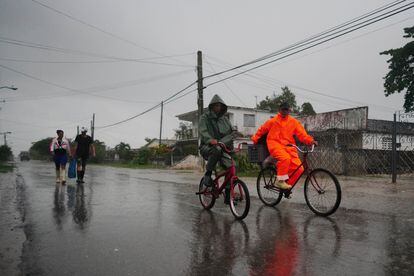 Hurricane Ian made landfall in western Cuba at around 4.30am ET on Tuesday, according to the US National Hurricane Center (NHC). The monitoring agency issued an advisory warning that the Category 3 storm was "battering western Cuba with high winds and life-threatening storm surge."
Mexico's Caribbean region and western Florida were also bracing for the effects of Ian, which is expected to down power lines, take down trees and cause flash flooding.
The NHC issued a hurricane warning for three Cuban provinces - Isla de la Juventud, Pinar del Río and Artemisa - as well as Tampa Bay in on the west-central coast of Florida, and a tropical storm warning for the Cuban provinces of La Habana, Mayabeque, and Matanzas, as well as the Lower Florida Keys from Seven Mile Bridge westward to Key West.
The NHC also warned about the risks of a storm surge, which creates "a danger of life-threatening inundation from rising water moving inland from the coastline."
More pain for Cuba
In Cuba, which is currently experiencing one of the worst economic and social crises in its history, Ian could devastate the west of the country and cause a humanitarian catastrophe. A day before the cyclone made landfall in La Coloma, in the province of Pinar del Río, around 200 kilometers west of Havana, evacuations of people living in low-lying areas were already taking place. More than 100,000 Cubans could be affected and be forced to leave their homes in the next few hours. In Pinar del Río, authorities on Monday accelerated the evacuation of some 50,000 people, of which about 6,000 will be housed in state centers and the rest in the homes of relatives and friends.
Thousands of people were working to protect goods, crops and material resources that could be damaged by heavy rains and winds of up to 125 mph. Regular blackouts and draconian shortages have been affecting Cubans for months already, and most homes hardly have any supplies to fall back on if the worst forecasts are confirmed. Cuban civil defense agencies usually function like clockwork, providing some measure of relief ahead of the potential damage.
Mexico and Florida
The hurricane's next stop after passing through Cuba will be the Mexican Caribbean. The country's authorities announced on Monday that "meteorological phenomena are expected in the coming days that could represent a risk to the population." The states most directly affected are Quintana Roo, Yucatán and Campeche. Damage is also expected in more inland states such as San Luis Potosí, Hidalgo, Puebla, or the south coast: Tabasco, Oaxaca and Chiapas.
In western Florida, some counties had also issued evacuation orders ahead of Ian's arrival. On Monday, Governor Ron DeSantis issued an update, noting that "regardless of Ian's exact track and intensity, there is a significant risk of life-threatening storm surge, hurricane-force winds, and heavy rainfall along the west coast of Florida and the Florida Panhandle by the middle of this week."
Ian is the fourth hurricane of the season. Another cyclone, Fiona, recently ravaged parts of Puerto Rico and Dominican Republic.
More information