Russia's art world reeling from the effects of the Ukraine invasion
Pro-Putin artists have been fired from prominent global positions while others who oppose the war have canceled their own shows or quit their jobs, defying a national ban on protests
The Russian artist Kirill Savchenkov on Monday announced he will not be representing his country at the 59th Venice Biennale, which opens on April 23. "There is nothing left to say, there is no place for art when civilians are dying under the fire of missiles, when citizens of Ukraine are hiding in shelters, when Russian protesters are getting silenced. As a Russian-born I won't be presenting my work at Russian pavilion [sic] at Venice Biennale," he wrote in a message on his Instagram account, in white letters against a black background.
Alexandra Sukhareva, another artist who was going to show her work in the same space, has made the same decision. And so has the artistic curator of the pavilion, Raimundas Malašauskas, which means that there will be no Russian representation at one of the world's leading contemporary art events this year. "This war is politically and emotionally unbearable," wrote Malašauskas on Instagram. "The idea of going back to [...] living under a Russian or any other empire is simply intolerable."
There are many other examples of how Russia's attack on Ukraine is having serious consequences on the world of Russian culture, which is often dominated by people with close government ties. International pressure has been growing every day. Ukraine's Culture Minister Oleksandr Tkachenko has called for sanctions to "limit the Russian presence in the international cultural arena" and urged a boycott of Russian artists at all fairs and exhibitions.
In the United Kingdom, the London Royal Opera House has canceled the Bolshoi Ballet's summer program, and Madrid's Teatro Real is considering whether to do the same. In the meantime, the Bolshoi Theater has axed a performance by Spanish opera singer Plácido Domingo scheduled for March 8. And leading pop and rock bands such as Green Day, Imagine Dragons, Franz Ferdinand and The Killers have canceled their Russian tours, while the Eurovision music festival has also expelled Russia from this year's competition.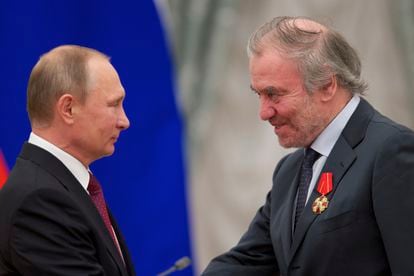 The protests are also taking place at the domestic level. Ever since Moscow launched its invasion of Ukraine on Thursday of last week, a growing chorus of voices from the world of Russian culture has been publicly rejecting the war and putting cultural activities on hold as a sign of protest. This, despite a warning issued last week by Vyacheslav Volodin, chairman of the State Duma – the lower house of parliament – that any anti-war demonstrations would be viewed as "a betrayal of the people."
In the performing arts, Elena Kovalskaya resigned as artistic director of the Meyerhold Theatre and Cultural Center just hours after the invasion was launched. "It is impossible to work for a murderer and get a salary from him," she wrote via a Facebook post.
And a group of high-profile figures this week signed an appeal to end the war, including the heads of the famous Bolshoi Theater, Vladimir Urin, and of the Alexandrinski Theater, Valery Fokin. Urin's support is particularly relevant because in March 2014 he signed another appeal backing Vladimir Putin's policies in Ukraine and Crimea.
Russia's leading contemporary art museum, Garage, has announced its decision "to stop work on all exhibitions until the human and political tragedy that is unfolding in Ukraine has ceased. We cannot support the illusion of normality when such events are taking place." And at Russia's recently inaugurated cultural center GES-2, the Icelandic artist Ragnar Kjartansson announced the early cancellation of his theatrical work "Santa Barbara – A Living Sculpture" after describing Russia as "a fascist state" in statements to the Icelandic National Broadcasting Service. Later the V-A-C Foundation, the private group behind this space, said it was closing all programmed exhibitions and activities.
Finally, the art magazine The Calvert Journal, which covers contemporary culture in Eastern Europe, Russia and Central Asia, said that as of Friday, there will be no more publications until further notice. "At a time when Russian acts of war are being committed in Ukraine, we cannot in good conscience continue our work covering culture and the arts like business as usual," said the magazine in a statement on its website.
At the opposite end of the spectrum, orchestra conductor Valery Gergiev, a Putin ally who has refused to publicly condemn the invasion, has been sacked as chief conductor of the Munich Philharmonic and will not be conducting concerts at Carnegie Hall in New York or the Philharmonie de Paris.
The opera singer Anna Netrebko is in a similar situation. At first, she yielded to international pressure and published a message on social media lamenting the war, but she added that forcing artists to publicly express their political opinions and condemn their homeland was unacceptable. As a result, her engagements with the Bavarian State Opera have been canceled, and she herself has decided to cancel programmed events at Milan's La Scala and the Zurich Opera House.