Morocco says it prevented 70,000 attempts at irregular migration in 2019
Increased security deployment has played a key role in reducing arrivals on Spanish shores
Morocco said that in 2019 it prevented nearly 74,000 "attempts at irregular migration" and broke up 208 human-trafficking rings.
Moroccan services also rescued 19,554 migrants at sea, according to an Interior Ministry source quoted by the country's official news agency, MAP.
The news comes as Spain is stepping up deportations amid a new spike in boat arrivals on the shores of the Canary Islands, off the northwestern coast of Africa. (see box below)
It's a very good start, but it is not enough. Morocco spends more than it receives

Khalid Zerouali, Moroccan border surveillance services
The Moroccan Interior Ministry did not go into detail about what it means by "attempts at irregular migration," but arrivals in Spain from the country were halved between 2018 and 2019, dropping from a historical high of 64,298 in 2018 to 32,513 last year, according to figures provided by the Spanish Interior Ministry.
The deployment of Moroccan security forces has played a key role in reducing migratory pressure to Spain, and this has been acknowledged by the European Commission, which supports continued cooperation between Morocco, Spain and the European Union.
Morocco's designation as a "strategic partner" to the EU has brought the country €140 million in aid, including a direct payment of €70 million and financing for more than 1,300 patrol vehicles, radar systems, speedboats and computers. Last August, Spain approved a further €32 million in aid of its own.
The Moroccan Interior Ministry has not provided detail about what it means by "attempts at irregular migration"
"It's a very good start, but it is not enough. Morocco spends more than it receives," said Khalid Zerouali, director of the Moroccan migration and border surveillance services, in statements to news agency AFP.
Moroccan cooperation became more evident after February 2019, coinciding with a state visit by Spain's King Felipe VI, who met with King Mohammed VI of Morocco. Boat arrivals from the North African country declined considerably at that point, and the downward trend has been maintained. Rabat reinforced its northern border and began cooperating in maritime rescues that had been performed to date by Spanish rescue services.
A human-rights group from southern Spain, the Asociación Pro Derechos Humanos de Andalucía, has denounced the Moroccan security forces' practices of "mass arrests" of migrants, forced transfers to the southern border, and "the dismantling of immigrant camps near the [Spanish exclave cities] Ceuta and Melilla."
Deportations on the rise
The increase in boat arrivals in the Canary Islands has become a problem for the Spanish government. Resources to assist the migrants are stretched thin as the number of migrant arrivals continues to rise. Since 2019, over 3,000 migrants have tried to reach Spanish shores via the Canary Islands – a huge spike from the 400 recorded in 2017. This past weekend, two more boats turned up with 54 people aboard.


In the last eight months, the Spanish government has organized seven repatriation flights to Mauritania, nearly twice as many as in 2018, according to sources familiar with the operation.


The Interior Ministry does not reveal how many people it is sending back, but some figures are available from the Ombudsman's Office. Spain has had a repatriation agreement with Mauritania for the last 17 years, although it had hardly been used until now. Humanitarian groups have voiced concern that Mauritania is accepting not just its own nationals – who represent a small fraction of all the migrants – but everyone who, in theory at least, departed from Mauritanian territory.


Interior Ministry sources said the goal is to encourage cooperation with countries of origin. "Our presence on the ground is very important. Last year Gambia, Senegal, Morocco and Mauritania prevented 40% of departures towards the Canary Islands," said Commander Agustín Barroso, chief of operations at the Regional Coordination Center of the Canaries. "There's going to be a spike, but we won't have another 'cayuco crisis' [when over 30,000 people arrived in 2006]. Now we are working at the source."
English version by Susana Urra.
More information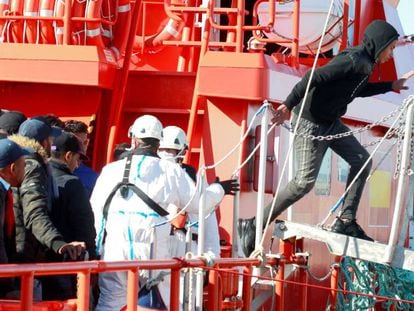 El País
/
Agencies
| Las Palmas / Fuerteventura / Madrid