Spanish government will let cities nullify thousands of Uber, Cabify licenses
Private-hire drivers will soon have to apply for a second permit from regional or local authorities, giving the latter the power to completely veto their operations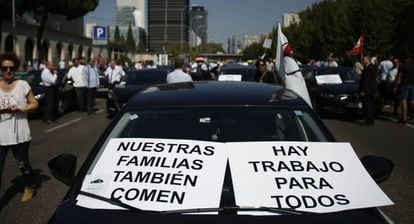 Regional and local governments in Spain will be able to nullify thousands of private-hire driver licenses (VTC) used by ride-hailing companies like Uber and Cabify, according to a new legal decree approved by the Cabinet on Friday.
The new rules give these businesses a four-year period to keep operating, after which their current licenses – which are valid across the entire Spanish territory – will be subject to invalidation by local authorities at the latter's discretion.
The VTC industry association has already warned that it will take the matter to national and European market competition watchdogs
At this time, companies wishing to do business within city limits will be forced to apply for a second license issued by either local or regional authorities. The current national permit will only be valid for intercity trips.
The move lets regional and local governments decide how many new VTC licenses to issue within city limits. This means that the current ratio of one VTC license for every 30 taxi licenses could be drastically reduced, or even eliminated altogether, in some municipalities.
The arrival of ride-hailing companies has met with stiff opposition from taxi associations, which consider them unfair competition. Taxi drivers accuse companies like Uber and Cabify of intruding in the sector, of not paying enough taxes, and of benefiting from the cheaper cost of a VTC license compared to that of a taxi, which can go for upwards of €200,000 in cities like San Sebastián or Palma de Mallorca due to an unregulated market.
In a bid to avoid an avalanche of legal challenges by ride-hailing companies against the expropriation of their rights, the government decree is offering a four-year moratorium as "compensation." But Unauto, the VTC industry association, has already warned that it will take the matter to national and European market competition watchdogs, as well as to the courts.
There are currently 11,000 VTC licenses, five times more than authorized by law, and a further 10,000 are expected to trickle into the market by court order.
The new rules open up two different scenarios: there will be regions like Madrid that do not wish to take on this new power or legislate on the matter. In this case, private-hire cars will be able to operate as usual for the next four years, but after that they will lose their local rights. And there are regions like Catalonia that do wish to take the matter in hand, and may introduce new rules from day one, such as mandatory rest days, stricter schedules and sanctions for violators.
English version by Susana Urra.