Partner of Spanish woman murdered in Costa Rica: "They didn't warn us about the danger"
Family of Arancha Gutiérrez, killed during holidays on island of Tortuguero, has called for more support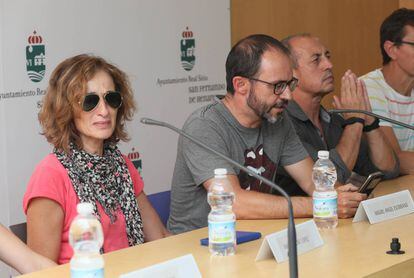 "Don't fail us again." That's the message from the family of Arancha Gutiérrez, a 31-year-old Spanish woman who was murdered near a beach on the popular island of Tortuguero in Costa Rica. She was there with her partner and a group of seven other Spaniards, all of whom were staying at a nearby hotel.
According to the victim's partner, Miguel Ángel Escribano, nobody – not Spanish or Costa Rican authorities or the management at their hotel – had told them that police had stopped patrolling the beaches: "They didn't warn us of the danger we were running."
After the tragedy, we became aware of things that it seems no one knew about Victim's partner Miguel Ángel Escribano
"Spanish people travel across the world to destinations that can be more or less dangerous and we decide how much risk we take," he said, reading from a statement inside San Fernando de Henares City Hall, in the Madrid region. "But this does not mean we are looking to get ourselves killed."
Before traveling to Costa Rica, the couple had consulted information offered by the Ministry of Foreign Affairs on global destinations. They thought Tortuguero was "a very safe place where nothing ever happened," explained Escribano. "After the tragedy, we became aware of things that, it seems, no one knew about."
After the murder last weekend of Gutiérrez and another woman, María Trinidad Mathus from Mexico, Spain's Ministry of Foreign Affairs has updated its website and now recommends that tourists "travel with caution" to the Central American country. According to the website, travelers should "adopt measures to protect themselves and avoid traveling alone or to remote or poorly lit places, both in urban settings and tourist areas."
Speaking in Madrid alongside the victim's mother, father, sister and brother-in-law, Escribano thanked the Spanish consulate and embassy in Costa Rica, as well as the Costa Rica government and police force, for their support following the murder. But he called on the Spanish government to do more: "Don't leave us in this important moment because this matter cannot be left unresolved. Don't fail us again."
Spain's Ministry of Foreign Affairs now recommends that tourists "travel with caution" to Costa Rica
Six days have passed since the victim, a physiotherapist who lived in San Fernando de Henares, was strangled as she went for a run on the beach. According to the family, the police have arrested three people in connection with the case. "It seems that one of them is the murderer," said Escribano.
The main suspect, a hotel gardener from Nicaragua, was released on Monday after the court in charge of the case ruled that there was insufficient evidence to place him in pre-trial custody. The suspect worked at a nearby hotel and had been in Costa Rica for three months without proper legal status. He is currently being kept in a temporary center for undocumented migrants and could get released or deported "at any moment," according to immigration authorities. Authorities suspect a sexual motive behind the attack, as Gutiérrez's clothes had been torn off.
The family and Escribano, who returned from Costa Rica on Thursday, agreed that the attack had been sexually motivated.
"Arancha left to go running early in the morning, like any woman wishing to enjoy her holidays would have done. She was attacked by a vile pervert, a blot on the human condition," they said.
"We do not know how far machismo reaches, and up to what point a woman cannot enjoy nature by herself in broad daylight, creating fear and insecurity for the rest of the women who want to live freely."
English version by Melissa Kitson.
More information