Balearic Islands
Cuban-American tycoon lands Mediterranean island for €3.2 million
The islet was the inherited property of 16 owners and is part of the Balearic Islands in Spain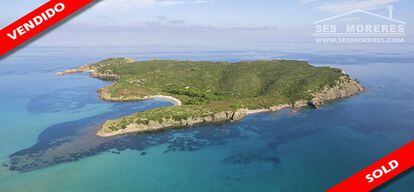 After a long negotiation process and several days of bidding, an American-Cuban entrepreneur named Alex Meruelo has bought the Illa d'en Colom islet, off the coast of Menorca in Spain's Balearic Islands, for €3.2 million.
The purchase was made through the company Meruelo Investments, and the new owner had to negotiate with the 16 heirs to the property, and outbid a French businessman who made offers until the last minute.
Despite rising property prices, this islet lowered its asking price on several occasions
The sale was notarized last week, although the 16 heirs and their family members will be allowed to use the natural space until October. Despite the rising cost of property, the price of the islet was lowered on several occasions. The property had spent three decades on the market. In 2010, the asking price was €6 million and this was later dropped to €3.5 million.
The new owner is a businessman born in New York to Cuban parents who left the Caribbean island in the 1960s in search of a new life in the United States. After living in several cities across the country, the Meruelo family settled down in Los Angeles. The father opened a clothing store and the young Meruelo helped out with the family business. In the mid-80s he started his own ventures, eventually acquiring a pizza chain, and expanding into the construction and property sector in southern California.
Meruelo's holding company currently encompasses electricity companies, television and hotel chains such as SLS Las Vegas, and the former Trump Plaza Hotel & Casino in Atlantic City. He is also the first American of Hispanic origin to acquire an NBA team with a majority shareholding: the Atlanta Hawks.
His latest purchase is an islet with a surface area of 58 hectares that was originally bought by  Antonio Roca Álvarez in 1904 for the equivalent of around €47,18. It is located 200 meters away from the northeastern coast of Menorca island, and features a beautiful landscape with two beaches— Tamarell and Arenal d'en Moro. There is a country house on the property as well as a 100 square-meter summer home and a wooden cabin.
There is running water but no connection to the electricity grid, since everything is run by solar energy. The islet is part of the Albufera des Grau natural park, which greatly restricts development or reforms of any kind.
Meruelo joins a growing list of private island owners in the Balearics. In March,  a family in Luxembourg spend €18 million on S'Espalmador islet, a protected natural space located between Formentera and Ibiza, within the Ses Salines Nature Park. There is also the private island of Tagomago, owned by the businessman Mathias Khün and located across from Ibiza.
English version by Laura Rodríguez.