British media falsely warn of "mega eruption" at Tenerife's Teide volcano
Outlets like 'The Sun' and the 'Daily Mail' claimed a seismic swarm could lead to an imminent blast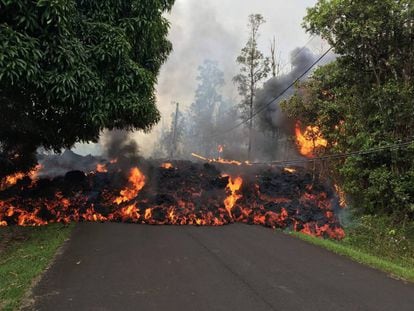 British media outlets have been warning their readers this week of a possible "mega eruption" of the Teide volcano on the Canary island of Tenerife. Alarmist headlines included "Tenerife volcano alert: Shock as 270 earthquakes hit Brit holiday favorite Canary Islands" and "Earthquakes near Tenerife and Gran Canaria spark fears of volcanic eruption." The stories included images of the eruption of the Kilauea volcano in Hawaii on May 3, alongside photos of Tenerife.
But these warnings were not repeated by Spanish media, first because there were never 300 earthquakes in the Canary Islands – it was an invention of the British tabloids – and secondly, because there is no threat of an eruption of Mount Teide.
The last time Teide erupted was in 1909
"UK tabloids mixed up a jumble of things," says David Calvo, head of PR and Communications at the Volcanic Institute of the Canary Islands (INVOLCAN). According to INVOLCAN and National Geographic Institute (NGI) calculations, there were 270 low-magnitude earthquakes between the Canary islands of Tenerife and Gran Canaria between April 29 and May 4.
"What's happened during these days is a seismic swarm, a concentration of earthquakes in a small period of time which, which in a volcanic region like the Canary Islands is perfectly normal," Calvo explains, adding that "residents have not felt any of these earthquakes, which have only been detected by seismographs."
A seismic swarm in a volcanic region like the Canary Islands is perfectly normal

at the Volcanic Institute of the Canary Islands

<span>David Calvo
That didn't stop Express, The Sun, Daily Mail and the US edition of Newsweek from claiming the seismic swarm – which no one in the scientific community has associated with a potential volcanic eruption of Teide – as an "imminent" risk to British tourists.
"It is a battle we have fought for a long time. Despite the fact that all of our reports are open to the public, we have to fight many pseudo-scientist who accuse us of withholding information," explains Calvo, who was had to alleviate fears of a possible eruption with "various consulates, as well as Swiss and Norwegian news outlets" which contacted the institute as soon as they read the alarming news in the British media.
The director of ASHOTEL (The Hotelier and Extra Hotelier Association of Tenerife, la Palma, La Gomera and El Hierro) agrees with David Calvo. "Every so often this type of false information comes out, where it is not known whether the goal is to raise alarm, sell newspapers or some other interest aimed at preventing British tourists from visiting the Canary Islands," says Juan Pablo González.
According to Calvo, statistics indicate that "30% of the 16 million tourists who visit the Canary Islands are British," a figure that remains steady even after Brits voted to leave the European Union in the Brexit referendum. "It is the Foreign Office that advises their citizens on whether or not it is safe to visit a certain place, and of course there has been no alert of any danger on the islands," González adds. 
The last time Teide erupted was in 1909. But the last volcanic eruption in the Canary Islands was in 2011, on the island of El Hierro. "Mount Teide has a cutting-edge, high-tech monitoring system, just like the ones in Hawaii or the Etna volcano in Sicily," says Calvo, who adds there is a special plan to protect citizens and respond to emergencies in case of an eruption. But at the moment, the alert level of the volcano remains green, in other words, there is no threat.
English version by Laura Rodríguez.
More information
Agencies
| Santa Cruz de Tenerife