FOOD & WINE
Grape picking by night: the new trend at Spain's Jerez wineries
World-famous sherry wine region increasingly picking fruit after sunset to avoid the sweltering heat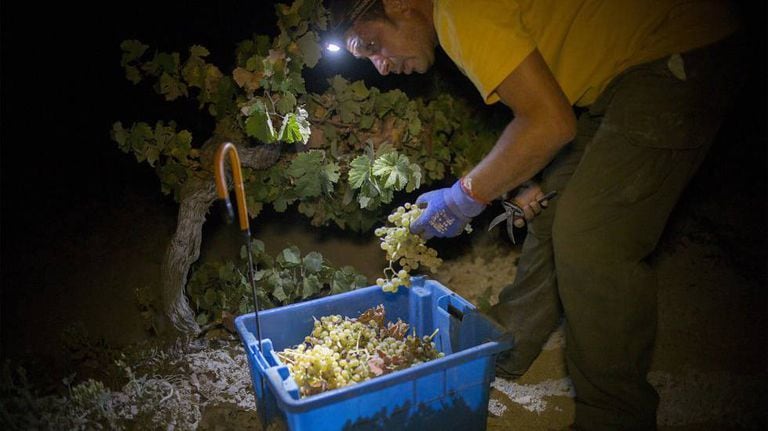 In the dead of night, a soft lullaby floats up from somewhere among the vines. The song follows the rhythm of the scissors and the sound of the crates as they are dragged across the whitish earth, filled to the brim with bunches of grape.
Hunched over a vine, Sonia Ordóñez sings softly as she works, as though fearful of breaking the deep calm of this dark night. Yet nobody is asleep here at the El Corregidor estate, outside the Andalusian town of Jerez de la Frontera in southern Spain. It is 5.30am, and 27 workers equipped with miners' flashlights are busy picking Palomino grapes for the Luis Pérez winery.
Anyone who tries doing this at night no longer wants to go back to working by day
Fernando Rodríguez, foreman
Harvesting at night is becoming increasingly popular within the 6,900 hectares of land that comprise the Jerez–Xerry appellation of origin region. "Approximately 30% is already being harvested at night," says César Saldaña, director general of the board that regulates Jerez products.
It is far from a small figure considering that the practice was first introduced here just nine years ago at the Luis Pérez winery, within a sector that is known for clinging to its time-honored traditions.
"It was not easy convincing people," admits Willy Pérez, an enologist who also shares responsibility for the winery that his father Luis created in 2003. In the midst of an industry crisis, the Pérez family – just like the Finca Moncloa and Entrechuelos wineries – managed to prove that the Jerez region, known worldwide for its sherry wines, could also produce fine reds.
The second innovation was the introduction of night harvesting. Pérez first became familiar with the concept while working at a winery in Australia. Back home in Jerez, where daytime temperatures can hit 40ºC, he realized that the technique could be useful here as well. "At first, people didn't want to do it because they said they couldn't see and were afraid of cutting themselves. I proposed starting at 5am, and said that if they remained unconvinced, they could take a break until 8am and they would still get paid those hours."
"The cool of the night has nothing to do with daytime temperatures, so people were finally convinced," adds Fernando Rodríguez, the foreman at the winery.
"The main beneficiaries are the people: they feel more comfortable and they work better," adds Pérez. "And with the coolness, the grape is firmer and easier to transfer to the presses, while the destemming process is better as well. After pressing, the first fermentation takes place at 15ºC, and it is more efficient to lower the temperature from 19ºC at night than from more than 30ºC in the daytime."
The picking began in late July (unseasonably early, due to adverse weather conditions in the spring and summer of this year), in shifts running from 8pm through 3am. At first they picked the Tintilla variety that is used to make Samaruco and Garum reds. Now they are working with Palomino grapes that produce sherry wine, picking the fruit between 4am and noon. In total, there will be 30 night-time outings in this 42-hectare estate.
Wearing their miners' lights on their heads, the 27 workers look like fireflies in a field. The breeze brings the temperature down to 18ºC, easing the physical effort of crouching over the grapes and lugging heavy crates. Sonia Ordóñez, 36, highlights another benefit of working at night for herself and her husband, who is on the same team: "We have all day to spend with our kids, who are 15 and 16." Plus they make €50 a shift, slightly more than they would get for daytime work.
Elsewhere in the Jerez region, night-time mechanical harvesting is spreading. These machines strike the vine to dislodge the fruit, which makes the grape suffer more if temperatures are high as it produces uncontrolled fermentation. "Thus the importance of performing mechanical harvesting at night," says Saldaña, of the regulation board.
It was not easy convincing people
Willy Pérez, of Luis Pérez Winery
In fact, 50% of harvesting is already being performed by machines, much of it at night. And this figure will grow in future despite the obstacles in its path: the hilly terrain makes it difficult to use machinery on some of the estates. And many growers are small outfits that can ill afford this kind of expensive equipment, or even to pay workers extra money to pick grapes at night. "Night-time and mechanical harvesting will grow, but it's going to be difficult for them to become the most widely used techniques," Saldaña says.
Standing in a vineyard as day breaks, foreman Fernando Rodríguez is not sure he agrees. "Anyone who tries doing this at night no longer wants to go back to working by day," he says, keeping an eye on the 27 lights that move among the rows of plants. "Back in my hometown of Sanlúcar de Barrameda, many of the elders say that it's not the same thing: that you can't work well with a flashlight. But all I know is that flashlights are completely sold out at the hardware stores."
English version by Susana Urra.