A British painter's nightmare in post-Civil War Spain
In 1940, leading Surrealist Leonora Carrington found herself locked up in a mental asylum
British artist Leonora Carrington came to Spain just after the end of the Spanish Civil War in search of help for her lover, fellow surrealist Max Ernst who had been locked up in a concentration camp by the Gestapo after he had fled Germany for France in the 1930s. But instead of securing the German painter's release, she instead found herself locked away in a mental asylum in the northern port city of Santander. More surreal than anything she could have dreamt of herself, this period in her life would exercise huge influence on her work thereafter, all of which is disturbingly recounted in her memoir, Down Below.
Now, the centenary of Carrington's birth is being commemorated by the Menéndez Pelayo International University in Santander with a course on her Spanish odyssey, while the Hay Festival in Segovia is screening a new documentary about her life in September.
Several days and nights, lying in my own excrement, urine and sweat An extract from  Carrington's autobiography
Carrington first met Max Ernst at the Barcelona Spanish restaurant in London's Soho, a bohemian hangout popular with the likes of Man Ray, Lee Miller and the French poet Paul Éluard. The pair met again in Paris and became lovers. They then moved to a cottage in the mountain village of Saint Martin d'Ardeche, near Avignon in the south of France, where they spent their time painting and supporting each other. It was here that the famous Inn of the Dawn Horse was produced.
But their idyll was shattered after the German invasion in May 1940 and Ernst was arrested by the French authorities as "a hostile alien." He was subsequently released, only to be arrested again, this time by the German occupiers after France capitulated, for his "degenerate" art and taken back to Germany. It was after his second arrest that Leonora travelled to Spain to seek help in Madrid.
In interviews with EL PAÍS 10 years ago at her home in Mexico, Carrington admitted that she had become affected by what came to be known as "war syndrome" and that the arrest of Ernst brought about a nervous breakdown. But it was her foray into the world of politics in the Madrid of 1940, barely months after General Francisco Franco had defeated the forces of the Second Republic following a bitter civil war that led to the Spanish authorities orchestrating her seeming descent into madness. With the connivance of the British consul and the consent of her powerful father, she was locked up in a convent and given huge doses of barbiturates. She was taken to Santander and handed her over to Dr. Luis Morales, who was in charge of a sanatorium in a small village outside the city. There she was forcibly restrained and given Cardiazol, a powerful drug that causes convulsions.
She spent half a year imprisoned in the asylum, an episode she still refused to talk about when interviewed. "It is still too painful," she said, more than half a century later.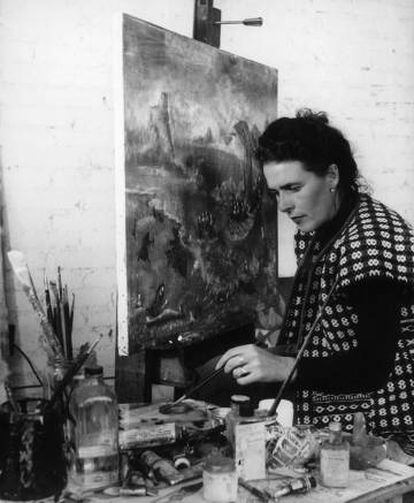 One of her doctors suggested she write down her experiences, which are recounted in Down Below: "I don't know how long I remained bound and naked. Several days and nights, lying in my own excrement, urine and sweat, tortured by mosquitoes whose stings made my body hideous—I believed that they were the spirits of all the crushed Spaniards who blamed me for my internment, my lack of intelligence and my submissiveness."
She finally found a way to manage her plight by turning her imprisonment into a map with symbols and constellations that allowed her to seek a way out of her induced madness.
Thanks to her writing, she was able to exorcize the demons that came to torment her during her detention. She also read the Spanish philosopher Miguel de Unamuno and wrote daily horoscopes for Dr. Morales, who became fascinated by her intelligence.
After her release, she was sent to Lisbon by train with a guard to look after her. "It was New Year's Eve and terribly cold," she said. "We stopped in Ávila where Saint Theresa was born. It was a long train with a lot of carriages filled with sheep that bleated from the cold. It was horrible. The Spanish can be horrible to their animals. I will remember the suffering of those sheep until the day I die. It was hellish."
Once in Lisbon, Leonora shook off her companion and sought out the journalist and Mexican poet Renato Leduc who was working as a secretary at the Mexican embassy. The couple married, freeing her from her father. When Max Ernst later turned up in Lisbon with millionaire Peggy Guggenheim, the relationship between them was well and truly over.
Thanks to her writing, she was able to exorcize the demons that came to torment her during her detention
Leonora and Leduc travelled to New York where they spent time with other members of the Surrealist movement before moving to Mexico. After her divorce from Leduc, Leonora remained in Mexico – the home of Surrealism, according to André Breton, one of the founders of the movement, and who helped throughout her life after taking her under his wing in Paris.
After her marriage of convenience with Leduc falls apart, Carrington went on to marry Imre Weisz, who had worked with photographer Robert Capa during the Spanish Civil War, and with whom she had two sons. She lived with her family very happily for the rest of her 94 years and enjouyed a successful career as a Surrealist painter and an author.
Despite her experiences in Spain, she spent her final years surrounded by Spaniards, including the doctor who helped her give birth, José Horna, and his wife, along with her faithful companion, the painter Remedios Varo. She also spent time with film maker Luis Buñuel who mentions her in his memoirs: "One day, when we got to the house of a certain Mr. Reiss where we met regularly, Leonora got up quickly and went to the bathroom where she had a shower while still dressed. Afterwards, she came back to the living room, streaming with water, and sat down and stared at me: 'You are a dashing man', she told me in Spanish, taking my arm. 'You remind me a lot of my guardian' – of the psychiatrist in Santander."
English version by Heather Galloway.