The best Spanish music festival you've never heard of
Sonorama, in the small town of Aranda de Duero, is celebrating two decades of survival and success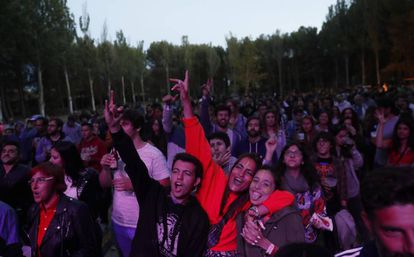 It may not have the international cachet of the Benicàssim Festival (FIB), Barcelona's Primavera Sound, or even the new Mad Cool festival in Madrid, but when it comes to providing a showcase for Spanish acts, Sonorama Ribera has few rivals.
We have decided to stay here. We have fought for our hometown Sonorama director Javier Ajenjo
The annual event, held in the small town of Aranda de Duero around two hours north of Madrid, kicks off on Thursday and – on the occasion of its 20th birthday – is in ruder health than ever. All tickets have been snatched up, with around 25,000 people expected to show up for five days of concerts featuring 150 acts. The focus is on indie music, but not exclusively, and the line-up is a veritable who's who of rock and pop in Spain today, including big names such as Dorian, Loquillo, Nacho Vegas and Sidonie.
Sonorama was dreamed up two decades ago by three friends after a lunch in this wine-growing municipality. "It was madness. I was 21, and I opened a record store. But it was a disaster. I opened it at night so that I could meet with my friends and talk about the records we liked, but that didn't bring in any money at all," recalls festival director Javier Ajenjo.
"My passion was music. I went to London and saw Pulp, Blur and Oasis – the bands whose records I was trying to sell. Then, to try and save the record store, we started a festival," says Ajenjo.
The director had seen firsthand how successful festivals operated; he had tourism qualifications and had even run a local hotel. But starting a festival in out-of-the-way Aranda in an era before music festivals were the massive business they are today was, for Ajenjo, like shooting himself in the other foot. He lost €18,000 and it took him a decade to make that money back.
That first event was held in 1997 at the town's former bullring. "We opened the doors and nobody came. We went out and told people we would pay for the beer and wine." Two years later, the festival moved to the soccer ground, with the field split evenly between the stage and a campground. "We cut the lawn with our grandparents' sickles," Ajenjo says.
A year later the festival was almost called off because the lighting rig was in the wrong place and no one had a crane to move it. In the end, 30 people moved it with sheer brute force. One of those people was Alberto Ortego, current head of security at the festival, and the drummer in a band in which Ajenjo also plays.
"We do this because we love it. I got hooked and I can't stop," says Ortega, who has 19 Sonoramas under his belt and is a key part of the extraordinary group of volunteers who make Sonorama possible.
At the third Sonorama festival, organizers cut the grass with their grandparents' sickles
Festival organizers have not escaped criticism from unions for not paying their staff. "[Sonorama] is no different from traditional village fiestas where they set up a bar and have food, except that here we have a festival. Every second people give to their town is positive," says Ajenjo, by way of defense.
Mari Peña Casado, another veteran festival volunteer, agrees. Casado began with the event 17 years ago by selling tickets and now prepares food for the artists and staff at the festival. "I do it for the town. I work with cancer associations and in [religious] brotherhoods. And with Sonorama, I recognize it more as about me being a fan of Aranda than of the music," she adds.
According to festival estimates, 80% of bars and restaurants in the old town give from €200 to €400 in support to Sonorama in exchange for tickets. They also benefit from all the visitors to the town: during the festival the population, usually 30,000, doubles in size.
"Working together with the city is fundamental. We have decided to stay here. We have fought for our hometown," says Ajenjo.
"There's no beach here and it's not Madrid either. But we have our good sides: the hospitality of the people, the wine and the lamb," he adds, noting that Sonorama will never have the budget to compete with the big festivals like FIB.
"Sonorama is a point of pride for Aranda. And we can only be thankful for what the festival has done for the city," says mayor Raquel González.
English version by George Mills.