Body of Dalí to be exhumed barring success of foundation's legal appeal
A Madrid judge has ordered a DNA test on the Spanish artist's body after paternity claim by 60-year-old
A date has been set for the exhumation of Salvador Dalí's remains: July 20. But this will not be happening if the Gala-Salvador Dalí Foundation has anything to say about it. The Spanish artist's heirs have lodged an appeal against an attempt to collect DNA samples from his body, in connection with a paternity claim filed by a 60-year-old woman who says she is Dalí's daughter.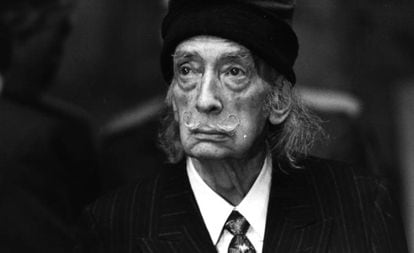 If the appeal is dismissed, the Surrealist master's remains will be taken out of their resting place in Figueres, under the dome of the Dalí Theater-Museum, where they have been for nearly 30 years.
The case began when a woman named Pilar Abel Martínez, a resident of Girona, began legal proceedings to prove that she is the daughter of the famous painter. A trial is set for September 18 in Madrid, but before that, the judge has asked for a DNA sample from Dalí.
Lawyers for the Dalí foundation filed an appeal, asking for alternative measures to opening the painter's grave.
This is an essential step for me; I need for the truth to come out
Pilar Abel Martínez
"We do not oppose paternity tests, but there are other options for extracting genetic material that fall short of exhumation," a foundation spokesperson told EL PAÍS.
This center has proposed collecting a sample from the claimant's brother, on the basis that if both siblings share the same genetics, then they both have the same mother and father, and thus Pilar Abel Martínez is not related to Dalí.
On Tuesday, Abel Martínez traveled to Madrid's official forensics center, the Instituto Anatómico Forense, where saliva samples were taken. Outside the building, she told reporters that she was very happy.
"This is an essential step for me; I need for the truth to come out," she said.
But her lawyer, Enrique Blánquez, said that they would oppose getting Pilar's brother involved because "it would not be conclusive and would simply prolong a process that's been dragging on for more than two years."
This is, in fact, not the first time that the same courthouse has ordered the exhumation of Dalí's body. The first time was on December 21, 2016, according to the Catalan daily El punt-Avui. An appeal by the Gala-Salvador Dalí Foundation effectively halted the process.
We do not oppose paternity tests, but there are other options for extracting genetic material
Dalí foundation spokesperson
Pilar Abel Martínez, who was herself born in Figueres in 1956, has been publicly claiming to be the famous painter's daughter since 2007. She says that her mother, a native of Pineda de Mar (Barcelona), told her that she had a secret affair with Dalí in Port-Lligat (Cadaqués), where she was working for a family that spent part of the year there.
In 1955 she left her job and returned to her home town of Castelló d'Empúries, where she got married. A few months later, Pilar was born.
According to the latter, the first time she heard that she was Dalí's daughter was from her own paternal grandmother, who repeatedly told her: "I know you are not my son's daughter, but the daughter of a great painter, but I love you all the same." Her grandmother always accused her of being "odd, just like your father" – a reference to Salvador Dalí.
This is not the first time that Abel has been involved in lawsuits concerning Spanish celebrities. After working for eight years as a fortune teller on a local television show in Girona, in 2005 she sued the writer Javier Cercas, claiming that she felt insulted after seeing herself portrayed in the character of a fortune teller named Conchi in his acclaimed novel Soldiers of Salamis. She asked for €600,000 in damages but the case was dismissed in early 2006.
English version by Susana Urra.