Elba, the 9,300-year old Spanish cowherd who was lactose intolerant
Experts recreate life of Mesolithic woman who died after falling into a sinkhole with three aurochs
Death caught up with Elba on a Spanish hillside 9,300 years ago. She is thought to have been following her herd of aurochs, an extinct breed of large cattle, along an ancestral trail that is now a paved road. In fact, it is the same road that Google suggests as the best route between the localities of O Courel and Pedrafita do Cebreiro, in Galicia's Lugo province, in northwestern Spain.
Her herd was made up of three aurochs: an enormous male with massive horns and two younger specimens. It might have been early spring or early winter, and the ground was covered by a blanket of snow thin enough to make for easy walking, yet thick enough to conceal some of the geographical features lying beneath.
As a result, she did not see the hole that had opened up in the earth. All four of them fell into the gap created by the collapse of the roof of a cave known today as Cova do Uro, or Aurochs' Cave in the regional Galician language.
It was a 15-meter fall, but it did not kill them immediately.
If we saw her today, we wouldn't look twice at her
Juan Ramón Vidal Romaní, geology professor
Elba, a Celtic name given to her by archeologists that means "she who comes from the mountains," survived the fall but was badly hurt. She was trapped with her animals, unable to extricate herself from the chalky sinkhole that would preserve her bones in clay throughout the millennia.
"The tragedy was recorded," explains Juan Ramón Vidal Romaní, Professor of Geology at A Coruña University and member of the Galician Royal Science Academy. Carbon dating shows her age to be around 9,300 years, and a genetic analysis reveals she had dark hair and eyes, that she was lactose-intolerant, and part of the U haplogroup, a group of genes indicating a single line of descent. This group is typical of European hunters-gatherers.
Elba's incomplete skull was found in 1996, and her other bones recovered by several expeditions that went into the cave from 2010 on. Using the remains and a report drafted by forensic anthropologist Fernando Serrulla, a team at the Isidro Parga Pondal Institute of Geology carried out "nearly detective-like work" in order to recreate the likely scenario of her death.
Elba, who was between 20 and 40 years old at the time of her demise, was presumably crossing the area in search of pastures, since there was never any grazing land between the mountain ranges of O Courel and Os Ancares, near the current path that pilgrims take on their way to Santiago de Compostela.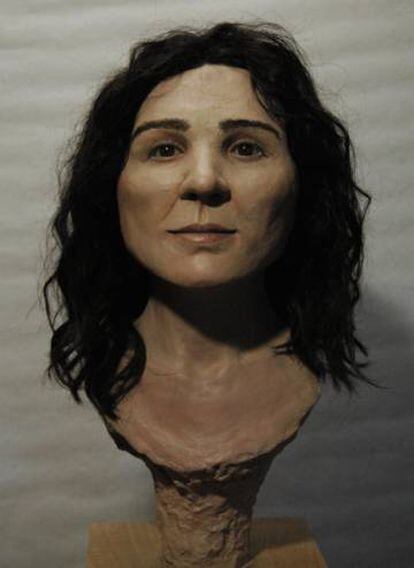 Her bones reveal that she only stood 1.50 meters tall (yet apparently worked with enormous animals) and that she led a very tough life. She had probably suffered a strong blow to the head as a child that left her with a head injury. Her nutrition was poor, suggesting long periods of food scarcity. She had joint disease and had probably endured a bad toothache for months. Most of her diet was made up of vegetables, and her collagen shows that she was not a native of the area, but from nearby territory.
Elba is the first female human fossil from the Mesolithic (the transitional period between the Paleolithic and the Neolithic) to undergo genetic analysis in the Iberian Peninsula. It predates that carried out on the so-called blue-eyed man from La Braña, in León province, by 2,000 years.
Although humans have possibly been present in Galicia for 300,000 years or more, no skeleton had been found dating back so far, because the soil here tends to be acidic and devours bones. Limestone environments such as that at Aurochs' cave are the exception.
The results of the research, which involved international scientists from various fields, have been published in the Isidro Parga Pondal Institute of Geology's publication, Cadernos do Laboratorio Xeolóxico de Laxe. The cover drawing was made by Marga Sanín, a forensic artist who specializes in recreating the faces of people long dead. The Galicia Forensic Medicine Institute has also created a 3-D bust of Elba based on the existing evidence.
"If we saw her today, we wouldn't look twice at her," says Vidal Romaní. "I know several women from the mountains of Lugo who look a lot like her."
English version by Susana Urra.