Has Spain finally seen the last of Esperanza Aguirre?
After 35 years in politics, this key figure in the ruling Popular Party resigns for the third time
One evening in 2002, when Esperanza Aguirre was running for the top job of the Madrid division of the Popular Party (PP), she met with two journalists for dinner in the capital. The pair were interested in the bitter power struggle she was waging with the then incumbent, Alberto Ruiz Gallardón, but Aguirre refused to discuss the matter, instead preferring to chat about generalities. Finally, one of the pair said to her: "Gallardón will destroy you." Aguirre's expression suddenly changed, hardening: "You don't know me," she replied coldly, before politely returning to her affable former self.
Aguirre beat Gallardón, taking over the presidency of the PP for the region of Madrid and the following year taking over the running of the Madrid region for the following nine years.
Her career in politics had begun in 1983, but took off in 1989, when she was made head of the regional environment department, rising quickly through the ranks over the next seven years to become Madrid deputy mayor and party spokesperson for the PP in City Hall. 
Behind the scenes, the PP had been pressuring Aguirre to resign
When José María Aznar became prime minister in 1996, she was soon put in charge of the Education Ministry and then became speaker of the Senate. By now she was frequently in the media spotlight, in part because of her aristocratic connections: she is Countess of Murillo and Bornos, Grandee of Spain. But she was still largely portrayed as a flag-waving Spanish nationalist of little intellectual substance or political weight.
But once she took over the regional government in 2003, she soon showed her mettle. From "dumb blonde" she became the leaderess, Spain's answer to Margaret Thatcher.
Five years later, she emerged unscathed from the 2008 terror attack in Bombay, arriving at Madrid airport to tell the media how she had walked through "pools of blood." By now she was a major player in the PP, surrounded by a court of interested, overwhelmingly male, political suitors. This is the period when most of the illegality now being uncovered by the courts was taking place.
Not that Aguirre herself has not been directly at the center of irregularities, albeit for political, rather than financial gain. In 2003, the Madrid regional Assembly was due to appoint the Socialist Party's (PSOE) Rafael Simancas as head of the regional government. The same day, two PSOE deputies (Eduardo Tamayo and María Teresa Sáez) failed to appear for the key investiture vote, meaning that new elections had to be held, which the PP won, after Tamayo and Sáez formed their own party.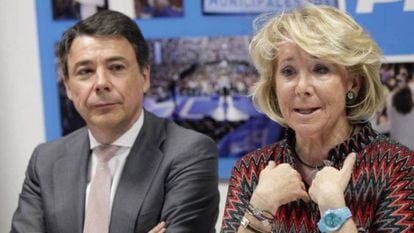 An investigation revealed that the two PSOE deputies had taken refuge in a hotel that had been paid for by two businessmen with close links to the PP who had met with senior Madrid PP officials. The affair became known as the Tamayazo.
The whiff of corruption soon began to spread throughout the regional government and the PP generally. But Aguirre's hold on power in Madrid was now unassailable, and she would stay in politics, even after her first resignation, in September 2012, when she stood down as regional premier, ostensibly for health reasons after she was diagnosed with cancer.
Aguirre said she was resigning from "the first line of politics," but not from "politics."
"There is no going back, this is crossing the Rubicon," she added, noting: "I am sure that for a politician, it is absolutely essential to choose the moment of retirement and the way to do it. And this was the moment."
There is no going back, this is crossing the Rubicon Esperanza Aguirre on her first of three resignations in 2012
During her mandate, based on lowering taxes, privatizing public services, building new hospitals, and imposing bilingual secondary and primary education, Aguirre had watched impassively as senior PP figures in Madrid and in her administration were targeted for criminal investigation, while one scandal after another was uncovered including Gurtel, Púnica, spying, the Canal Isabel II, and the Tamayazo.
In February 2016, Aguirre resigned for the second time, on this occasion as president of the Madrid division of the PP, in the wake of the accusations against Francisco Granados, who held a number of senior posts under her, in the Púnica corruption inquiry. As before, she called the press conference, this time held on a Sunday and giving Prime Minister Mariano Rajoy just five minutes' notice.
"I accept my political responsibility for having chosen that gentleman [Granados] and because I should have kept an eye on him," she said three days after the Civil Guard searched the headquarters of the PP. "People want gestures and my gesture is to assume my political responsibility, knowing that I have taken nothing nor can I be accused of doing so, but I am the president of the PP in Madrid and must assume my responsibility," she said in what was interpreted as a reference to Rajoy.
Despite her two resignations, Aguirre remained a powerful force in the PP, as its spokesperson in City Hall and as a municipal representative.
On Monday afternoon, when she called her press conference with an hour's notice, nobody doubted she would be resigning for a third time, but there were questions as to whether she would retain her position as a councilor.
"I feel tricked and betrayed by Ignacio González," she said about the man who had been her right-hand man and who took over from her as the head of the regional government in Madrid in 2012.
"My understanding of politics at the service of Spain leads me to assume my political responsibility for not having kept an eye on Ignacio González, for not having discovered what the Civil Guard and the court has discovered," she said.
As head of the Madrid regional government, Aguirre  became Spain's answer to Margaret Thatcher
She described the arrest of González as part of Operation Lezo the hardest "hammer" blow she has suffered. The PP had been pressuring her behind the scenes to resign.
The arrest of González last week, now being held in prison, was the final blow to her political reputation. On Monday she stepped down from her position as her party's spokesperson in City Hall. There was no point in further explanations or "sinecures" as she once defined the public subsidies that some of her colleagues converted into huge sums of money.
Having resigned from the leadership of the Madrid PP in February last year for not knowing what was going on – "I could have kept an eye on financing but I didn't… I was busy building 12 hospitals" – she was no longer going to convince anybody, not even her own party.
English version by Nick Lyne.