POLITICS
Divided Socialists unite in tribute to Spain's first female defense minister
Wake for Carme Chacón draws top PSOE officials six weeks ahead of critical primaries
The sudden death of Spain's first woman defense minister has triggered a show of unity by the Spanish Socialist Party (PSOE), following months of bitter division that has pushed the main opposition group to the brink of breakup.The wake for Carme Chacón, a leading Socialist figure who served as housing and defense minister in José Luis Rodríguez Zapatero's two back-to-back administrations (2004-2011), comes just six weeks before the PSOE is due to hold primaries to choose a new party leader.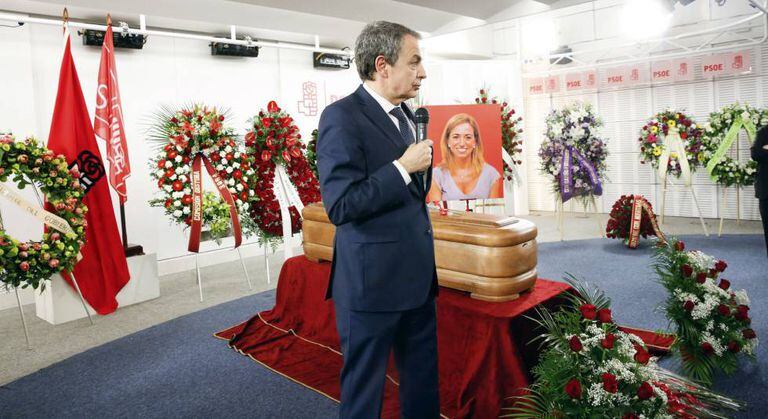 Spain's oldest political party has been under an interim management team since October of last year, when the secretary general, Pedro Sánchez, walked out in protest over the leadership's decision to help acting prime minister Mariano Rajoy, of the conservative Popular Party (PP), secure a second term in office and prevent a record third national election in Spain.
She opened doors for some of us
Soraya Sáenz de Santamaría, Deputy PM
Chacón, who had a congenital heart condition, died in her home on Sunday at age 46. She was found hours later after friends and relatives – concerned that she was not returning calls – contacted the emergency services. Her death seems to have served as a temporary reality check for PSOE party members, some of whom called for an end to the infighting.
"To all my colleagues: news like this one should lead us to argue about the important things," said Felipe González, who was Spain's longest-serving prime minister, at a wake held on Monday at party headquarters in Madrid.
"She was inspirational – let's not let that die in the coming days, and let's allow it to remind us Socialists that we are part of a family," said the head of the Catalan Socialists (PSC), Miquel Iceta.
As party officials milled inside the entrance hall of the Socialist party headquarters at 70 Ferraz street, where the funeral wreaths impregnated the air with a penetrating smell of roses, there was a notable absence of the kind of bitter criticism that party factions have been lobbing at one another over the past few months. Instead, everyone present joined in unanimous praise for Chacón, and most particularly for her defense of equal rights for men and women.
"It was an honor to have her as part of my administrations. Wherever she may be now, I want her to know that we will remain firm in our quest for the freedom that she always defended, and for a better understanding between Catalonia and Spain," said former PM Zapatero, alluding to Chacón's birthplace.
Javier Fernández, the regional premier of Asturias and head of the PSOE's interim team, listed a few of the highlights in Chacón's career, including the day when she reviewed the troops as Spain's new defense minister. It was 2008 and she had just become the country's first woman to hold the post. She was also seven months pregnant at the time.
Another stellar moment came in February 2012, when she narrowly missed becoming the first female secretary general of the 137-year-old Socialist Party.
As a sign of respect, the three preliminary candidates to become the next party chief have cancelled all campaign events for this week. "Today, all Socialists are crying together," said one of the candidates, Patxi López, a former Basque premier. "One of ours is gone, one of the great ones. Today, all Socialists feel a little colder."
Yet for all the kind words, there was a palpable undercurrent of tension between the other two candidates – Pedro Sánchez, who hopes to get his old job back, and Susana Díaz, currently the Andalusian premier. These two pointedly avoided each other the entire time that they remained inside party headquarters, according to Socialist sources.
A female role model
Outside the PSOE, some of Spain's top female politicians also had words of praise for the deceased, regardless of old political rivalries. "She opened doors for some of us," noted Deputy Prime Minister Soraya Sáenz de Santamaría, of the PP. And María Dolores de Cospedal, the PP secretary general and current defense minister, underscored that Chacón "was very brave in every sense of the word" by breaking into a traditionally male-dominated sphere.
To all my colleagues: news like this one should lead us to argue about the important things Felipe González, former Spanish PM
"As a woman, I want to acknowledge that, as do all women in Spain," she said.
"The image of her reviewing the troops while pregnant is one of the 21st century's most important images in the struggle for equal rights," said Inés Arrimadas, a leading member of the reform party Ciudadanos.
English version by Susana Urra.