SPANISH POLITICS
Spain's first female defense minister found dead in her home at age 46
Carme Chacón, who served under the last Socialist Party administration, suffered a heart condition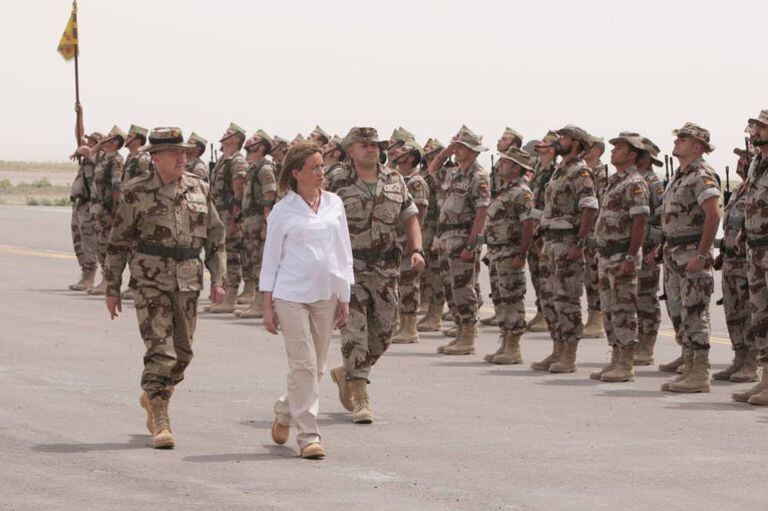 Carme Chacón, a leading figure in the Spanish Socialist Party (PSOE) and Spain's first-ever female defense minister, was found dead on Sunday evening in her apartment in Madrid. She was 46.
Chacón, who suffered from a congenital heart condition, which is believed to have caused her death, held the Defense Ministry's top job from 2008 to 2011 under the former PSOE government of then-Prime Minister José Luis Rodríguez Zapatero. She was seven months pregnant when she took on the role.
Former Spanish PM José Luis Rodriguez Zapatero
The Socialist politician, who came from Spain's northeastern Catalonia region, was one of the party's most popular figures at a time when the PSOE was struggling to deal with the economic crisis. She came extremely close to winning the party leadership after the departure of Zapatero, in the wake of the Socialists' defeat in the November 2011 elections, but was narrowly beaten by her rival Alfredo Pérez Rubalcaba.
On Monday, Zapatero said he was "devastated" by the death of "a colleague and a friend," whom he had personally appointed to the posts of housing minister (2007-2008) and defense minister (2008-2011).
"The emptiness we now feel provides a measure of the depth of the loss for Spanish democracy and for all Socialists," he said in a release.
News of Chacón's death has shocked the PSOE, coming at a time when the party is deeply divided over the leadership's decision to allow Prime Minister Mariano Rajoy of the Popular Party (PP) to be reinstated by abstaining at a crucial congressional vote last October. The decision caused then-secretary general Pedro Sánchez to resign, and the PSOE is currently locked in an internal leadership struggle.
But the three politicians currently battling it out for the leadership position in the lead-up to party primaries this summer said they would suspend all campaign activities in the coming days.
A known condition
Madrid's emergency services were alerted at 7.30pm on Sunday after Chacón failed to return calls from friends and relatives trying to get in touch with her since Saturday night. The door of the apartment, located on Viriato street, had to be forced open, and medics quickly certified Chacón's death. Their first impression was that she had been dead "for hours."
Everything indicates that Chacón, who was separated and the mother of an eight-year-old boy, died of a heart condition that she had gone public with some years ago.
"I have a pulse rate of 35 beats a minute and my heart is reversed, I have a complete atrioventricular heart block," she told the La Vanguardia newspaper in late 2015. "That makes me think that every day is a gift."
Carme Chacón
"Ever since I was a little girl, I was warned that I would have to have a pacemaker and lead a very quiet life," she added. In February of this year Chacón participated in an event to introduce an awareness campaign on congenital heart disease. "I have a blocked ventricle in a reversed heart, but I lead a perfectly normal life," she said at the time.
Chacón gave her last interview on Friday, when she spoke on Colombia's Radio Caracol. Asked about her role as her country's first female defense minister, she said that "it was a step that Spain had to take, and it was well received by Spanish society and by the armed forces."
Spain's current defense minister, María Dolores de Cospedal of the Popular Party, has published an open letter praising her predecessor for her successful career and for "championing the values and identity signs of modern social-democracy."
"But above all, I would like to remember her as the first woman who held the portfolio putting her at the helm of the Spanish armed forces."
English version by George Mills and Susana Urra.