VERNE IN ENGLISH
Thick Madrid fog gives plane passengers stunning views of city
The heavy mist in the Spanish capital caused airport delays and rerouted flights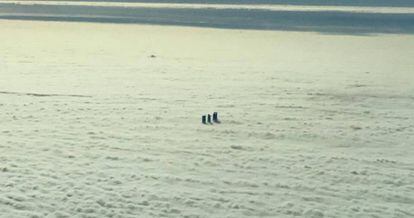 This image taken early Monday morning shows Madrid concealed under a thick fog, with just the tops of the Cuatro Torres skyscrapers, located in the north of the capital, sticking out.
The buildings in the business area (CTBA), which stand between 230 and 249 meters tall, cast their own shadow on the low mist. By noon, the sky was clear and the sun shining again.
The reduced visibility caused flight delays on Monday. Some social media users shared pictures taken from airplanes taking off or landing at Adolfo Suárez-Barajas Airport in the Spanish capital.
Mónica Quintana, an Instagram user who shared her photographs, told Verne that her A Coruña-Madrid flight had to be rerouted to the Mediterranean city of Alicante, where she was forced to wait until the fog cleared up before boarding another plane for the capital.
In all, "a 10-hour adventure to cover Coruña-Madrid," she noted about the 600-kilometer journey.
English version by Susana Urra.