Authorities identify 440 criminal organizations at large in Spain
Small-scale "flexible" units involved mainly in drugs typically hide behind legitimate businesses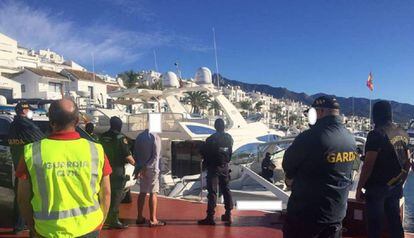 Spain's National Police and Civil Guard have identified 440 organized crime groups operating in the country, part of a network of some 3,600 at work throughout the European Union. At least 10 of these are classified as "high intensity": that is, they have been operating for more than three years; they have at least 20 members (the average is from 11 to 20 individuals); they have one main area of activity, but also work in other related areas; and they are multinational, sometimes contracting out services to other gangs.
Typically, these criminals will have created legitimate front companies through which to launder their ill-gotten gains. Last week, Spanish police arrested a businessman on the island of Mallorca: he had a construction company and a business managing slot machines. He was married and his children went to private schools. For the last three years he had been smuggling some 150 kilograms of cocaine onto the Balearic island each year, subcontracting distribution to local Gypsy families. In total, seven people were arrested.
Crime is a multi-million dollar business in Europe growing thanks to the internet  Rob Wainwright, director of Europol
"These types of arrangements normally last around three years and tend to operate in big cities or tourist destinations, where their activities do not stand out," say police, adding that these gangs work in networks often set up in prison.
The majority of criminal gangs operating in Spain are dealing in drugs, say police: "Colombians, cocaine, Moroccans, hashish, and the Turks, heroin," says one officer. Fraud is another activity, along with money laundering, followed by people trafficking, prostitution, burglary and theft of luxury cars. Again, some nationalities specialize in certain activities: "Colombians: drugs and jewelry; Russians and Georgians, burglary and luxury cars, along with money laundering; the Chinese, prostitution and people trafficking; Pakistanis and Syrians, falsification of documents; Bulgarians, weapons…" says the same source.
Since 2014, when Spain set up CITCO, the Intelligence Center against Terrorism and Organized Crime, some 250 connections have been made linking organized crime and terrorism.
"Structures are changing: there are no more leaders, there are cells, flexible groups that assign people particular responsibilities and that are active in different markets so as to keep their options open," says a police source.
Spain's police say that the first criminal groups to operate in Spain were offshoots of the Italian mafia, which moved here in the 1970s as Spain's economy began opening up.
Typically, these gangs will have created legitimate front companies
Since then, Italy's four main mafias, the Sicilian Cosa Nostra, the Ndrangheta from Calabria, the Neapolitan Camorra, and the Sacra Corona Unita, from Puglia have all established a strong presence in Spain.
Between 1999 and 2009, a third of all arrests of mafia members took place in Spain. Italian mafias also benefited from Spain's construction boom: the Italian authorities calculate that it developed the equivalent of some 50 kilometers of Spanish coastline.
Following in the footsteps of the Italians, as Spain became an important logistics and distribution point for drugs shipments into the rest of Europe and an easy place to launder money, Turkish criminal gangs moved here during the 1980s, supplying drugs and weapons. They were soon followed by the Colombian drug cartels, with Spain becoming the main entry point for cocaine into Europe. Since then, say police, the cartels have managed to find other countries in Europe through which to ship drugs.
In recent years, Irish criminal gangs have also begun operating from Spain's Costa del Sol, shipping weapons and drugs throughout Europe.
Rob Wainwright, the director of Europol, describes organized crime as a "multi-million dollar business in Europe and that is growing thanks to the internet and mobile technologies, the proliferation of clandestine global routes and the opportunities that the global economic crisis offers. All this has contributed to the creation of a greater threat."
Spain also faces a threat from the Colombian peace process, say some experts. "There are between 8,000 and 12,000 former guerrillas who will have no work if the peace process goes ahead," says one expert. Others point to the growing presence in Spain of members of the Mexican cartels, which are increasing their shipments into this country.
English version by Nick Lyne.