Could the Latino vote carry Hillary Clinton to the White House?
The 'Trump effect' could bring Hispanic voters out in huge numbers for the first time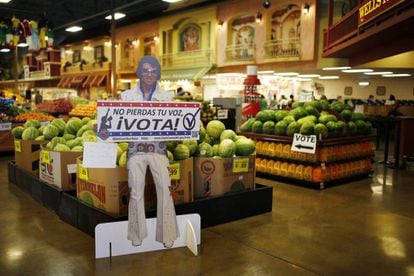 "We have to vote, we have to make ourselves heard," said Mexican-American actress Salma Hayek recently on US television, explaining why she was supporting Hillary Clinton. This year, more Latinos than ever are expected to vote due to what has been dubbed the Trump effect: a response to the insulting language used by the Republican candidate toward immigrants, and particularly Hispanics. The question now is whether their vote can make a difference.
Around 27.3 million Hispanics have the right to vote in the United States, some 12% of the electorate. Latinos are now the largest minority, and along with Asians, the fastest-growing: four million Hispanics have become eligible to vote since 2012, when the last presidential elections were held in the United States.
Arizona, where 21.5% of voters are Hispanic, is traditionally a Republican seat
The real question is not about numbers per se, but about how many Latinos are registered to vote and where, given that not only have they tended to vote in low numbers, but that more than half live in California, Texas and New York, which are not key states for Clinton,
NALEO, which represents Latino voters, estimates that 13.1 million Hispanics will vote today, a 35% increase on 2008. Pollsters Latino Decisions puts the figure at 14.7 million, which would be a record. But this is still only around half of those who could vote: 48% of Latinos voted in the last elections, compared to 67% of Afro-Americans, and 64% of whites.
Arturo Vargas, NALEO's executive director, says that Hispanics are "enthusiastic" about voting this time around, adding that 78% of those in a recent survey said they were "almost certain" to vote. The Pew Hispanic Center says that only 69% of Hispanics said they were "absolutely certain" to vote, compared to 77% in 2012.
In 2012, the Republicans Party failed to attract Latino voters; this time will be the same
The Democratic Party has been out knocking on doors trying to get Hispanics to vote, while at the same time, there has been a sharp increase in the number of Latinos applying for US citizenship, attributed in large part to the so-called Trump effect.
Even the Republican Party accepts that the road to the White House passes through the barrio: Clinton and Trump will need more than 40% of the Latino vote to win. In 2012, Obama won 71% of the Hispanic vote, compared to the 27% Mitt Romney was able to muster.
One of the conclusions of the Republican Party's autopsy following the 2012 elections was that it needed to find a way to attract Latino voters. Four years on, its candidate is a man who calls Mexicans rapists and is proposing building a wall to keep its southern neighbor out. Latino Decisions' latest poll, from five days ago, shows 79% of Hispanics intending to vote for Clinton – despite her attempts to appeal to this group sometimes falling flat – and just 18% for Trump. Pew's figures are 58% for Clinton and 19% for Trump.
Hispanics make up some 12% of the US electorate
The election will largely be won in a handful of states: Florida, where Hispanics make up 18% of the vote; Nevada, where 17% of voters are Latino; while Iowa, Ohio and North Carolina will be key, even if Latinos only make up 5% of the electorate on average there. In all three, the polls show overwhelming Hispanic support for Clinton, says NALEO.
Arizona, where 21.5% of voters are Hispanic, is traditionally a Republican stronghold. But given that 70% of Latino voters there are Democrats, compared to just 18% who support the Republican Party, there has been intense speculation that the border state could fall to the Democrats. Hillary Clinton's vice presidential candidate, Tim Kaine, chose Arizona as the location to give his first speech in Spanish. His message: Cada voto cuenta (Every vote counts).
English version by Nick Lyne.