Ghosts of violence return to stronghold of Basque nationalism
Alsasua grapples with recent attack against two off-duty Civil Guard officers and their girlfriends
In Alsasua, a village in Navarre, few residents are willing to talk about the four people who were beaten up outside a bar on Friday night.
Around 50 individuals, all sympathizers of radical Basque nationalism, participated in the group attack against two off-duty Civil Guard officers and their girlfriends. All four had to be hospitalized, with one of the officers sustaining a fractured ankle.
They do everything possible to make us miserable
Civil Guard officer in Alsasua
The victims were having a drink inside a bar named Koxka when somebody reportedly recognized them as members of the Spanish law enforcement agency and began insulting them. Later, outside the establishment, the verbal abuse escalated into a full-fledged attack.
The government of Navarre, which is currently headed by the left-leaning Uxue Barkos, condemned the act of violence, saying that "it has no place in a democratic society."
But the incident illustrates the complexities of peaceful coexistence in municipalities with a strong presence of radical nationalists, and of Navarre's place within the wider Basque homeland that these individuals claim independence for.
A radical bastion
Alsasua, population 7,600, is located just 50 kilometers away from Pamplona, a global magnet for fans of the famous Running of the Bulls.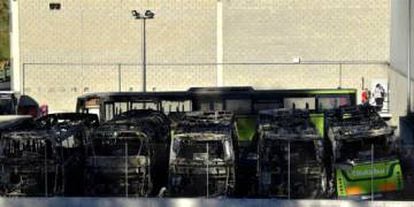 Nestled in between imposing mountains of deep green, it has a church and caseríos – traditional farmhouses – that have been restored to their former glory.
But upon closer scrutiny, this idyllic picture is punctuated by dozens of posters and murals demanding the transfer to Basque prisons of ETA convicts serving time elsewhere in Spain – a classic demand of relatives and sympathizers of the terrorist organization.
Other posters call for the independence of Euskal Herria, a Greater Basque Country that would incorporate not just the three Basque provinces of Gipuzkoa, Bizkaia and Araba but also the nearby region of Navarre (which has its own separate regional structure, on the same level as any other Spanish autonomous region) and even the Basque-speaking parts of southern France.
Alsasua has long been viewed as a bastion of the radical Basque nationalists known as the abertzale, a tough place with a long history of attacks against people and property. The Friday night assault is the latest chapter in an ongoing story of violent incidents that appeared to have subsided following ETA's announcement of a "definitive end to armed activities" in October 2011.
Why did they go there?
Everybody in Alsasua now wonders why the victims were inside that particular bar in the first place. Koxka is known as a meeting point for young radical nationalists, a place where representatives of Spanish law enforcement would surely not be welcome.
"It's true that for the last year or two, things have quieted down a lot," says one Civil Guard officer who is stationed in Alsasua. "We can now go out for a drink or a bite, although we usually stick to the bars near the barracks, and never stay out very late."
"I would personally not have gone to that bar at that time, but they had every right to do so," adds this source.
A long history of violence
Alsasua is an abertzale stronghold within Navarre. In the last 25 years, it has always been headed by Basque nationalists.
In 1980, a former Civil Guard officer was assassinated here. Alsasua was also home to an ETA cell known as 'Txarito,' created in 1985.
In 1997, two local Socialist councilors received death threats and had their cars vandalized. In 2003, a fellow PSOE member who announced his intention of running for office found his car windows smashed in.
Radical nationalist circles reacted to coverage of the assault by claiming that it is a made-up story to make the abertzale look bad. The Basque phrase "Alde hemendik" ("get out of here") was hurled at law enforcement officers in the area.
While some people milled outside the Civil Guard headquarters to show support for the victims, radical nationalists held a separate rally calling the attack "a political and media set-up." A young man claiming to represent "the inhabitants of Alsasua" said that the village is the victim of "oppressive repression" and asked for the acquittal of two suspects who were arrested in connection with the attack and released on Monday pending trial.
A normal life?
Local residents say that ever since ETA announced the end of armed violence, almost exactly five years ago, the street violence known as kale borroka has pretty much disappeared, and that law enforcement officers can lead a more or less normal life.
"You don't normally see them out at night, but it is more of a regular occurrence now than it used to be," says another neighbor who declined to supply his name.
The Civil Guard source agreed that life is easier for them now, but adds some nuance.
"It's not true that there is no more kale borroka. Street containers keep getting burned down, it's just that they now call it vandalism. And they do everything possible to make us miserable. Let's be clear on this: we cannot lead normal lives."
English version by Susana Urra.
More information