SPANISH ELECTIONS
PP picks up new seats in election re-run win, while PSOE hangs on in second
Podemos fails to capitalize on its agreement with United Left and falls far short of overtaking the Socialists. But uncertainty remains on the possible formation of a government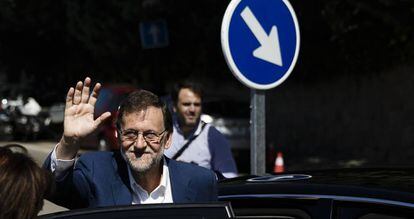 The PP has won Spain's repeat election, doing even better than it did at the original vote on December 20.
But it is still well short of the 176 seats required for a parliamentary majority, meaning that the same questions remain in the air: will parties manage to reach governing deals in a highly uncertain political scenario? Will the six-month stalemate finally be broken? Or will Spaniards ultimately have to go back to the polls a third time?
The vote count suggests no major changes among voters: the Socialist Party (PSOE) has managed to hold on to second place despite a profusion of surveys -and even exit polls- indicating that it would drop to third spot behind the new leftist coalition of Unidos Podemos.
The message that emerges from this fresh election is that the two-party system is not dead yet
The scenario that emerges from this fresh election is very similar to the post-December 20 situation, save for the PP's improved performance and the fact that the emerging center party Ciudadanos has lost a lot of ground in a highly polarized environment.
Yet acting prime minister Mariano Rajoy is still far from the 176 seats required for a parliamentary majority, which means that he still needs someone else's support to govern. With 97% of the vote counted, his PP gets 32.98% of the vote and 137 seats, compared with 123 seats in December.
Not even Ciudadanos' support would be enough, which means that the PP must turn to the Socialists for a governing deal that can only be termed as difficult to obtain. What if the Socialists make it a necessary condition for Rajoy to make way for someone else? Considering that he has done even better this time than the last, who within his party will tell Rajoy that he has to go?
Sign up for our newsletter
EL PAÍS English Edition has launched a weekly newsletter. Sign up today to receive a selection of our best stories in your inbox every Saturday morning. For full details about how to subscribe, click here.
Against all opinion surveys, Socialist candidate Pedro Sánchez has managed to withstand the pressure from the Unidos Podemos juggernaut, scoring higher in vote percentage (22.73%) even though it loses five seats in Congress, down to 85, because of the way the Spanish voting system works. The PSOE will now play the role of kingmaker, as it holds the key to both the right and the left in any potential alliance.
Meanwhile, Podemos leader Pablo Iglesias has performed below expectations, coming in at 21.12% of the vote and 71 seats. His alliance with the United Left (IU) has ultimately secured fewer votes than the sum of each group's individual outcomes in December. As such, Iglesias will not be able to lead the negotiations to form a government, and can only hope for a position of deputy prime minister in a hypothetical coalition with the PSOE – as he tried once before already. And to Podemos, after teaming up with IU, this represents a failure.
The message that emerges from this fresh election is that the two-party system is not dead yet. Podemos is not as strong as expected, and Ciudadanos is relegated to a far-off fourth position with 13% of the vote and 32 seats: its months-long efforts to reach deals with other parties have not been rewarded – rather on the contrary.
English version by Susana Urra.