Brexit: how will it affect Spanish companies in the UK?
Ferrovial, Telefónica, Iberdrola and Santander are all major investors in Britain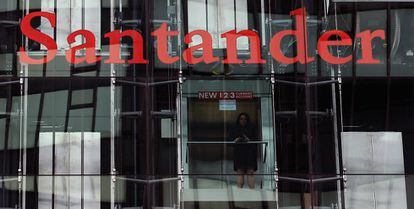 The shock waves of the United Kingdom's decision to leave the European Union will be felt around the world for many months, if not years, to come. Over the last four decades, growing numbers of international companies have put down roots in Britain, among them some of Spain's biggest players.
Here are the main Spanish firms in the UK market with data from 2015 and the first quarter of 2016.
Banco Santander
With 26,866 employees, 858 offices and €259.7 billion in loans (first quarter 2016), the UK is the cornerstone of Santander's business strategy. Britain accounts for 23% – the largest share – of the bank's profits (€475 million in 2015). This means a 10.4% yield on investment and a default on loans of just 1.52% with debt service coverage of 38.2%. As much as 29% (€231.9 billion) of the company's global internal resources (€774.8 billion) are in the UK.
Telefónica
Telefónica began operating in Britain in 2006 after snapping up 02, which became its UK brand. With 25 million mobile phone customers, it offers 2G, 3G and 4G networks to mobile phone users. 02 also owns 50% of Tesco Mobile as well as 02-Wifi which has six million customers. The company has 450 shops in the UK. In March, 2015 Telefónica tried to sell 02 to Hutchison Whampoa for €13 billion, but the sale was blocked by the European Commission on the grounds that it would create a monopoly.
Iberdrola
The British market is crucial to the energy company since its acquisition of Scottish Power in 2007, the biggest takeover in its history, costing €17.2 billion. Iberdrola predicted that 25% of its profits in 2020 would come from the United Kingdom. With such predictions it is hardly surprising their investment amounted to as much as €8.4 billion, 35% of the company's total. It has 6,700 employees in Britain, 6,465 megawatts installed and 5.5 million customers.
Ferrovial
Over the last four decades, some of Spain's biggest players have entered the UK market
With 20,798 UK employees out of a total of 74,000, it had orders worth €17.4 billion in Britain with €4.3 billion of assets. Around 63% of Ferrovial's global sales worth €4.9 billion were generated from Britain. It also holds significant shares in four UK airports – Heathrow, Glasgow, Aberdeen and Southampton. With 75 million passengers passing through Heathrow last year, the flight hub reported earnings of €2.7 billion. It has 7,768 contractors in Britain and its construction activities yielded profits in the realm of €32 million. A third of its social responsibility projects are also based in the UK.
IAG
International Airlines Group (IAG), which owns British Airways, Iberia, Vueling and Aer Lingus, earns 36% of its €22.8 billion turnover from UK activity. Of its total assets, €11.112 billion are British. At the end of 2015, 20% of its credit risk was in the UK.
FCC
Britain accounts for 23% – the largest share – of Santander's profits 
As much as €1.029 billion of the company's €6.4 billion turnover was due to business in the UK through FCC Environment (UK) Ltd, which also has more than 50 subsidiaries in the treatment and elimination of urban waste sector. The UK accounted for 10.4% of its turnover due, in part, to the favorable exchange rate. One of its recent investments is a waste-treatment and incineration plant in Buckinghamshire, though the company's incineration business has been badly hit by legislation making it obligatory to pretreat waste before burning it; in 2013 it managed just 4.4 million tons of waste, down from 9.1 million tons in 2007.
Aena
Aena owns 51% of Luton airport, which had as many as 12.3 million passengers in 2015, 17% up on the previous year and the largest number of passengers in its 77-year history. Turnover rose to €201.9 million, accounting for 6% of the company's total. The €66.6 million EBITDA (Earnings before interest, taxes, depreciation and amortization) accounted for 3% of Aena's total.
Banco Sabadell
In June 2015, the Spanish bank took over TSB and its network of 614 branches in England, Scotland and Wales. Sabadell now has 8,224 employees in the UK, which brings earnings of €540 million from interest margins. It has 4.8 million customers and a lending investment of €35,970 million.
Inditex
The world's biggest fashion group has just opened a store on Oxford Street, London, for its Stradivarius label. Inditex already has more than a 100 stores across the UK, including Zara's 68, Massimo Dutti's 12, Zara Home's 10, Pull & Bear's 7 and Bershka's 5.
Other companies
Hotel chains such as Melía and NH. Medium-sized companies such as Vidrala also have an important presence in the UK market.
English version by Heather Galloway.
Sign up for our newsletter
EL PAÍS English Edition has launched a weekly newsletter. Sign up today to receive a selection of our best stories in your inbox every Saturday morning. For full details about how to subscribe, click here.