LATIN AMERICA
Missing Spanish journalist may not have been abducted: Colombian president
Juan Manuel Santos suggests that 'El Mundo' reporter Salud Hernández-Mora may have traveled to the jungle to cover a story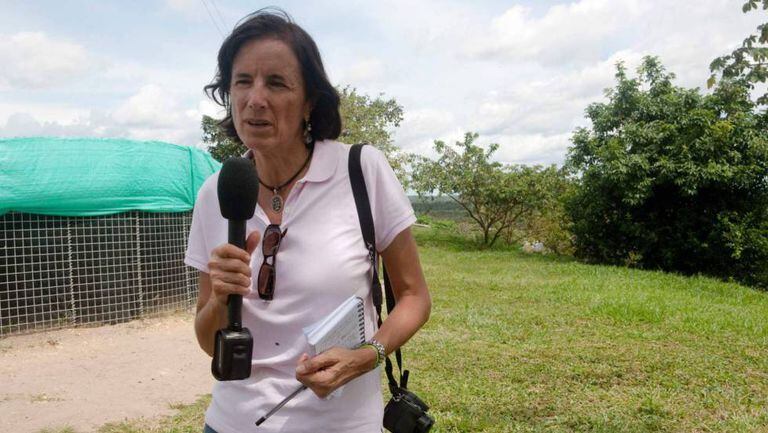 Colombian President Juan Manuel Santos announced on Wednesday that there is a chance that Salud Hernández-Mora, a Spanish journalist who has been missing since Saturday, has not been kidnapped. The president said that the reporter may have decided to embed in the jungle with the armed group National Liberation Army (ELN) for a story.
"What I know of Salud Hernández, the information that I have, which I am verifying, [is that] she went to do a report of her own free will, that she met with ELN, and ELN is waiting to see how she can come back to freedom," Santos said during a visit to Chocó (western Colombia).
What I know of Salud Hernández, the information that I have, is that she went to do a report of her own free will President Santos
Hernández-Mora, a correspondent for the Spanish newspaper, El Mundo, and columnist for El Tiempo newspaper in Bogotá, was last seen on Saturday in El Tarra, a municipality in the region of Catatumbo. She was there to report on the area where ELN groups live alongside members of the Revolutionary Armed Forces of Colombia (FARC), Popular Liberation Army (EPL) and drug-trafficking gangs that have broken off from paramilitary groups.
Santos admitted that "the information is not completely confirmed," and the reporter's whereabouts remain unknown. Still, his hypothesis "has a logic to it because she told many people, including the director of El Tiempo [Roberto Pombo], with whom she was in constant communication, that she was doing a report. She is now unreachable," Santos added.
John de Jesús Reales, the driver who took Colombian journalists Diego D'Pablos and Carlos Melo from Tibú to El Tarra, where they went missing on Monday night while reporting on Hernández's disappearance, resurfaced on Thursday.
RCN says Reales "was set free in the early hours" on Wednesday morning. "The authorities found him in a place near the town of Filogringo." The RCN crew say they were stopped by a group of armed men who may have been ELN rebels. Santos said he has no further information regarding the two missing Colombian reporters but that his administration believes "something like that must have happened."
The representative of the UN High Commissioner for Human Rights in Colombia has called for calm in the midst of a "confusing situation"
RCN has reported the disappearances as kidnappings but neither Colombian officials nor the rebels have confirmed that suspicion.
Todd Howland, the representative of the United Nations High Commissioner for Human Rights in Colombia, has called for calm in the midst of a "confusing situation." "First, there is a lot of confusion... We are, firstly, sad because we know the important role that journalists play."
Hernández-Mora "was doing an interview with an illegal group," he said. Then, a day later, police and military units descended on the area to search for her, which may have complicated her situation, Howland added.
The UN diplomat said "she will not find it easy to leave" whenever she wants since there is a military operation underway and "it is very complicated." Howland has called for all parties involved to be "calm and to put the rights of journalists first."
English version by Dyane Jean François.
SIGN UP FOR OUR NEWSLETTER
EL PAÍS English Edition is launching a weekly newsletter. Sign up today to receive a selection of our best stories in your inbox every Saturday morning. For full details about how to subscribe, click here.