Madrid councilor won't resign after guilty verdict for offending Catholics
Rita Maestre, of Podemos and Ahora Madrid, chanted slogans during a topless protest in 2011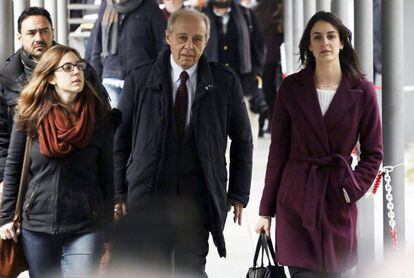 A Madrid city councilor will not be resigning despite being found guilty of offending religious sentiment and being sentenced to pay €4,320 in damages for her actions at a Catholic chapel in 2011.
City Council spokeswoman Rita Maestre, of Podemos and the Ahora Madrid governing group, announced her decision after speaking with Mayor Manuela Carmena this afternoon.
"I defend peaceful protest as a form of calling for changes in society," she said at a press conference on Friday afternoon, flanked by the mayor and other members of her party. "I understand that this does not affect nor does it intervene with my work as spokesperson for Madrid City Hall, and as such I will not be changing my position."
Maestre called it "a peaceful and legitimate protest" and said she still defends this form of expressing her ideas
The Popular Party and Ciudadanos representatives in the city council had demanded her resignation, while the Socialists, whose votes allowed Ahora Madrid to take power, have yet to make a statement.
Maestre, who did not receive a one-year prison sentence as prosecutors had been hoping, had said ahead of the court's decision that she would step down if found guilty. The Ahora Madrid code of ethics states that any official involved in a criminal case must step down.
Another defendant, Héctor Meleiro, who was 21 at the time of the events, was acquitted of the charges.
Maestre said through her lawyer that she will appeal the decision.
"Take your rosaries out of our ovaries"
Judge Esther Arranz Cuesta found that Maestre, "in union and agreement with other unidentified women, and with the intention of offending the religious sentiment of those present and of the Catholic community, invaded the altar space" inside the Catholic chapel on Complutense University's Somosaguas campus during a religious service.
Once inside, Maestre "took off her shirt and stood in her bra, while other women disrobed from the waist up and two women kissed each other on the lips; after which they all left the chapel screaming 'We're going to burn down the Episcopal Conference,' 'Fewer rosaries and more geisha balls!,' 'Against the Vatican, clitoris power' and 'Take your rosaries out of our ovaries,'" the sentence reveals.
At the trial, Maestre called it "a peaceful and legitimate protest" and said she still defends this form of expressing her ideas. "There is no reason why a naked torso should be offensive," she said.
But the councilwoman has also apologized to Catholics for what happened that day. And the archbishop of Madrid, Carlos Osoro, issued a public message of forgiveness, saying that in 2011 Maestre was at an age (22) when one does things that "should not be done that way."
The case has incensed some observers, who talk about the politicization of an event that took place five years ago, and who see in it an attack against Ahora Madrid.
But the conservative Thomas More Law Center – which filed a private accusation against Maestre – said in a release that "this ruling will help raise awareness about the need to respect those who think or feel differently."
English version by Susana Urra.