The Spanish hairdresser who uses a samurai sword and blow torch
After a video showing stylist Alberto Olmedo at work went viral, we dared head over for a trim
Hairdresser Alberto Olmedo's salon is in the Madrid working-class district of Campamento, to the west of the city. But it's also known all over the world: a video posted by AJ+ online using archive footage to demonstrate his particular technique involving katana samurai swords, six pairs of scissors at the same time, and even a blow torch, was seen by more than 110 million people in just 24 hours last week. I am one of them, but with a difference. I then dared to go see Alberto for a haircut.
As soon as you walk into Olmedo's place you see a small counter, a couple of sinks for washing hair, along with some seats where customers wait their turn: it's pretty much your standard neighborhood hairdressing salon – until you see the rack of katanas. "I've never heard of anybody cutting hair with them," Olmedo says, handing me one of the Japanese swords. It's heavy. "But neither did we invent this. Centuries ago people used to cut hair with small daggers. This is a return to the origins, but on a larger scale," he says.
Born to Spanish émigré parents in France, where he grew up, Alberto says he started using swords "as a way to layer hair. You can use a knife, but I needed something bigger, able to take more in, and katanas ended up being the solution," he explains. And he's not the only one wielding a sword in the salon: just about all of his seven employees have learned how to use one, including his wife – "She gives the orders," he says. Some of the staff have even bought their own.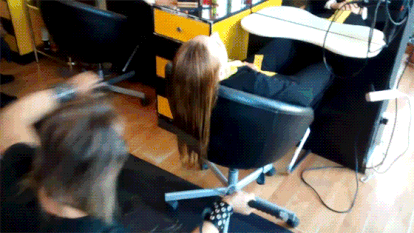 While I wait to have my hair washed, it's a pleasure to observe Olmedo at work. With his blond locks and leather wrist bands, he moves the katana skillfully, almost reverentially – it's like watching a Viking version of Kill Bill. "Some other hairdressers say we're savages, like the Dark Side in Star Wars," he says, laughing.
Olmedo may not use a light saber in his work (at least not yet)  – but he does have a blow torch. As I have my hair washed, I notice that another customer's locks appear to be on fire. "Cutting hair with fire is an old technique. People used to use matches, but there was a problem: you couldn't direct the flame. So I thought of a blow torch," says Olmedo.
I try imagining that Eureka! moment: "Hey, it's just occurred to me that I might be able to cut hair using a blow torch. I've never done it before, but can I try on you?"
In the event, it was one of his assistants who had the courage to step up to the plate. I take a look at her perfect blond locks and feel a little more at ease. Now it's my turn for the blow torch.
Olmedo puts a plastic guard over my face to protect my eyes from the hair and the heat. I look like a standard lamp. He lights the blow torch and I grit my teeth. Looking into the mirror and seeing your crown go up in flames is not easy to watch. My hands are sweating, but hey, it's December and the heat is actually quite nice. The smell is a different matter, though.
Just when I think I've passed the test, Olmedo pulls out two cut-throat razors. Two! So now it's Sweeney Todd time. "Alberto, I'm a bit scared," I confess. "Imagine how I would feel if I made a mistake!" he responds. He's joking, of course, but I'm not finding it very funny.
After having the two razors caress my neck at high speed and then checking my head is still in place, I have to admit that the experience has been an impressive one. "If you think this is impressive, you should see what I did on Spain's Got Talent." One moment: Spain's Got Talent? "I went with a friend and some customers. It's a great show, but I didn't get past the first round. The program is due to be broadcast in January," says Olmedo.
Spanish television may not think he has talent, but there are 110 million other people out there who have seen that he does.