The fight against terrorism
Government not ruling out further counter-terrorism measures
PM holds new round of talks with opposition to seek "maximum cooperation and unity"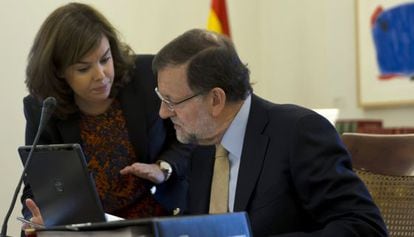 The Spanish government has not ruled out adopting any new measures in its fight against jihadist terrorism, including changes in public policy, criminal laws and operations from a military standpoint if deemed necessary after it completes its round of talks with the opposition and if Spain's allies agree.
Deputy Prime Minister Soraya Sáenz de Santamaría explained on Friday that the government was open to exploring every avenue it believes convenient to deal with new threats.
The Socialist leader has warned that Congress must be in session to approve any troop deployments
On Friday, Prime Minister Mariano Rajoy held talks with his advisors, including his Cabinet and members of an internal committee that evaluates terrorism threats. He and Sáenz de Santamaría also spoke to opposition leaders to discuss a range of possibilities Spain could employ during this international emergency.
Sáenz de Santamaría denied that the government has made an official unilateral offer to France to take over its military operations in Mali and the Central African Republic to free up French troops so they can take part in anti-terrorist operations aimed at defeating the Islamic State (ISIS).
"No one has asked Spain for anything and Spain hasn't offered anything," Sáenz de Santamaría said at news conference following the weekly Cabinet meeting.
Her denial came hours after Socialist leader Pedro Sánchez explicitly rejected such a move. Sánchez warned that Congress had to be in full session to approve any increase in troops in the region.
This issue has grown to become a particularly delicate matter following the events in Bamako, the Mali capital, where an unknown number of gunmen held at least 170 people hostage at a luxury hotel on Friday.
"Any deployment of troops cannot be decided by the Permanent Deputation of Congress [the body of lawmakers that remains in session when Congress is not in session]. It has to be the new Congress and Senate, which will have to discuss this issue," Sánchez said.
Rajoy on October 26 officially dissolved parliament and called for December 20 elections.
EL PAÍS reported on Thursday that the Defense Ministry was working on a plan to contribute more Spanish troops in various African countries, with a focus on Mali and the Central African Republic, and on support for those two missions coming from air bases in Senegal.
The deputy prime minister reminded reporters that reforms to the Penal Code, which included stricter laws aimed at jihadist terrorism, had broad support in Congress when they approved. She said she was convinced that any new measures the government might introduce will also generate that same broad support from the opposition.
Spain will look for "maximum cooperation and unity" among the parties in the fight against ISIS, she added.
We have told the French that we are ready to help them in whatever they ask and within our possibilities" Foreign Minister García-Margallo
Rajoy spoke with the leaders of the opposition Podemos and Ciudadanos parties: Pablo Iglesias and Albert Rivera, respectively. He was still trying to reach Socialist leader Sánchez at the time the news conference was held, the deputy prime minister said.
Rajoy has said that he would seek a political consensus before making any major decisions about Spain's involvement in the fight against ISIS.
Speaking in a television interview, Foreign Minister José Manuel García Margallo acknowledged that "Spain could take over" the French operations in Africa "so that they can free up their own soldiers and, above all, their equipment and we will cover for them."
"We are in a fight […] and we have told the French that we are ready to help them in whatever they ask and within our possibilities," García Margallo said.
English version by Martin Delfín.