Primark opens flagship store in downtown Madrid
Irish clothing chain's new premises are biggest in Spain and second biggest worldwide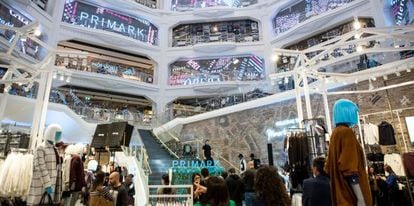 Low-cost Irish clothing retailer Primark opened its biggest store in Spain – and its second biggest worldwide – in the heart of Madrid on Thursday morning.
Situated in a landmark building on the capital's main Gran Vía thoroughfare, the new space is Primark's 41st Spanish store and covers 12,400 square meters over five floors.
The new premises, which sees the group taking on competitors Zara and H&M in one of Spain's leading shopping areas, will employ 573 staff, who attended the opening ceremony alongside Irish executives, members of the company's board, analysts and the media on Thursday.
Second in size only to the group's Manchester store, the new branch forms part of its new strategy in Spain
Ireland's ambassador to Spain, David Cooney, was given the responsibility of cutting the ribbon to open the store, after which the line of around 300 people that had formed outside No. 32 Gran Vía was gradually allowed to enter.
Second in size only to the group's Manchester store, the Madrid branch forms part of Primark's strategy in Spain. While previously it has opted to open premises in large shopping malls on the outskirts of major towns and cities, the chain is now focusing on opening new stores in central urban areas.
"That is the plan, but we cannot yet comment on any specific sites," said Stephen Mullen, the group's head in Spain. This is the same plan the firm has followed in other big cities, such as Manchester and London, where it has an enormous store on Oxford Street.
During the opening ceremony, Primark executive director Breege O'Donoghue noted that the group, which was founded in Ireland in the 1970s, now has 294 stores worldwide and, after expanding throughout Europe, opened its first store in the US just a month ago.
She said Spain was one of the group's most important markets, after setting up its first branch in the country in 2006, and also announced that it would be opening its first stores in Italy next year.
English version by Nick Funnell.