Valencia leader calls for more caution after Frenchman's goring death
But new premier Ximo Puig falls short of supporting ban on bull runs at regional fiestas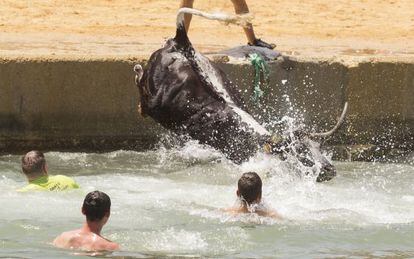 Following the death of a French tourist who was gored by a bull on Monday night, the regional premier of Valencia has called for additional safety measures at local summer fiestas taking place across the region.
But Ximo Puig, who has been in the post since June after winning the regional elections, fell short of calling for a ban on bous al carrer and bous a la mar bull-running events, which are both considered important traditions in Valencia and nearby Catalonia.
Asked about the death of the 44-year-old man in Pedreguer (Alicante), Puig said these fiestas were traditional in many villages throughout Valencia.
It's too bad that people come to have a good time and end up experiencing a tragedy like this one"
Pedreguer Mayor Sergi Ferrús
"We do not support abolishing them, but we do support control, safety, and above all prudence on the part of citizens," said Puig, of the regionalist Compromís party. "What should be a celebration cannot end in tragedy."
The central government's delegate in Valencia, Juan Carlos Moragues, noted that such events are regulated by regional and local legislation, not by national laws.
The death of L.O., who was taking pictures of the Bous de Pedreguer bull run at the time of the goring, is the first fiesta-related fatality in this village of 7,438 inhabitants in the last 40 years.
The victim had been in Pedreguer on a day trip along with several other French tourists who were all spending their summer vacation in the Valencia beach town of Oliva.
The tragedy took place when the sixth bull came out of the pen and ran down the streets of Pedreguer, as part of an event that mirrors the famous Running of the Bulls in Pamplona.
Local sources said the man was incurring in risky behavior and had been repeatedly warned by volunteer security personnel to be more careful. These volunteers keep children and drunken people away from the bull run areas, where steel bars provide added protection for onlookers.
The accident occurred at around 1am. The man's wounds were deadly and the doctor who came to his aid was unable to do anything to save his life. The bull's horn had penetrated his chest, affecting his heart and lungs, and his liver was pierced by another stab.
Several neighbors said the animal was very hard to bring under control once he first hooked his victim.
"It's too bad that people come to have a good time and end up experiencing a tragedy like this one," said the mayor, Sergi Ferrús of Compromís. "The festeros [locals who participate in the fiestas] are very affected by it, as is the entire village."
All bull-related events have been canceled for Tuesday and Wednesday out of respect for the deceased.
The Frenchman is the second person to have died in Valencia this month after being gored by a bull. A week-and-a-half ago, a 54-year-old man was also killed in Castellón.
On June 24, another man was gored to death during local festivities in Coria (Cáceres). That same day, an 80-year-old was trampled to death during a bull run in the Catalan village of L'Ampolla.