How Ciudadanos took on Podemos at their own digital game
Party leader Albert Rivera's tireless online presence has pushed his party up in the polls Even the ruling Popular Party has been forced to launch a frantic offensive in response
"I've always said it, and I'll say it again: this party would not exist were it not for the internet."
The speaker is Albert Rivera, leader of a rising party called Ciudadanos, and the message is delivered via a YouTube video that was posted on February 13, coinciding with the launch of their new website.
This is the same medium that has recently garnered Ciudadanos (or C's as they call themselves) so much attention that even the ruling Popular Party (PP) is sitting up and taking notice. In fact, the conservatives have launched a frantic offensive against a party that could take a significant amount of votes away from them in local, regional and national elections later this year.
Gone are the days when their leading candidate had to pose in the nude to attract attention and stir up some controversy
A recent Metroscopia poll showed Ciudadanos attracting 12.2 percent of voter intention, making it the fourth strongest political force in the country and reinforcing the notion that Spain's traditional two-party system is coming to an end.
In this respect, Ciudadanos follows in the footsteps of Podemos, the new leftist anti-corruption party that is promising a strong electoral showing in Spain, just as Syriza managed in Greece.
And even though Podemos has managed to head voter intention polls in just a little over a year since its foundation, the eight-year-old Ciudadanos is now growing faster than Podemos on the social networks, suggesting that Spaniards are more sympathetic than ever before to the new range of political options opening up before them.
"Our time has come," Albert Rivera has said, mirroring Obama's speech during his 2008 campaign run.
Ciudadanos began life as Ciutadans, a Catalan party that did not embrace Catalan nationalism, instead advocating a multicultural identity in which members felt simultaneously Catalan, Spanish and European.
To illustrate this point, Rivera always describes himself in a sentence that combines three languages: "Catalunya és la meva terra, España es mi país and EU our future. Mejor Unidos" (or, Catalonia is my land, Spain is my country and the EU our future. Better united.)
But the party had a tough time getting the message across at first.
"We suffered a media blockade because back then, going against [Catalan] nationalism and proposing coexistence and the Constitution instead was very complicated," explains Fernando de Páramo, the party's communications secretary and the man behind Rivera's large digital footprint.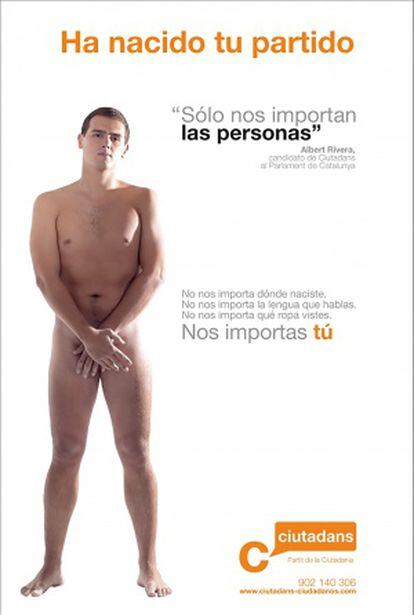 Gone are the days when their leading candidate had to pose in the nude to attract attention and stir up some controversy, as Rivera did back in 2006. These days, Ciudadanos has over 123,000 followers on Twitter, and Albert Rivera himself has over 214,000. Meanwhile, on Facebook 140,000 follow C's and 133,000 follow Rivera.
This, and an infrastructure made up almost entirely by volunteers, is now allowing Ciudadanos to run nationally, rather than just in Catalonia.
"Our strategy does not need to be as aggressive now as in the past," notes De Páramo, asserting that they answer every single one of the online questions they get from citizens, "24 hours a day, 365 days a year."
This team is made up of a community manager and three other people, which De Páramo admits is "reduced, considering the number of followers we manage and our level of interaction with them."
Ciudadanos leader Albert Rivera has personally managed his own accounts since 2010. "Sometimes people tell me that I waste too much time on the social networks, but in reality I am winning it: I amplify my messages, I receive new ideas...," he has said on more than one occasion.
Their model is clearly based on Barack Obama's own election campaign, notwithstanding the stark difference in available resources.
"We look directly at American politics," admits De Páramo, who trained in New York, while Rivera completed a master's degree at George Washington University. "For now we have tried to copy their volunteer network, a structure that is the envy of other political parties. We are proud of our work, given our resources and technological culture in Spain."
And while Ciudadanos may not have as many volunteer canvassers as Obama, it's been enough to send out the message to Spain's cities and villages.
"One of the US president's principles was that the best campaign is the one that others run for you, and that's where we're at: getting others to help us and make us grow."
Those "others" are regular citizens with or without experience in social networking who are willing to lend a hand. "There are some real aces out there and others who simply have a working knowledge," explains De Páramo.
Ciudadanos reaped the first results of their online efforts in February of this year. Since May 2014, coinciding with European elections, no party had outperformed Podemos in sustained growth of daily followers, according to T-cracia, a website that measures Spain's political activity through Twitter.
"This does not mean that Ciudadanos has more followers than Podemos, it is simply a trend," notes Álvaro Santamaría, T-cracia founder. "We are working with hypotheses because online metrics are still very new. Our impression is that the cause of the impact on Twitter is linked to a presence in the media, and lately Albert Rivera and other party members are getting more minutes of airtime."
On January 20, Albert Rivera appeared on the popular television program El Hormiguero, on Antena 3. That night he gained over 7,900 followers, according to T-cracia: "That is an extraordinarily high number for this network, it's a milestone."
So long, and thanks for all the fish
Even when the leader of Ciudadanos puts his foot in his mouth, he still seems to do well on the internet. His recent statement on occasion of the upcoming elections in Andalusia ("We are going to teach people in Andalusia how to fish, not to hand out fish") spawned an endless series of online jokes and critical comments, yet Rivera added 5,000 new followers that day.
If it is true, as Ciudadanos claims, that Albert Rivera was the first person to use the term "the caste" to talk about the Catalan political oligarchy, and that he got ahead of Podemos leader Pablo Iglesias with his book Juntos podemos (or, Together we can), and that he was already making television appearances before Iglesias... then why is Podemos beating Ciudadanos online and in the street?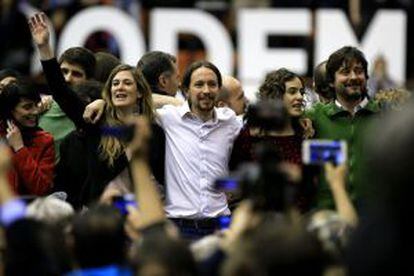 "It's got to do with the rhetoric: often, Iglesias and his people have made proposals that have a very strong impact in terms of communication in the short term, but which are impossible or very difficult to deliver on," says De Páramo.
Asked about the need (perhaps felt more intensely by the media than by citizens) to define Ciudadanos' own ideology in terms of left and right, De Páramo falls back on Rivera's position, which is in fact very similar to the position defended by Podemos leader Pablo Iglesias.
"That is an obsolete debate in the 21st century, in the politics that Spain is demanding right now," he says. "To talk about sides, about the reds and the blues, about your village against my village, seems very outdated to me."
De Páramo does not feel that this attitude will be a hurdle to communicating their ideas. "We believe, for instance, that the market economy is compatible with equal opportunities, and that freedoms are compatible with progress. We don't have any major guidelines because we do not support taking political sides or lecturing our people – we're more about people using common sense."