Spain's hottest new hotels
From Galicia to Ibiza and Mallorca to Madrid, 10 great places to stay with personality
Looking for a place to stay in Spain with real character? Look no further than this selection of the country's best new accommodation. From urban hideaways to rural retreats, from budget to luxury, you're sure to find something here to suit your taste. 
A panoramic rooftop
THE PRINCIPAL
(Madrid)
The latest newcomer to the capital is a sister to the boutique Hotel Único on Calle Claudio Coello, and its winning feature is the panoramic views of the city's main Gran Vía thoroughfare you get from the rooftop. The interior design is laid-back but with a palatial feel, while the kitchen is manned by Ramón Freixa, who holds two Michelin stars.
» Marqués de Valdeiglesias, 1. Madrid. Telephone: 915 21 87 43. www.theprincipalmadridhotel.com. Doubles from €239.25.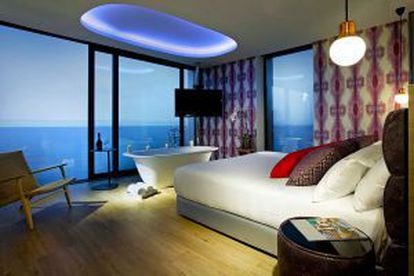 Check in, rock out
HARD ROCK HOTEL
(Sant Jordi, Ibiza)
The classic music and nightlife brand extends its extensive hotel network, which already boasts outposts in Las Vegas, Bali, Singapore, Macao and Hollywood, among other destinations. Doubling up as a venue for concerts and techno events, it's run by Palladium, the promoter behind the nearby Ushuaïa Ibiza Beach Hotel, which has a similar concept.
» Platja d'en Bossa, s/n. Sant Jordi, Ibiza. Telephone: 971 31 42 10. es.hrhibiza.com. Doubles from €158.
Your daily bread
PRAKTIK BAKERY
(Barcelona)
A hotel and bakery rolled into one. The attractive industrial aesthetic is the result of meticulous work by interior designer Lázaro Rosa-Violán, while the ovens are supervised by Anna Bellsolá and her reputed Baluard brand. It all makes for a highly aromatic combination. With the Egyptian cotton bedsheets sure to supply sweet dreams, you'll awake to homestyle breakfasts featuring freshly made bread.
» Provença, 279. Barcelona. Telephone: 934 88 00 61. www.hotelpraktikbakery.com. Doubles from €59.25.
Low-cost luxury
ABCYOU
(Valencia)
Bathroom, shower, TV set and free Wi-Fi: these are the key features of this low-cost hotel run by Dutch couple Wouter and Dafne in the sunny Mediterranean city. Design carries the day here, with the hydraulic floors, casual furniture arrangement and neo-Baroque elements sure to appeal to hipsters and romantic millennials.
» Taquígrafo Martí, 10. Valencia. Telephone: 963 81 55 60. www.abcyou.es. Doubles from €79.
All in the detail
TOC SEVILLA
(Seville)
A great little youth hostel with bunk beds and double rooms, simplicity of design is the name of the game here. The project is the brainchild of Ignacio Catalán, son of the founder of the AC Hotels chain, who feels the millenial generation offers a new chance to be true to details. The welcoming spaces are decorated with exhortations such as "Get naked!" and "Be yourself at home!"
» Miguel Mañara, 18-22. Seville. Telephone: 954 50 12 44. tochostels.com. Doubles from €16 per person.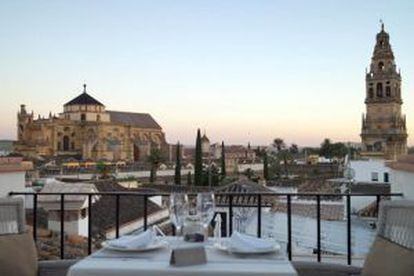 Ancient treasures
BALCÓN DE CÓRDOBA
(Córdoba)
A haven of happiness decorated with over 100 archeological remains, this new hotel in the center of the Andalusian city features three courtyards filled with arches, latticed windows, venerable stone basins, a cobblestone floor laid out in geometric patterns and, to top it all off, front-row views of the Mezquita.
» Encarnación, 8. Córdoba. Telephone: 971 31 42 10. www.balcondecordoba.com. Doubles from €138.
Multicolored marvel
OD PORT PORTALS
(Mallorca)
Just like Ibiza, Mallorca is riding the wave of designer hotels and chill-out music. Rising up near the Puerto Portals marina, this frieze of multicolored bricks takes its inspiration from the work of Mondrian. The eight floors are decorated in a vintage style and its panoramic terrace seems destined to become an irresistible draw on summer nights. Renowned DJs supply the music.
» Avenida de Tomás Blanes Tolosa, 4. Puerto Portals, Mallorca. Telephone: 971 67 59 56. www.od-hotels.com. Doubles from €100.
Soccer swank
LA ESCONDIDA
(Penáguila, Alicante)
Located near the Font Roja natural park, the former Mas de Pau rural hotel has just morphed into a luxury countryside accommodation complex with a very British atmosphere, courtesy of new owner, former Barcelona FC coach Terry Venables. Two hundred hectares of olive and almond groves do the rest. The beach is a half-hour away, but the swimming pool and solarium will be sure to hold back anyone seeking some countryside peace and quiet. Its picturesque wooden cabins sit close to the main building, which dates from the 13th century.
» Road from Alcoy to Penáguila, kilometer 9. Telephone: 965 51 30 46. www.hotelescondida.com. Doubles from €225.
Perfected palace
CAN FAUSTINO
(Ciutadella, Menorca)
Next to the cathedral, within the walled compound of the Ciutadella, this 16th-century palace lives up to every expectation the team behind its restoration creates. The interior design is by Olivia Putman and the culinary delights come courtesy of Felip Llufrio, who learned under the Roca brothers, of Celler de Can Roca fame. Elegance, historical rigor and a cultivated atmosphere reign supreme.
» San Rafael, 9. Ciutadella, Menorca. Telephone: 971 48 91 91. www.canfaustino.com. Doubles from €150.
Tech literate
SAN BIEITO
(Santiago de Compostela, A Coruña)
Don't look for humans standing behind a reception desk in the lobby of this new hotel, which defines itself as both tech-savvy and literary. Instead, a check-in machine on the wall performs the same service. All rooms also come with Wi-Fi access. The literary angle is provided by the works of Galician authors such as Castelao, Cabanillas, Risco and Suso de Toro, which are made available to guests at this 16th-century house in the city center. The building was once home to Manuel Murguía, the husband of renowned local poet Rosalía de Castro.
» San Bieito, 1. Santiago de Compostela. Telephone: 981 57 28 90. www.hotelsanbieito.com. Doubles from €54.