Ruling conservatives mulling grand coalition with Socialists
PP denies that the aim of such a move would be to neutralize new leftist party Podemos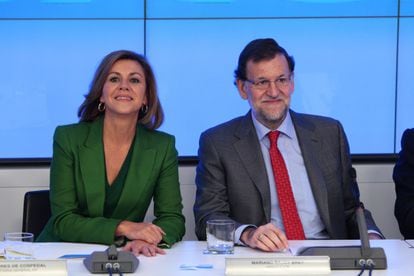 The certainty that the era of absolute majorities has come to an end in Spain is triggering the first major movements among political parties.
For the first time, the ruling conservative Popular Party (PP) has expressed a willingness to enter into a grand coalition with the main opposition Socialists (PSOE) if either side fails to secure an absolute majority at the next general election.
The mere proposition would have been unthinkable at any other time in democratic history, and the fact that it was made at all highlights how Spanish politics is shifting from the old two-party system to one where other players could gain a significant parliamentary presence.
The proposition highlights how Spanish politics is shifting from the old two-party system
Speaking on the privately run Telecinco TV network, PP secretary general María Dolores de Cospedal said on Tuesday that her party would "contemplate" a German-style "grand coalition" with the PSOE if it failed to secure an absolute majority at the next general election.
Cospedal's statement immediately drew the question of whether such a groundbreaking coalition between political foes would be aimed at neutralizing Podemos, a new leftist party that broke on to the scene at the May European elections.
Cospedal replied that a grand coalition was "not aimed at neutralizing anybody but meant to guarantee the governability of the country."
"We need to think about citizens in more generous terms," she added.
Such a coalition – or at least a Socialist abstention – would favor the PP without taking a significant number of voters away from the conservatives.
But siding with the PP would sink the PSOE, which is already struggling with the certainty that Podemos is making a big dent in its voter base.
Something similar happened in Greece, where the center-right New Democracy teamed up with the socialists of PASOK to stop the new leftist Syriza two years ago; PASOK has since plummeted.
For now at least, the Spanish Socialist Party will not even hear of it.
"No, no and no," said Socialist Organization Secretary César Luena by way of comment. Party leader Pedro Sánchez insisted that there would be no deal with the PP because it was "the party of corruption."
Both the PP and the Socialist Party recently admitted that political corruption was at the heart of Podemos' meteoric rise in voter intention surveys. The new grassroots group views all existing mainstream parties, whether left-wing or right-wing, as "a caste" of corrupt, self-serving oligarchs who must all be ousted to give Spain a fresh start.
The message has touched a chord with many Spaniards who are just emerging from a seven-year economic crisis only to find themselves faced with case after case of political graft.