Everything for €1.50: British bargain chain Poundland sets up in Spain
Company sells brand items at single fixed price, and plans to open 10 stores in a year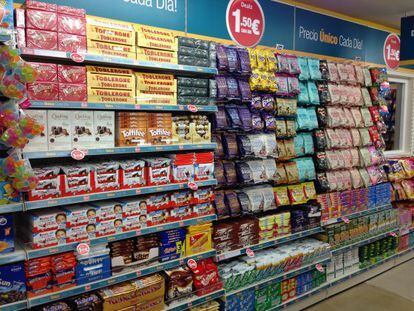 British chain Poundland is bringing its everything-at-£1 stores to Spain. The offer is changing to everything at €1.50 and the name to Dealz, but the concept remains the same: a range of well-known brand products sold at a single fixed price.
The firm unveiled its third Spanish store in Madrid this week, after opening branches in Torremolinos and Alicante in July. The plan is to set up 10 outlets in the space of a year, with the creation of 500 jobs.
Price-point retailing is nothing new in Spain – everything-at-100 pesetas stores have been around for decades – but this is the first time it has been used by a supermarket rather than bazaar shops.
The chain's stores each sell around 3,000 different products in 17 categories, ranging from shampoo and toothpaste, to candy bars and yogurts. All the items are leading brands, according to the company's chief in Spain, Álvaro Villamizar – there are no own-brand products or two-for-one deals, just individual brand items sold at the single fixed price of €1.50.
"Spaniards have switched to own-brand products for price reasons," Villamizar says. "But we believe that what consumers want is to go back to the brands they have always bought. That is why we think we have an enormous opportunity to develop here."
The chain's stores each sell around 3,000 products, ranging from shampoo to toothpaste and yogurts
The Dealz branches in Torremolinos, Alicante and Madrid are set to be followed by another in Málaga and a second Madrid store before the end of the year, with a total of 10 outlets to arrive by next summer. "Then we will analyze how it has gone and we will decide how to move forward," says Poundland director of international development, Malcom Hepworth.
Founded in the UK in 1990, the company has 500 stores in Britain and Ireland – where it arrived in 2011 – and has an annual turnover of €1.3 billion. The Spain expansion marks its first venture into continental Europe. "We did a very wide study of all the possible countries where we might set up. And Spain always came out the best option," says Villamizar.
How does it work?
The items that line the Dealz shelves are all popular brand products in Spain: Fairy washing-up liquid, Colgate toothpaste, Bonka coffee, Lanjarón mineral water ... So how does the chain manage to sell items for €1.50 that can cost double that elsewhere? The firm guarantees it sells nothing at a loss. "We know that would be illegal," says Villamizar.
The answer often lies in the size of the products. There are items, for instance, that in other chains are traditionally sold in one-liter formats but in Dealz come in half-liter packages, meaning the price is lower. In other cases the company plays around with profit margins and with buying high volumes of fewer products from suppliers – their stores only contain around 3,000 products compared with the 8,000 to 10,000 that Spanish supermarket operators might offer.
Villamizar adds that the firm also has good agreements with manufacturers, many of which it has been working with in the UK for years. "They know that it is a good sales alternative, because we only work with brands. It is another way for them to compete," he says.
The company's aim is to open stores of between 700 to 900 square meters, each employing 40 to 50 people. "We will open from 9am to 12 midnight. And every Sunday throughout the year," says Villamizar. He assures that if, in the future, the firm decides to expand into regions with more restrictive opening hours, it will respect local regulations.