Zara pulls shirt design after customers complain of Holocaust connection
Spanish retailer apologizes but argues that shirt with yellow star was inspired by Western movies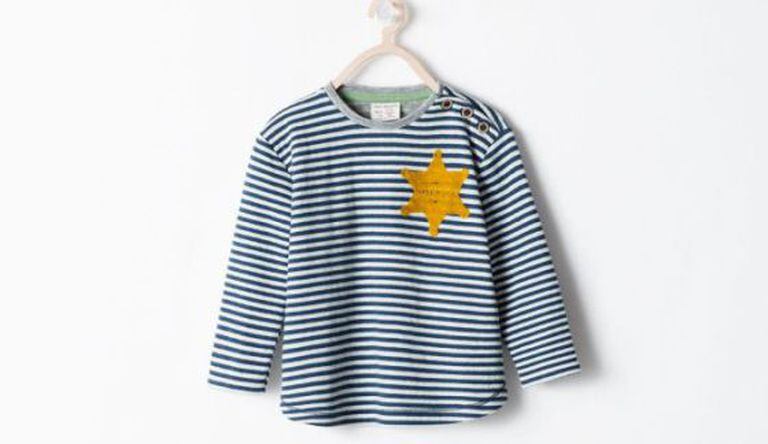 One of Zara's latest designs, a striped shirt with a yellow star on the left breast, has drawn strong criticism from Israel, where people immediately likened it to the uniform worn by Jewish prisoners in Nazi concentration camps during the Second World War.
The Spanish clothing store has already pulled the item and apologized in several languages through its social networking accounts. But it has also underscored that the star is in fact a sheriff's star — the tips are round and the word "sheriff" is printed on it — stating that the design was inspired by Westerns.
But this did not stop customers from expressing their anger at the perceived similarities with the Star of David.
The controversy snowballed to the extent that the Israeli newspaper Haaretz published an article on the issue. "The stripes are horizontal, and the yellow star says 'sheriff,' but Zara's latest offering is hauntingly reminiscent of a darker era," reads the story, which includes a picture of a real uniform worn by a camp prisoner by means of comparison.
This is not the first time that the Spanish retailer has faced similar consumer wrath. In 2007, a British customer alerted the BBC to handbags being sold by Zara with swastikas sewn onto them. The chain pulled the bags, and explained that they had been made by a subcontractor in India, where the cross with four legs bent at 90 degrees is an ancient symbol of prosperity and good luck. In any case, the symbol had not been there in the original design sent to the subcontractor.
Inditex, the parent company of Zara, is not the only brand that has been forced to pull an item after offending customers. In 2013, Mango ran into trouble in France with a jewelry line called "esclavas," literally "slaves," but also a word used popularly in Spain for bracelets with a plaque where people engrave their loved one's name. French customers found them insulting prompting the Spanish retailer to take them out of circulation.