CINEMA
This week's movie releases
The space-set 'Guardians of the Galaxy' is Marvel's most irreverent comic adaptation yet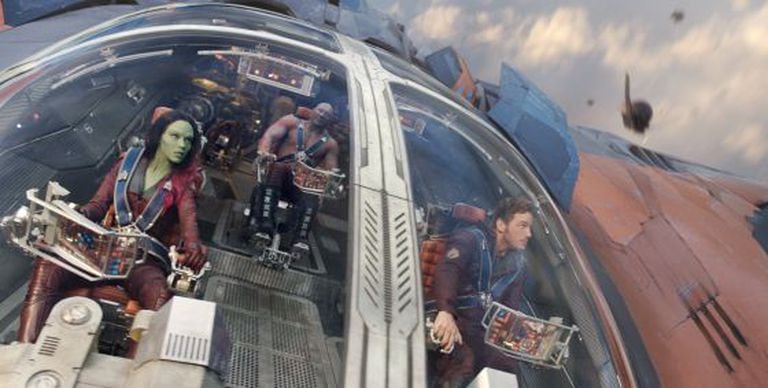 Another Marvel previously untold on the big screen, Guardians of the Galaxy draws on one of the more obscure titles in the catalogue of the comic-book publisher that brought you Iron Man, Captain America et al. Billed as a kind of galactic The Avengers, it's a space-set adventure featuring an irreverent group comprising human thief Peter "Star-Lord" Quill (Chris Pratt of TV comedy Parks and Recreation), a green alien assassin (Zoe Saldana), beefcake warrior Drax the Destroyer (Dave Bautista), tree-human hybrid Groot (voiced by Vin Diesel) and a bounty-hunting raccoon-type being (voiced by Bradley Cooper). The five come together after Quill robs a much-sought-after orb that puts him in the crosshairs of villain Ronan the Accuser (Lee Pace). The ensemble cast in James Gunn's film also features Michael Rooker, Karen Gillan, Djimon Hounsou, John C. Reilly, Glenn Close and Benicio del Toro.
Talking of ensemble casts, they don't come much bigger than that of The Expendables 3. The latest installment of Sylvester Stallone's series for ageing action stars features Jason Statham, Antonio Banderas, Jet Li, Wesley Snipes, Dolph Lundgren, Kelsey Grammer, Randy Couture, Terry Crews, Mel Gibson, Harrison Ford, Arnold Schwarzenegger and Kellan Lutz. Directed by Australian Patrick Hughes, the new film brings the team up against arms dealer Conrad Stonebanks (Gibson), the original cofounder of the crack crew of mercenaries who now wants to wipe them out.
Sounding a bit like a reverse version of Hal Ashby's 1971 classic Harold and Maude, Mr Morgan's Last Love stars Michael Caine as a widowed college professor living in Paris who finds a new lease of life after meeting the young and lively Pauline (Clémence Poésy). German writer-director Sandra Nettelbeck's comedy-drama is based on a novel by Francoise Dorner.
Inspired by a 1779 painting of her, Belle is based on the real life of Dido Elizabeth Belle (played by Gugu Mbatha-Raw), the illegitimate daughter of British admiral Sir John Lindsay (Matthew Goode). Brought up as an aristocrat by his uncle Lord Mansfield, the Lord Chief Justice (Tom Wilkinson), and his wife (Emily Watson), she is inevitably an outsider. But after striking up a relationship with a young lawyer, she seeks to influence Lord Mansfield as he deliberates on a slavery case. Amma Asante's period drama also stars Miranda Richardson, Penelope Wilton and Sam Reid.
Stars and stripes
South African animated adventure Khumba is the story of a half-striped zebra who, finding himself cast out by his herd, begins a quest to earn his stripes. A starry voice cast features the talents of Jake T. Austin, Steve Buscemi, Loretta Devine, Laurence Fishburne, Richard E. Grant, AnnaSophia Robb, Catherine Tate and Liam Neeson.
Made in 2010, Jack Goes Boating, the one film to be directed by the late Philip Seymour Hoffman, reaches Spanish shores. He stars as a timid limo driver out to impress new flame Amy Ryan by taking swimming and cooking lessons in a romantic comedy based on Bob Glaudini's play.
A French-Canadian drama, Gabrielle stars Gabrielle Marion-Rivard as a woman with Williams syndrome who sings in a choir and strikes up a romance with a fellow disabled singer. Louise Archambault directs.