nationalist drive
Human chain to demand referendum on Basque self-rule stretches for 123km
Over 100,000 nationalist sympathizers covered the distance between Pamplona and Durango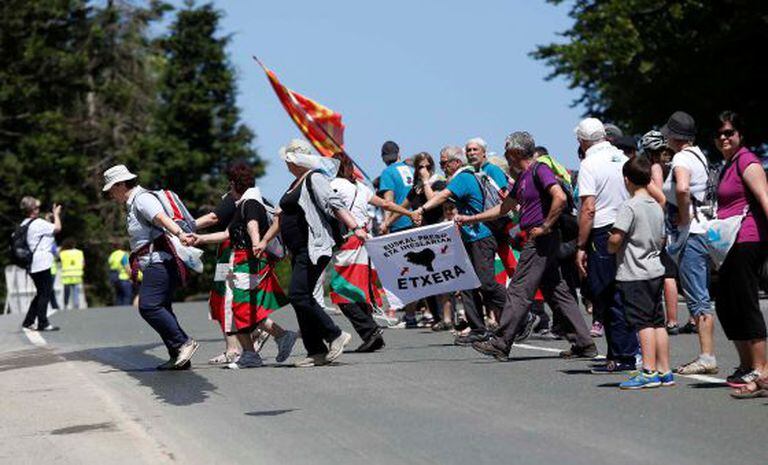 More than 100,000 supporters of Basque independence formed a human chain on Sunday to claim the Basque Country's right to decide on their region's future in a referendum.
The protesters held hands over a distance of 123 kilometers between the cities of Durango and Pamplona, "amply surpassing" the goal set out by the organizers, Gure Esku Dago, a pro-sovereignty group.
Gure Esku Dago – meaning "it is in our hand" – defends the right to an independence vote by people living in the three Basque provinces of Gipuzkoa, Vizcaya and Alava, as well as the region of Navarre, and even the southern French area known as Pays Basque — what proponents of independence regard as the Greater Basque Country.
Many representatives of Basque radical parties were on hand, including elected officials from Bildu, the political heir to Batasuna, which was outlawed for its association with terrorist group ETA.
Catalan and Scottish flags were also on display
There was also a delegation of moderate nationalists from the Basque Nationalist Party (PNV), representatives from the new leftist party Podemos, and one Socialist, Gemma Zabaleta, who came out on Sunday to express her personal support for the demonstrators – even though the Socialist Party does not officially favor independence for the region.
Spokespeople for Gure Esku Dago said they trusted this show of force will mark "a turning point" in relations among Basque citizens. Their head count was based on tickets purchased for the bus rides to various points along the chain.
Besides the ikurriñas (Basque flags) on prominent display throughout the human chain, several esteladas (representing Catalan independence) and even Scottish flags were being flown.
Catalan nationalists have been pushing for their own independence referendum, with one scheduled for November despite questions over its constitutional validity.