Cartoonists resign from Spanish satirical magazine after king cover pulled
'El Jueves' hits newsstands a day late after publisher bans monarchy-mocking image at final hour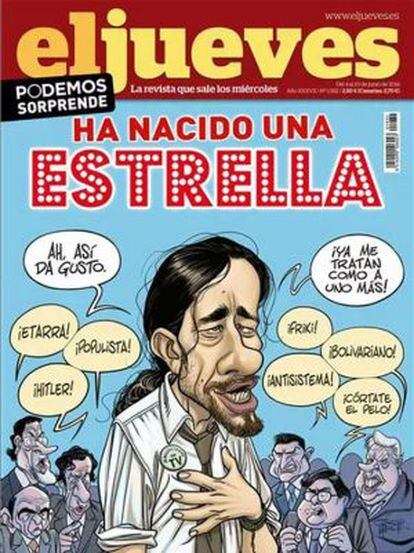 A number of leading cartoonists from long-running Spanish satirical magazine El Jueves have handed in their resignations after the title's publisher, RBA, decided to withdraw a cover featuring a caricature of King Juan Carlos and Prince Felipe that mocked the monarchy.
The illustration, which showed the king handing a crown covered in excrement to the prince, was substituted by one featuring Pablo Iglesias, the leader of new Spanish political party Podemos. The last-minute change meant the magazine hit newsstands a day late. (Despite its name, which means Thursday in English, the publication normally comes out on Wednesdays.)
The Podemos cover, which had been originally planned for this week's issue, was dropped after the news of the king's abdication broke on Monday. However, the publishers did not approve the new cover and stopped it from being distributed.
Among those who have handed in their resignations are the creator of the pulled cover, Manel Fontdevila, as well as artists Albert Monteys, Paco Alcázar, Manuel Bartual, Bernardo Vergara, Guillermo and Isaac Rosa. RBA has declined to comment on the circumstances surrounding their exits.
The illustration showed the king handing a crown covered in excrement to the prince
This is not the first time El Jueves has had a run-in with Spain's royal family. Seven years ago, a print run of the magazine was seized by judicial order after it was ruled that could break laws related to damaging the image of the Crown. The cartoon featured a lewd image of Prince Felipe and Princess Letizia following a government decision to give €2,500 to parents of newborn babies. The state prosecutor also requested the closure of the magazine's digital edition, where the cover was also reproduced.