Master sweet maker was producing drug-laced confectionery on the side
Marijuana and magic mushrooms were among the ingredients used Police arrest seven in Valencia and Alicante in coordinated narcotics bust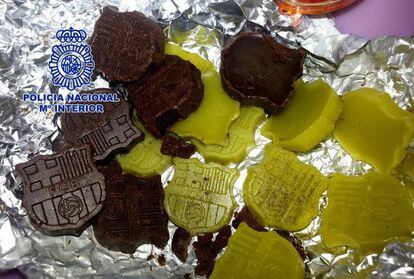 Seven people were arrested on Tuesday in connection with a drug-trafficking ring that dealt in cocaine, marijuana and amphetamines in the Mediterranean provinces of Alicante and Valencia.
One of the detainees is a master maker of turrón, a typical Christmas sweet made with almonds and honey, most types of which originate in this part of Spain.
This confectioner allegedly made sweets laced with marijuana and magic mushrooms, which he shaped into the logo of a well-known soccer club.
The police also raided a laboratory in Santa Pola (Alicante), which the ring used to prepare the drug.
The investigation began in August 2013, when police detected a group of people selling narcotics in the city of Elda. Two people were arrested in January 2014, accused of being in charge of distributing the merchandise in El Campello and Xixona – the latter location is where Spain's top-rated "turrón de Jijona" is made.
The ring members made "significant deposits in several bank accounts in Spain and Colombia," police sources said.
The latest dragnet resulted in seven new arrests and seven house searches, during which the police seized €21,135 in cash, 960 grams of speed, 500 grams of cocaine, 300 grams of sweets laced with marijuana and magic mushrooms, two vehicles, four computers and 22 cellphones.