LATIN AMERICA
Spain wants probe into citizen's Venezuela protest killing
Canary Islander shot dead by an unknown group of gunmen in Cagua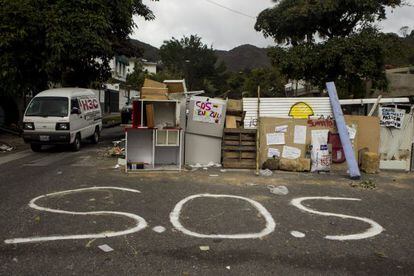 Foreign Minister José Manuel García-Margallo on Wednesday called on the Venezuelan government to investigate the exact cause of death of a Canary Islands native who was killed earlier this week during protests in the city of Valencia and injuries sustained to another Spaniard in Aragua state.
The minister didn't want to reveal the identities of the Spanish citizens but said that the man who was killed "apparently" wasn't taking part in any of the protests but "was hit and unfortunately killed." At least 14 people have been killed since anti-government protests spilled over into violence two weeks ago.
News media in Venezuela identified the victim as Wilmer Carballo, 34, who was reportedly shot dead by an unknown group of gunmen in Cagua. The other injured victim was not immediately identified.
Government officials denied that National Guard troops or police were involved in the shooting death. Spain's consulate in Caracas has come to the aid of the injured man.
Margallo also said that he has contacted his European Union counterparts in order to issue a joint statement "demanding an end to the violence in Venezuela."
When asked if the two incidents involving Spaniards could perhaps lead to a change in the proposal Judicial Powers Act reform that will prevent Spain's judges from investigating human rights abuses which take place in other nations, the foreign minister said he didn't want to speculate how the universal justice doctrine would play out. But he said that the International Court of Human Rights in Strasbourg would have jurisdiction over such cases, including the deaths of Venezuelans who have reportedly been gunned down by police.