No surprises in King's Cup
With the hard work already done, Real and Barcelona ease through to final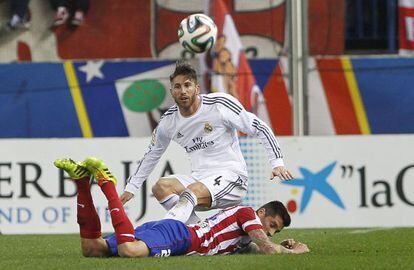 Real Madrid and Barcelona both negotiated their second-leg King's Cup matches on Tuesday and Wednesday to set up a repeat of the 2011 final, where José Mourinho's side edged a tense and tetchy encounter 1-0 after extra time in Valencia's Mestalla stadium.
It was grimly inevitable from the outset, when the two Liga powerhouses were drawn in opposite halves of the competition. Real struggled a little in the early rounds, at Olímpic de Xátiva and over 180 minutes against Espanyol, which conceded just a single goal home and away in two tight matches. By contrast, Barcelona cantered past its opponents in each round, sticking seven past Cartagena, six past Getafe and popping in nine against Levante.
The semifinals were billed as a challenge for both sides; Real faced Atlético Madrid, the defending champion, which had won its past two matches against its city rival after a wretched 14 years of humiliation heaped upon despair. In reality the tie was decided in the first leg in Real's stadium as Atlético slumped to a 3-0 defeat. The return match at the Calderón was always going to be an uphill struggle for the home side against a team that had only failed to score once all season — against third-tier Olímpic — and Diego Simeone was shorn of his two first-choice strikers, his left back and his goalkeeper before a ball had been kicked; midfielder Raúl García is enjoying a prolific season but tasking him with a four-goal rebound was more than optimistic.
Diego Simeone was shorn of his two first-choice strikers, his left back and his goalkeeper
Simeone and opposite number Carlo Ancelotti chose to rest key players with an eye on bigger prizes, a decision that was vindicated when Cristiano Ronaldo tumbled under a challenge by Atlético's 19-year-old left back Javier Manquillo and hammered home from the spot with just six minutes on the clock. He would do so again 10 minutes later, and the remainder of the match reflected the 5-0 aggregate scoreline.
Barcelona was made to work a little harder over two legs to join the eternal foe in the final — which is likely to be played in Mestalla again — with a 1-1 tie against Real Sociedad at Anoeta sealing its passage. Leo Messi provided the strike to make the aggregate score 3-0. Antoine Griezmann finished off a wonderful counterattacking move to salvage the home side's honor but it came far too late to alter the outcome of the tie.
And so Real Madrid and Barcelona will line up on April 19 — or the 18th, whenever the RFEF deigns to make a decision — for only the seventh time in the King's Cup final, a figure that seems incredible in view of the feast of clásicos served up during the reigns of Mourinho and Pep Guardiola; so many that few would have been ready to stomach another helping of the same turgid stew so soon. Those clashes were characterized by ill-temper, unseemly exchanges and the eventual snapping of Mourinho's tether, who thrust a finger into the eye of then-assistant Barcelona coach Tito Vilanova.
"It will be less tense this time," said Barça defender Gerard Piqué of the final; hopefully it will be more of a spectacle than the semifinals.