CANAL IMPASSE
Sacyr accuses Panama Canal officials of "breaking off" talks after deadline passes
Spanish firm demands waterway authority fork over $50 million to cover workers' salaries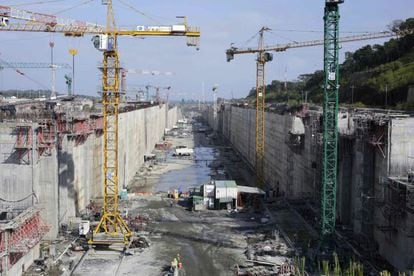 A midnight deadline passed on Tuesday night without any agreement being reached between the GUPC consortium and the Panama Canal Authority (PCA) in their dispute over who should pay for the $1.6 billion in cost overruns incurred in the project to build a new set of locks on the waterway.
GUPC (Grupos Unidos por el Canal), which is headed up by Spanish builder Sacyr, immediately accused the PCA of breaking the negotiations, putting the future of the expansion at "imminent risk," according to a statement issued by the firm.
Meanwhile, PCA sources have told the Panamanian press that they were confident that the deadlock would be broken in the coming days.
Despite the strong language contained in the GUPC statement, Sacyr and the Italian construction firm Salini-Impregilo said that it would "continue looking for a financing solution to finish the project and the work, despite the Panama Canal Authority breaking off talks."
The document was filed with the Spanish stock market regulator, the CNMV, some three hours after the midnight deadline.
Since December, GUPC has been threatening to stop all work on the expansion project if PCA doesn't fork over an estimated $1.6 billion (about 1.2 billion euros) to cover cost overruns. PCA maintains that it is sticking with the terms of the contract that was signed in 2009 after it awarded the bid to the Sacyr-led group. The minor partners in the consortium are Jan De Nul from Belgium and Panama's Constructora Urbana (CUSA).
In the document sent to the CNMV, Sacyr is demanding that PCA "abandon its unjustly rigid position" and immediately pay the consortium $50 million to cover "an outstanding bill" to cover this week's salaries of construction workers and subcontractors. At the same time the Spanish builder warned that the break in negotiations is putting 10,000 jobs at risk.
"Without an immediate solution, Panama and PCA face years of legal disputes before national and international courts concerning the steps that brought the project to a near failure," the statement said.
On Monday, Panamanian President Ricardo Matinelli had told reporters that both parties "are close to reaching a happy ending on happy terms" from their discussions.