Barça survives year's last test
Champion goes top in 2-5 win at Getafe after Atlético battled to victory over Levante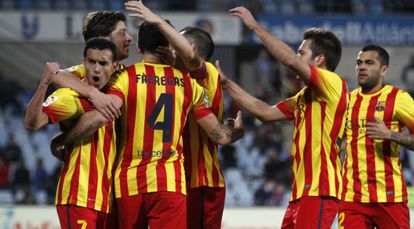 Atlético Madrid led La Liga, briefly, after coming back from a goal down twice in the Calderón to see off a stubborn Levante side 3-2 on Saturday. A rare defensive lapse from Diego Simeone's side — the division's meanest back four — allowed Andreas Ivanschitz to nip in and open the scoring after just a minute's play, but as Levante coach Joaquín Caparrós noted after the game: "Atlético batters you; it's like a hammer."
And the very blunt edge of the collective tool is Diego Costa, who scored twice to tale his tally for the season to 19 and, again maybe briefly, top the scorer's chart in the race for the pichichi trophy ahead of Cristiano Ronaldo, with Real Madrid traveling to Valencia for Sunday's late kick-off. Twice the Hispano-Brazilian gave Atlético the lead, the second time from the spot proving sufficient to earn all three points and spend Saturday night atop the standings.
"He had another great game," said Simeone of the striker, who has rapidly become one of the most-coveted in Europe. "He keeps showing that if the deadline for the Ballon d'Or had been extended a bit, he would be there fighting for it. The fans should be proud of the passion the players are showing; they are doing some unforgettable things. We have got this club moving toward one single goal and we're not going change our philosophy of treating every game like it's the last of our lives."
Atlético fans should be proud of the passion the players are showing; they are doing some unforgettable things"
Simeone's plans for Sunday were to celebrate his father's birthday, but he did not rule out a glance at the television: "Maybe we'll watch soccer," he said.
If the Argentinean had been curious at about 5.30pm, he would have seen a scoreline of Getafe 2, Barcelona 0. Had that stood, Atlético would have gone three points clear. But Santa Claus was on hand to present Barça with an amenable Getafe back line and Pedro Rodríguez hit back with an incredible eight-minute first-half hat-trick to knock the stuffing out of the home side. The visitor added two more through Cesc Fàbregas after the break for good measure and now has a three-goal advantage over Atlético at the top of the table, ahead of the meeting of the two in Madrid on January 11.
"We had a couple of key chances at 2-0 up, but you have to be perfect [to beat Barcelona]," said Getafe coach Luis García. "We were good in many respects, but not perfect."
While festive cheer will be in good supply in the upper reaches of the division, for Real Betis two weeks off is the last thing it needs after collapsing again at home to Almería, a more-or-less direct rival for the chop, in a 0-1 defeat.
Pepe Mel, the man who brought the club up from the second division and into Europe, was sacked a couple of weeks ago and the pragmatic Juan Carlos Garrido hired to stop the rot. A 5-1 thumping by Real Sociedad in his first match in charge will have demonstrated the task Garrido faces. Surrendering a two-goal lead to Segunda División side Lleida, and almost going out of the cup, was not much of a morale-booster either.
Betis is now four points adrift of Osasuna, which was also playing late Sunday away at Celta. Also in the relegation mire is Rayo, which failed to earn anything from its trip to San Mamés where Athletic maintained its advantage of four points over Real Sociedad in the battle for fourth and Champions League competition next season. Rayo, meanwhile, remains in 19th, three points ahead of Betis.
Other results: Espanyol 4-2 Valladolid; Elche 0-1 Málaga; Villarreal 1-2 Sevilla; Granada 1-3 Real Sociedad.